Endeavour Silver (NYSE:EXK) has spent the better part of 2011 executing growth plans and expanding their footprint from Mexico to Chile, a safe and secure mining jurisdiction in South America.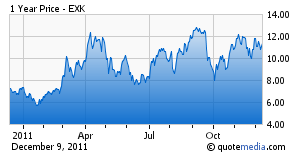 For the third quarter of 2011, revenues came in at $38.8 million on the back of 858,738 ounces of silver and 4,926 ounces of gold production. An average silver sale of $40.72 per ounce was recorded with cash costs of $5.03 per ounce, net of gold credits.
The Guanajuato plant expansion has been completed on time and on budget, eventually expanding capacity to 1,600 tpd. Drilling continues to expand the deposit at the Daniela, Karina, and Lucero veins with recent drill results indicating significant mineralization.
Going forward, the addition of the La Presidenta and Lomas Bayas projects in Chile are significant from a geographical diversification standpoint and indicate that Endeavour can take their business model to other areas of the globe. Lomas Bayas was the subject of small scale mining in the past with a number of claims consolidated into the current property of 407 hectares. The numerous small holdings have been the reason the deposit was not exploited to a greater extent.
The property has bulk tonnage, open pit potential and a 60 hole, 10,000 meter drill program is underway with samples indicating strong mineralization. La Presidentia is located at the north end of the Lomas Bayas caldera and encompasses 1700 hectares. The property has a history of small scale mining with no state of the art drilling or development.
The balance sheet remains in strong shape with $123.26 million in cash, short-term investments, and available for sale securities easily funding capex and drill programs going forward. Reserves and resources continue to grow from 16 million silver equivalent ounces in 2005 to almost 100 seo's this year and production growth has jumped from 350,000 ounces in 2004 to a target of 3.7 million ounces in 2011.
The business plan of acquiring past producing mines and utilizing modern mining techniques to build reserves and resources has led to significant growth over the past few years. By optioning La Presidentia and Lomas Bayas Endeavour shows that their model is applicable outside of Mexico diversifying their asset base.
Quite a few silver miners have had problems in 2011 ranging from production delays to asset writedowns and ownership questions. However, Endeavour has pushed forward with their growth plans successfully upgrading the mill at Guanajuato and diversifying their asset base.
Investors looking through the silver mining sector should take a close look at Endeavour Silver. The management team is rock solid with more than 175 years of mining experience and a track record of success.
Disclosure: I am long EXK.