The 27 EU countries failed to reach an agreement on changes to the EU treaty. Most notably, Britain led a fight against the proposals. Going forward without Britain, 26 decided to back a new treaty with strict oversight over national budgets. The tentative approval date for this is now March 2012. Perhaps this will give some stability to the sovereign debt instruments that are being attacked. Perhaps not. This agreement is progress, but it does very little to address the immediate crises in many of the EU countries. It does little to address the problem of the increasing yields we have seen of late.
With Draghi's negative comments about any ECB mass bond buying to stabilize and even decrease the bond yields (or to adopt a Euro bond), there can be little hope that the problems will be solved soon. The EFSF and its eventual successor fund are not going to be enough to do this. Draghi has stated that the ECB lending to the IMF to get money to the needy EU countries is not an option (a work around the letter of the law is inappropriate). I don't see the solution the EU leaders had promised. I see a step, which could lead to progress at some time in the distant future. I see Germany dictating to the rest of the EU. I see Germany trying to maintain the value of the Euro in order to maintain the value of its assets.
What many economists worldwide think is needed is to partially monetize the quite substantial debt of many of the members of the EU by printing money (having the ECB buy lots of sovereign debt to bring the yields down). The 10 year bond yields of some of the most worrisome of the EU economies were up Thursday Dec. 8, after Draghi announced that the ECB would not be doing this. The Spanish 10 year bond yield ended the week at 5.74%. The Italian 10 year bond yield ended the week at 6.36%. These are substantially off their recent highs, but they are still much too high for the economic recoveries of these countries.
The Greek 10 year bond yield ended the week at 35.06%. It would seem no one believes it will recover. I could go on. The confidence in a solution seems to be gone, and the EU credit crisis seems to be heading in the wrong direction again. Some may still be holding out hope for a positive solution in the near term. However, that hope will most likely be gone by next week sometime. I hate to think what Italian, Spanish, etc. bond yields will do then.
Moody's downgrade on Friday Dec. 9, 2011 of the long term debt of three major French banks (BNP, Credit Agricole, and Societe Generale) by one notch each has not likely helped matters. This was after the European Banking Authority (EBA) said late Thursday that the EU's banks must find 114.7B Euros of extra capital to make them strong enough to withstand the Euro Area debt crisis. The EU credit crisis is "ON" again.
Both Spain and Italy are auctioning first T-bills and then bonds next week. It seems very unlikely that those will all go off without a hitch if the ECB is truly not going to do mass bond buying. The plan for the plan by the EU isn't going to satisfy many bond vigilantes. An EU treaty has in the past taken at least one year to get passed. Plus it is highly questionable whether the proposed new EU treaty (minus Britain) will actually solve any of the EU's current problems. Spain has a real estate problem that at least rivals the one seen recently in Ireland. It has merely been deferred longer.
The Irish bailout was $113B. This was for an economy with a GDP of $204B in 2010. Its bailout package was approximately 55% of its GDP. Spain's GDP was $1.4T in 2010. 55% of that would be $770B. 55% of Italy's $2.05T GDP in 2010 would be approximately $1.12T. The total of these two would be nearly $2T. This is without even taking into account all of the haircuts that will also likely happen. It is without taking into account possible bailouts of other EU countries.
It is without taking into account the effect that Spanish and Italian haircuts would have on French, German, etc. banks. It is without taking into account the freeze up in credit that will almost certainly occur (and already has to some extent). The following table contains the various debt to GDP figures, the most recent GDP growth rates, and the respective unemployment figures for some of the most troubled EU countries.
| | | | | |
| --- | --- | --- | --- | --- |
| Country | Debt/GDP Ratio | Q3 GDP Growth (YoY) | Q2 GDP Growth (YoY) | Unemployment |
| Greece | 142.80% | -5.20% | -7.40% | 17.50% |
| Italy | 119.00% | | +0.80% | 8.50% |
| Belgium | 96.80% | +1.70% | +2.20% | 6.80% |
| Ireland | 96.20% | | +2.30% | 14.50% |
| United States | 93.20% | +1.50% | +1.60% | 8.60% |
| Portugal | 93.00% | -1.70% | -1.00% | 12.40% |
| Euro Area | 85.10% | +1.40% | +1.60% | 10.30% |
| Germany | 83.20% | +2.50% | +3.00% | 6.50% |
| France | 81.70% | +1.57% | +1.58% | 9.70% |
| United Kingdom | 80.00% | +0.50% | +0.70% | 8.30% |
| Spain | 60.10% | +0.80% | +0.70% | 21.52% |
The above GDP growth figures are year over year figures. Greece and Portugal are already in recession. However, the quarter over quarter figures (not shown above) indicate that many more of the above countries are slowing or going into recession. In total the Euro Area's 17 countries' economies grew by only 0.2% quarter over quarter from Q2 to Q3 2011. The EU's 27 countries' economies grew only moderately better at 0.3%. Those with negative growth quarter over quarter from Q2 to Q3 were: Belgium, the Czech Republic, Denmark, the Netherlands, Portugal, and Slovenia (OECD). You can probably add Greece and Italy to this list, but the Q3 statistics have not been published on either.
The overall situation is worsening, and the majority of new austerity measures have not been reflected in the above numbers yet. The expectation is that the Euro Area countries will go into recession in 2012, and that is without any Lehman like event. If either Italy or Spain or both effectively defaults, the recession will be a deep one that could spiral into a depression. The EU countries did little to prevent that from happening last week.
The unemployment figures for Greece, Ireland, Portugal, Spain, and the Euro Area (17 countries) are staggering already, and the Euro Area has not entered a recession yet. Will the current 10.30% Euro Area unemployment figure go to 15%? Will Spain's unemployment figure go to 25% or even 30%? If so, how will Spain ever pay its bills? How could it possibly correct its budget problems. If Spain has 80% home ownership. Who will buy its surplus homes, when more than 20% of its population are unemployed, especially if that number goes to 25% or 30%? What will happen when more and more people in Spain default on their real estate loans?
The money managers may be pumping the US markets up because they want a year end rally, but the overall data indicate there is just too much too worry about longer term. It will be interesting to see if those pumping the markets can keep the rally going. Both Italy and Spain have both T-bill and bond auctions in the Week of Dec. 12-16, 2011. Any one of these could trigger another bond vigilante attack.
You can attempt to ride the wave of the currently rising market, but you could be burned by doing so. A safer strategy is probably to start taking profits in basic materials, energy, and some technology stocks. These are usually hit hard by a slowing world economy, especially if they are high growth stocks as many of the new oil shale companies are. Those with high debt to capital ratios are even more susceptible to overall market downturns. However, it is best to avoid high dividend payers, whose prices are usually held up by those very dividends.
A few oil companies that fit these criteria are: Quicksilver Resources Inc. (NYSE:KWK), Endeavor International Corp. (NYSE:END), ATP Oil & Gas Corp. (ATPG), and Venoco Inc. (NYSE:VQ). None of these stocks pay a dividend. One might even claim they should be headed downward based on their fundamentals, regardless of the state of the world economies. With a questionable world economic situation, it is likely wiser to put your money elsewhere, even if a particular company may have some redeeming features.
The table below contains some of the fundamental financial data for these oil companies. The data are from TDameritrade and Yahoo Finance.
| | | | | |
| --- | --- | --- | --- | --- |
| Stock | | | | |
| Price | $8.03 | $6.96 | $7.06 | $8.58 |
| 1 yr. Analysts Target Price | $11.50 | $12.56 | $10.75 | $13.22 |
| P/E | 3.61 | -- | - | 14.30 |
| FPE | 66.92 | 13..38 | - | 11.00 |
| Avg. Analysts' Opinion | 2.6 | 1.8 | 2.9 | 2.9 |
| Price/Book | 1.16 | 1.28 | -- | 13.06 |
| Price/Cash Flow | 2.15 | 12.28 | -- | 4.31 |
| FY2012 EPS Estimate | $0.12 | $0.52 | -$1.51 | $0.78 |
| FY2012 EPS Estimate 90 days ago | $0.33 | $0.72 | $1.69 | $1.17 |
| EPS % Growth Estimate for This Year | -77.10% | -128.60% | 22.20% | -38.30% |
| EPS % Growth Estimate for Next Year | -25.00% | 132.50% | 70.50% | 56.00% |
| 5 yr. % EPS Growth Estimate per annum | -68.73% | N/A | 15.00% | 13.00% |
| Market Cap | $1.38B | $262.13M | $360.95M | $504.21M |
| Enterprise Value | $3.37B | $538.34M | $2.19B | $1.21B |
| Enterprise Value/ Market Cap | 244% | 205% | 607% | 240% |
| Beta | 1.533 | 1.78 | 3.11 | 1.21 |
| Short Interest as a % of Float | 23.10% | 18.96% | 43.35% | 4.44% |
| Cash per Share (mrq) | $0.04 | $4.91 | $3.37 | $0.00 |
| Total Debt/Total Capital (mrq) | 65.04% | 65.99% | 86.61% | 94.49% |
| Quick Ratio (mrq) | -- | -- | -- | 1.08 |
| Interest Coverage (mrq) | 2.0 | -- | -- | -- |
| Return on Equity (ttm) | 38.77% | -4.16% | -345.16% | -- |
| EPS Growth (mrq) | 30.91% | -219.39% | 90.48% | 116.87% |
| EPS Growth (ttm) | 148.85% | 99.91% | -112.24% | -43.52% |
| Revenue Growth (mrq) | 9.34% | -48.10% | 66.60% | 12.10% |
| Revenue Growth (ttm) | 4.11% | -20.19% | 75.74% | 4.55% |
| Annual Dividend Rate | 0.00 | 0.00 | 0.00 | 0.00 |
| Gross Profit Margin (ttm) | 87.02% | 67.76% | 77.61% | 65.97% |
| Operating Profit Margin (ttm) | 71.22% | -57.45% | 2.43% | 11.20% |
| Net Profit Margin (ttm) | 39.92% | -5.90% | -54.27% | 11.49% |
One point to note is that END is estimated to lose -$1.60 per share in FY2011. This is a higher loss than the -$1.11 estimate just 90 days ago. The FY2012 estimate has been falling, and it is currently only $0.52. With a loss of -$1.60 forecast for FY2011, it seems reasonable to believe that there could be very low or negative earnings for FY2012. The analysts just have not caught up with the world economic situation yet. END could easily fall more as the analysts' estimates continue to trend downward.
KWK has EPS % growth estimates for FY2011, FY2012, and 5 year per annum that are all negative. The 5 year per annum estimate is -68.73%. How can a company's stock appreciate with this kind of estimated performance? All of the above have down trending FY2012 EPS estimates -- a very bad sign. END and ATPG have negative profit margins. Only ATPG has significant trailing twelve month revenue growth. If a stock is supposed to be a growth stock, it needs to be growing revenues to be believable.
Another point is that all of the above stocks have Enterprise Values more than twice their Market Caps. From Investopedia, "Enterprise Value is calculated as the Market Cap plus debt, minority interest and preferred shares, minus total cash and cash equivalents." In other words, all of these companies have a large amount of debt. This is especially true of ATPG, which has an Enterprise Value to Market Cap ratio of 607%. Some of these may have assets which are expected to appreciate in the future. However, with a recession in the EU coming soon, the possibility of near term deflation of assets values is very large. At best, assets are not likely to appreciate quickly. This means these stocks may trade based on their current book valuations for some time. With the declining profit prospects, this means these stocks may decline.
If we get the hoped for further leg to the Christmas rally, these stocks could go up more in the near term. If they do, one should perhaps sell them into the rally. Next year is likely going to be a tough year in the US markets. According to David Darst (of MS) and others, you are better off owning high dividend, staples stocks such as Coca Cola (NYSE:KO), McDonald's (NYSE:MCD), Procter & Gamble (NYSE:PG), Johnson & Johnson (NYSE:JNJ), etc. Their dividends will help to hold their stock prices up. Their products historically sell virtually the same even in a recession. Plus, you get paid to wait for them to regain and/or exceed any value they may happen to lose in a recession.
Technically, all of the above stocks (KWK, END, ATPG, and VQ) have fallen recently. Plus, they still seem to be in down trends. The fundamentals say that those downtrends are likely to continue rather than reverse in the next 6 months to 1 year. The two year charts of each are below.
The two year chart of KWK is below:
click to enlarge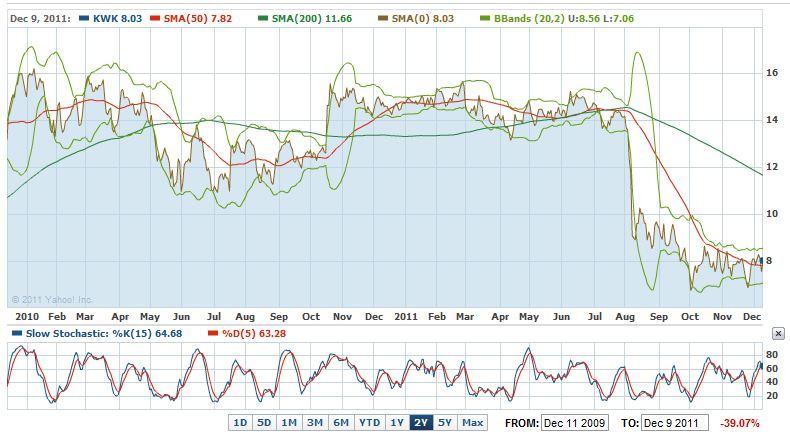 Click to enlarge
The two year chart of END is below: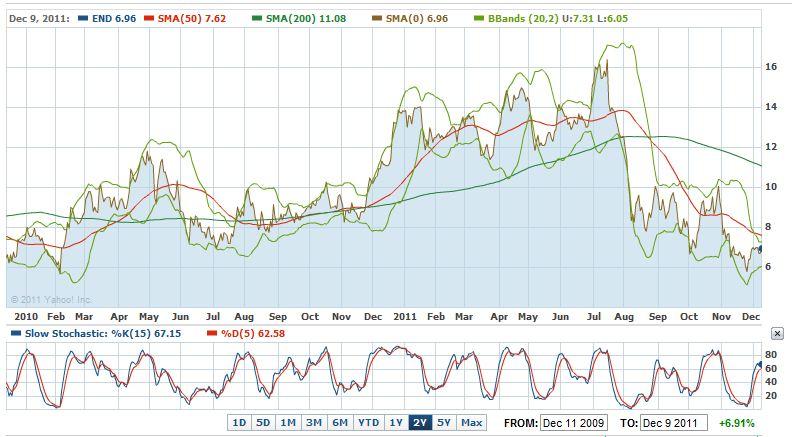 Click to enlarge
The two year chart of ATPG is below: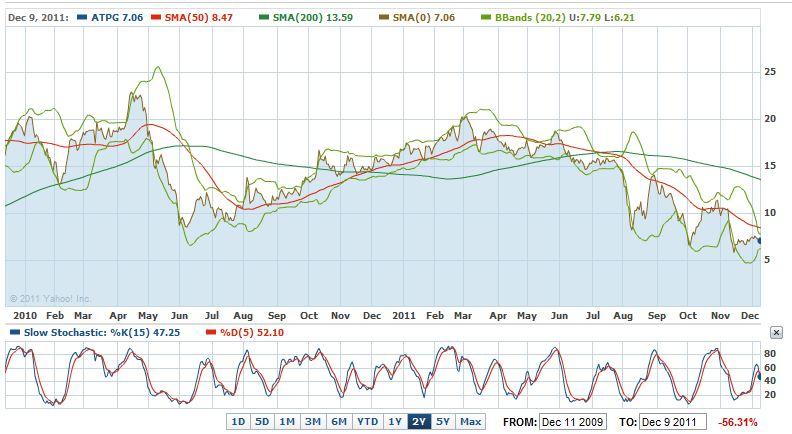 Click to enlarge
The two year chart of VQ is below: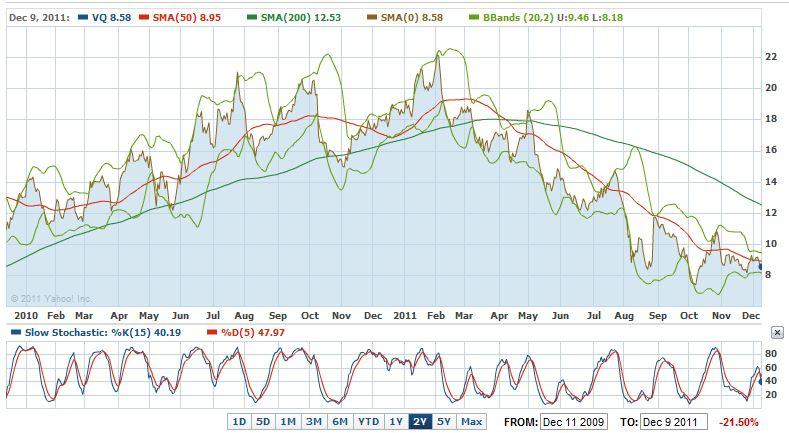 Click to enlarge
These all show down trends. The charts all substantiate the fundamentals. Selling, even after these falls, still makes sense if you don't have the patience of Warren Buffett. Selling makes sense if you are not sure these stocks are going to be highly successful in the future -- say within 2-3 years. I don't think Warren Buffett would choose any of the above stocks to invest in.
Good Luck Trading.
Disclosure: I have no positions in any stocks mentioned, but may initiate a short position in ATPG, END, KWK over the next 72 hours.