I rarely recommend investments in DJIA stocks simply because these companies rarely stand out. Everyone already knows that these are some of the largest companies in the world. They generally have predictable earnings returns and dividends. A simple buy and hold strategy on the Dow Jones is enough to make a nice return on one's money over the long run, and there is no particular news to note there. That being said, every now and then there is a reason to highlight a member of the Dow 30. At the moment, I believe that Cisco Systems (NASDAQ:CSCO) is one worth noting.
Why Cisco? Why Now?
With over 70,000 employees, Cisco is the giant in the networking and communication sector. This company is synonymous with connecting people all around the globe. When someone says "Cisco", people know the company they are referring to. Based on all of this, one would not expect that there would be very much investing potential here. Most would in fact suspect that the stock price would remain rather stable, and investors would have to wait a very long time to see their money grow. At this moment in time though Cisco is appearing particularly attractive.
Trading at $18.88 a share at the end of trading on Friday (12/9/2011), CSCO is available at less than 10 times its projected earnings for next year. This is in spite of the fact that the company has been besting earnings quarter after quarter and has a track record of beating annual earnings estimates as well.
Considering its $100 billion plus market cap, one would think that the market would pay a nice premium on Cisco's earnings, but that does not appear to be the case at the moment. The company has an annual growth rate expectation of 8.5% for the next five years. Despite this, the stock trades at under 10 times next years earnings. The very slim premium does not seem to be justified when one considers the liklihood that Cisco will not only meet earnings but actually exceed them. At $18.88 a share the market is not exactly showing CSCO a lot of respect, and that is why I believe that now is the time to move in.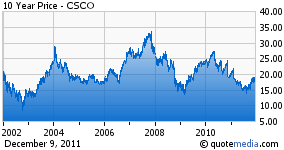 More Insurance
The beauty of an investment in Cisco is that there is more than one way to benefit from this stock. Everyone realizes that they can gain quite a bit from stock price appreciation, but that is not the only thing to consider in this situation. Cisco also happens to offer a dividend on its shares. Yielding just 1.3% at current market prices, this dividend is often ignored, but it shouldn't be. There is plenty of room for Cisco to expand this dividend as earnings continue to grow. Sitting on some $44 billion in cash is probably good reason for CSCO to consider raising that dividend in the future. Those who pick up shares now may see the yield that they are getting rise in the future.
Low debt at Cisco gives the company the chance to continue to put more of its revenue into reinvestment and expansion. The healthy 14.5% profit margin is another reason why Cisco holders should be excited about their investment. This is not just another DOW slow growth story, there is real potential with Cisco. Stock appreciation and gains on dividends make this a potential long term holder. Those who prefer a shorter time frame can benefit as well.
Recommendation
My typical recommendations offer exact price windows that investors should aim for. However, with this stock I believe that there is more of a long term story going on here. I would personally recommend holding this stock for a while to see how it goes. I think that prices that it is being traded at now are insultingly low to where it will be perhaps 5 years from now. My recommendation for CSCO is to buy it anywhere under $20 (like current prices) and sit back and enjoy the dividends and price appreciation. Do not worry about selling at the moment.
For those who absolutely cannot live without a sell target, $25 a share might not be a bad short term goal. At least on this trade the investor makes 25% or more on his money. However, that investor may well be missing out on some very big profits to come.
Disclosure: I have no positions in any stocks mentioned, and no plans to initiate any positions within the next 72 hours.