The good news is, a big rebound on Friday – following Thursday's drubbing – pulled the market back into the black for the week. The bad news is, the market still hasn't cleared any of the major hurdles it needs to in order for us to say the bulls are home-free. And now we're down sharply in the pre-trading from guess what, more Europe worries/news.
There are a ton of economic catalysts this week that may well do the bullish reversal trick (many more than last week, to be sure). Of course, those same catalysts could end up working against the market as well, if viewed in a pessimistic light.
As usual we're going to weigh it all below.
Economic Calendar
While a light week in terms of economic data, it was still an important week ... particularly for the average working consumer. For instance, consumer credit (revolving plus fixed) grew by $7.6 billion in October, adding to September's $6.9 billion increase, and undoing all of August's disastrous contraction. Clearly the lending market is still in rebound mode.
We also heard good news on the unemployment claims front. Last week's 381K new unemployment claims was a nine-month low, and the prior week's 3.853 million continuing unemployment claims was also into multi-month low levels. There's a flipside to that coin though. While the claims levels are indeed going down, some of that (though not all) has to do with the fact that there are simply fewer people to lay-off now, and unemployment benefits are exploring. Still, at least it's fewer people off government benefits, which may well push them into the workforce even if it's not the greatest of jobs.
Still, the average consumer is feeling a little better about things – the Michigan Sentiment Index for December moved up from 64.1 to 67.7 for December's initial reading.
The rest is below.
Economic Calendar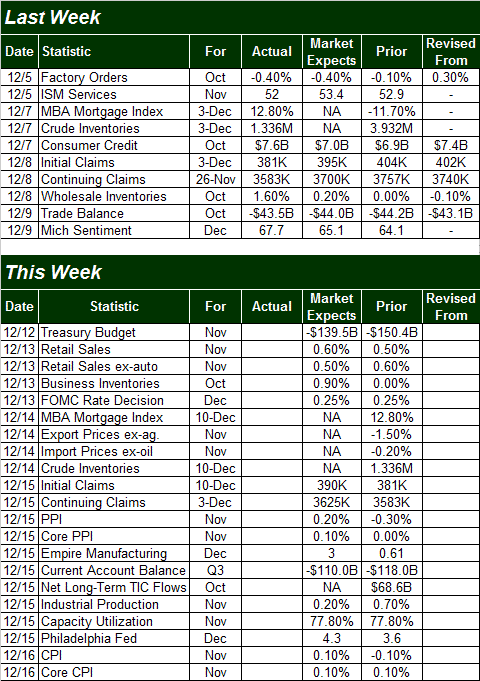 (Click to enlarge)
The coming week will be much busier – almost exhausting – in terms of economic data. Here are the biggies to watch for:
* Tuesday: Retail sales should be up quite nicely again, with or without cars.
* Thursday: Will the low number of new and ongoing unemployment claims persist, or was last week a fluke? The pros are looking for slightly higher numbers on both fronts.
* Thursday: Producer inflation made a surprise (though somewhat welcomed) dip in October, but that should be offset by a 0.2% increase (0.1% increase on a core basis) for November.
* Thursday: Industrial Productivity and Capacity Utilization are two of the most under-watched economic indicators on the board, but they should be the most watched since they both have such a strong correlation to the long-term market's movement. The former should be a hair higher for November, with the latter showing stagnation. Anything else could mean fireworks (for better or worse).
* Friday: Like produce inflation – via the PPI number on Thursday – should show a slight increase for November after October's surprising dip of 0.1% (or a modest increase of 0.1% on a core basis).
S&P 500
When it was all said and done, the S&P 500 tacked on 10.91 points (+0.869%) to close at 1255.19 last week. Unfortunately, that wasn't good enough to carry the index above the critical 200-day moving average line at 1263.3. Worse, the fact that the 200-day line was confirmed as a resistance line (by virtue of last week's pause as it was approached) may have planted enough seeds of doubt to actually stave off a rally now; hesitation can be a real pain sometimes.
Don't get the wrong idea. The momentum is still technically bullish, and we're on a seasonally-bullish period. And, last week was the third time since late October the bulls have made a run on the 200-day average line. At the same time, the key support lines (20-day, 50-day, and 100-day moving averages) are holding up as floors. It's just that until we see the SPX get over this admittedly-psychological hurdle, we can't be presumptuous.
While the volume from last week doesn't necessarily say the undertow is bullish, the VIX does drop that hint ... though you have to take a big step back to see why.
While the CBOE Volatility Index understandably spiked in August and stayed high-ish [above 30] through October, the VIX tide turned for the better – bullishly – when the market did the same with its sharp low from October 4th. More important, it's been trending lower ever since; there's a falling resistance line (red) that's been driving it lower since October 5th, and it's clearly spending more time under its 50-day moving average line than above it.
Though the horizontal support level at 24.30 needs to be broken before we can really say the Volatility Index is in a downtrend and is bullish for stocks, we're getting closer to that scenario every week . The nice part about that is that the VIX is apt to break under 24.30 around the same time the S&P 500 punched above the 200-day line at 2363.3; one will confirm the other.
SPX & VIX Daily Chart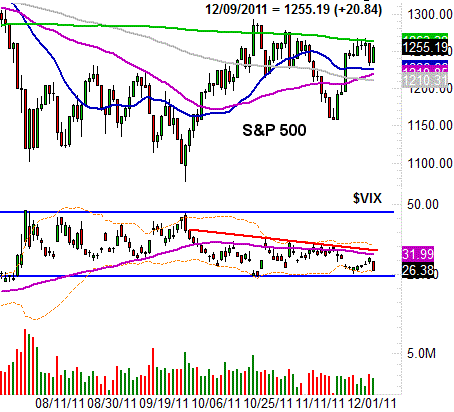 (Click to enlarge)
Just for a little perspective (and because it's starting to matter again), we'll add in a weekly chart of the S&P 500. Though this doesn't really add any new details about where we are and what must happen for the bulls to get over the hump, we can see a lot of parallels – and hopefully parallel outcomes – between what's happening now and what happened during and after July/August of 2010 … the Flash Crash.
As you can see, then, it took two or three swings at the 200-day line (green) before the S&P 500 finally got over it. Once it did though, it was off to the races.
Moreover, the VIX is behaving much like it did then, and almost using the exact same levels as ceilings and floors; the peak was at 48 in 2010, as it was a few months ago. The floor around 24 was also a big deal before the 2010 breakout, much like it is now.
And on a side note, notice how mildly the VIX trended lower once under the 24 level in 2010 – the market was roaring during that time, and the VIX barley had to budge. All we need or want now us just a very tepid drift lower from the VIX. We also saw the VIX's modest slide lower (under 24) in 2009 coincide with a massive rally. Point being we're actually getting into a position for a very strong start to 2012 … much more fruitful than the critics are suggesting is possible.
SPX & VIX Weekly Chart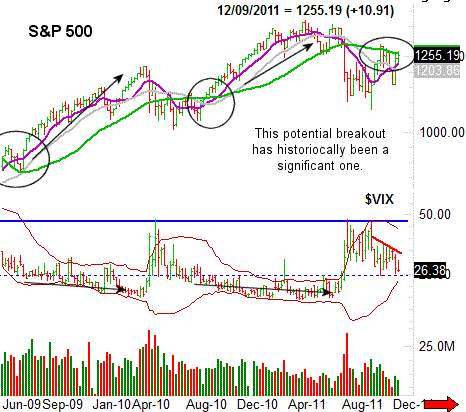 (Click to enlarge)
NASDAQ Composite & Dow Jones Industrial Average
Though it's not always the case, this time around all three indices have gotten themselves within striking distance of breakout levels at the same time.
For the DJIA, that line is around 12,200, where we've seen the Dow peak but not close above several times since early November. T he cool part (for the bulls) is how the Dow Jones Industrial Index is actually finding support at its 200-day line.
Like the S&P 500, the NASDAQ has also been knocking on the door of its 200-day moving average line at 2670.40. It's finding support at 2598 too, where you'll not only find the 50-day average (purple), but also a major horizontal support/resistance line that extends back to August (red, dashed). That could end up being a great push-off point here.
This is a scenario in which a breakout from any one of the indices will be immediately confirmed or denied by the movement of the other indices.
NASDAQ Composite & Dow Jones Industrials Daily Chart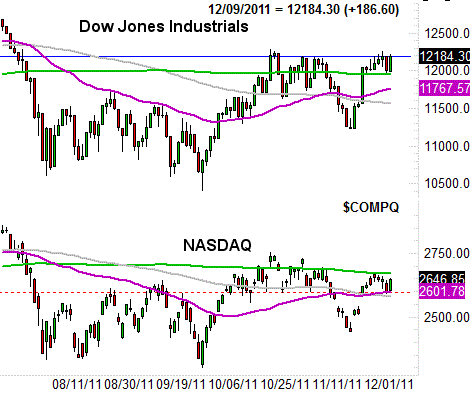 (Click to enlarge)
Disclosure: I have no positions in any stocks mentioned, and no plans to initiate any positions within the next 72 hours.