Big pharmaceutical company stocks are down this year, in concert with the decline in the overall market due to the weak global economic outlook. However, the group also faces significant industry-specific challenges that are likely to hold the stocks down in the intermediate term, including nine of the industry's ten major drugs going off-patent and soon facing generic competition, a skimpy pipeline of new drugs in development, and pricing pressure in the European Union, among other factors.
In this article, based on the latest available Q3 institutional 13-F filings, we look at the buying and selling activities of legendary fund managers or gurus in the big pharmaceuticals group to aid us in determining the companies in the group that these 60+ managers together have voted with their fund dollars to be the most attractive. Taken together these guru funds are bearish on the group, cutting a net $1.3 billion from their $118.2 billion prior quarter position, and they are also seriously underweight the group by a factor of 0.35.
The following are the big pharmaceutical companies that guru fund managers are bullish about, and that are also trading at a discount to their peers in the group:
Abbott Laboratories (NYSE:ABT) is a developer of pharmaceuticals, diagnostic systems, nutritional supplements and vascular, ophthalmic and eye care products. Guru funds added a net $407 million in Q3, and they hold an outsized 1.5% of the outstanding shares versus their 0.9% weighting in the group. The largest guru fund buyer in Q3 was Southeastern Asset Management ($506 million). ABT is a consistent grower, with annual earnings up every year recently even through the 2008/09 recession, it sports a healthy dividend yield of 3.5%, and trades at a discount 11 forward P/E and 3.4 P/B compared to averages of 11.8 and 4.2 for the large cap pharmaceuticals group.
Furthermore, earnings growth is projected in the high single to low double digits versus the 5%-6% average for the group. Also, the stock is approaching its 2007 highs in the $60 range while earnings are 70%-80% higher than they were then. The stock based on its dividend yield, and earnings growth and stability, has the characteristics that a wide cadre of investors would find attractive.
Sanofi (NYSE:SNY) is a French developer of pharmaceutical products, vaccines and integrated healthcare solutions targeting various therapeutic areas. Guru funds hold $1.03 billion or an outsized 1.2% of the outstanding shares, almost the same as the prior quarter. The largest guru fund holder is Fisher Asset Management ($517 million).
SNY is undervalued and trades at a discount to the group at 9 forward P/E and 1.3 P/B, and it sports an attractive 3.7% dividend yield. However, earnings are projected to take a hit dropping from $4.64 in 2010 to $4.03 in 2012 due to loss of patent exclusivity on key products. We believe that SNY shares will remain stuck in the low to mid part of its current $30 to $40 trading range until earnings growth recovers maybe sometime after 2012.
The following are the large cap pharmaceuticals that guru funds are bearish about (see table):
Pfizer Inc. (NYSE:PFE) develops branded prescription drugs for cardiovascular and metabolic diseases and other conditions. Guru funds cut a net $1.1 billion in PFE in Q3, and the largest guru fund seller was Greenlight Capital ($473 million). The stock trades at a discount to the group at 9 forward P/E and 1.7 P/B, it sports an attractive 3.9% dividend yield, and is technically in a strong position to break-out and rally as earnings approach levels last seen in 2007/08 when the stock traded about 50% higher.
Merck & Co. (NYSE:MRK) develops prescription drugs to treat asthma, osteoporosis, cardiovascular, metabolic and other disorders. Guru funds cut a net $233 million in Q3, and the largest guru fund seller was Platinum Investment Management ($107 million). MRK is another consistent growth performer that trades at a discount to the group at 9 forward P/E and 2.0 P/B, and it also sports an excellent 4.7% dividend yield.
Johnson & Johnson (NYSE:JNJ) develops health care products and provides related services to the consumer, pharmaceutical and medical markets. Guru funds cut a $325 million in Q3, and the largest guru fund seller was Berkshire Hathaway ($330 million). JNJ trades at a premium 12-13 forward P/E and at 2.8 P/B compared to averages of 11.8 and 4.2 for the group, and has a dividend yield of 3.5%. The stock is currently approaching the top of its long-term trading range in the $70 range; however, we believe JNJ is unlikely to break through it based on its valuation and projected earnings performance.
Novartis AG (NYSE:NVS) is a Swiss developer of branded and generic pharmaceuticals, consumer health products, vaccines and diagnostics. Guru funds cut a net $4 million in Q3, and the largest holder at the end of Q3 was Fisher Asset Management ($42 million). NVS trades at a discount to the group at 9-10 forward P/E and at 2.0 P/B, and it has a dividend yield of 3.6%.
Eli Lilly & Co. (NYSE:LLY) develops products to diagnose, prevent and treat human diseases, and it also conducts research to treat diseases in animals and to increase the efficiency of animal food production. Guru funds cut a net $11 million in Q3, and the top seller was Fairholme Capital Management ($8 million). LLY stock trades at a discount to the group at 11 forward P/E and 2.9 P/B, and it has among the highest dividend yields in the group at 5.0%. However, the discount may not make it attractive enough as earnings are projected to fall off a cliff from $4.87 in 2010 to $3.62 in 2012 as the company faces significant challenges going forward in terms of reduced sales due to loss of exclusivity on Zyprexa.
Other companies that guru funds accumulated in Q3 (see table) include Bristol-Myers Squibb Co. (NYSE:BMY), in which it added $2 million, and Allergan Inc. (NYSE:AGN) in which it added $7 million. Also, guru funds reduced their positions in Glaxosmithkline (NYSE:GSK) by $63 million and in Astrazeneca (NYSE:AZN) by $10 million in Q3. Of the four, only AZN trades at a discount P/E to the group average, and the other three are expensive relative to the group average P/E.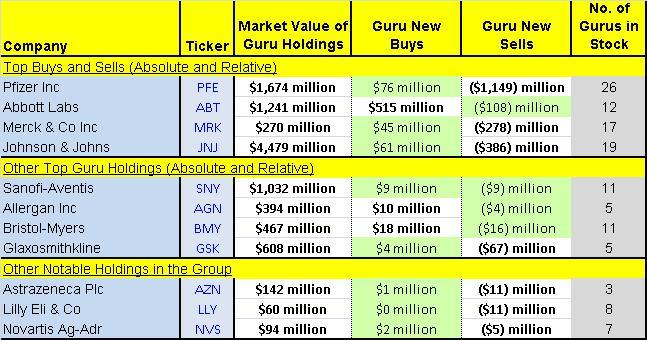 General Methodology and Background Information: The latest available institutional 13-F filings of over 60+ legendary or guru hedge fund and mutual fund managers, such as Warren Buffet, George Soros, Carl Icahn, Steven Cohen and Mario Gabelli, were analyzed to determine their capital allocation from among 50+ different industry groupings, and to determine their favorite picks and pans in each group. The hedge fund and mutual fund managers included in this select group include only high profile names who by virtue of their long-term market-beating returns have earned their standing in the investment community and are worthy of our attention. They include well-known names such as those mentioned above, as well as perhaps relatively lesser-known names that also have a stellar long-term history of beating the markets, such as Seth Klarman, John Griffin, Prem Watsa, Robert Karr and Lee Ainslie. Each guru has been carefully selected based on their long-term performance and standing in the investment community. Furthermore, the credentials of most of the 60-odd guru funds that justify their inclusion in this elite group were detailed in our previous articles.
These legendary or guru fund managers number less than one percent of all funds and yet they control almost ten percent of the U.S. equity discretionary fund assets. The argument is that institutional investors have the resources and the access to information, knowledge and expertise to conduct extensive due diligence in informing their investment decisions. When high alpha generating or guru Institutional Investors by virtue of their fund performance, low volatility and elite reputation in the investment community, invest and maybe even converge on a specific investment idea, the idea deserves consideration for further investigation. The savvy investor may then leverage this information either as a starting point to conduct his own due diligence or even go as far as constructing a model diversified portfolio based on the guru funds best picks.
This article is part of a series on institutional holdings in various industry groups and sectors, and other articles in the series for this and prior quarters can be accessed from our author page.
Credit: Fundamental data in this article were based on SEC filings, I-Metrix® by Edgar Online®, Zacks Investment Research, Thomson Reuters and Briefing.com. The information and data is believed to be accurate, but no guarantees or representations are made.
Disclosure: I have no positions in any stocks mentioned, and no plans to initiate any positions within the next 72 hours.
Disclaimer: Material presented here is for informational purposes only. Nothing in this article should be taken as a solicitation to purchase or sell securities. Before buying or selling any stock you should do your own research and reach your own conclusion. Further, these are our opinions, and we may be wrong. We may have positions in securities mentioned in this article. You should take this into consideration before acting on any advice given in this article. If this makes you uncomfortable, then do not listen to our thoughts and opinions. The contents of this article do not take into consideration your individual investment objectives so consult with your own financial adviser before making an investment decision. Investing includes certain risks including loss of principal.