Barron's published its "10 favorite stocks for 2012" as its cover story this week. I confess I don't know exactly what the list really represents. It's not like the article that accompanied the list explained any sort of methodology other than these companies are "top-quality names with growing dividends."
In any event, here's the list:
Now, Barron's is quick to point out that 4 out of 10 of these companies are European – Daimler, Royal Dutch Shell, Sanofi, and Vodaphone. I'd be concerned about that alone, for a variety of reasons. But there's another concern, and that's how dividends are paid.
Vodaphone, for example, makes an "interim" payment and a "final" payment each year. Daimler appears to pay annually. Yes these stocks have had high yields, but take those nuances into account if you consider these companies.
10 Stocks For 2011 Stumbled Early
For each stock on the list, Barron's explains its reasoning for considering the stock, but it doesn't appear to be a portfolio constructed in a cohesive way. And I'm sure there were plenty of good reasons for each stock that appeared in its "10 stocks for 2011" cover story back in January.
To its credit, Barron's is quick to admit that these stocks didn't do very well at all this year, a loss of 6.9% vs. the S&P 500's 1.9% loss (as of December 9).
But Barron's didn't give itself enough credit. Accounting for dividends, their portfolio would have done better than they noted, but an S&P 500 ETF like SPY would have also done better – actually eking out a tiny gain (as of December 9).
Here's a list of those stocks:
And here's the hypothetical performance of the 2011 selections if you'd allocated equally in a $10,000 portfolio, reinvesting dividends.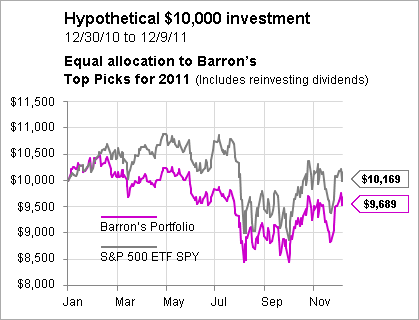 The culprits? Some real underperformers. Stocks that rose, such as XOM and PFE (up 12%+ each) could not make up for staggering losses in stocks like GM (off by 43%) and JPMorgan (off more than 20%) that seemed to stumble early in the year.
Lists like these are a bit troublesome for me. Because it's the magazine's opinion, it's not like we have much of a perspective on the mindset of those who selected the stocks.
More useful? Let's see the next 10 stocks on the list, the ones that didn't make the cut. And even more useful? An explanation of why. Now that would be interesting. After all, knowing how the editorial team winnowed down the choices to arrive at a list of only 10 stocks would be very enlightening.
And what would be really interesting if the second-place stocks actually came in first.
In any event, I only owned one stock on Barron's 2011 list – CSCO. But I happen to own three stocks this year's list – FCX, PG, and SNY.
Uh-Oh.