Time and time again, articles dealing with income investments in the energy sector will tend to focus on the same handful of names and tickers. It is not surprising as these names are selected due to their outsized yields or based upon the market cap of the companies.
But for investors willing to dig a little deeper, there is a hidden list of companies and entities that do not get the press that the bigger, better known names get. They may not have the outsized market cap or extreme yields, but they exist and offer very competitive returns that can help diversify a portfolio away from the mainstream. Let's take a look at some less well-known names in the industry and see if any might fit into one's income portfolio.
Crestwood Midstream Partners (NYSE:CMLP)
One does not have to look very hard to discover some new and exciting names when it comes to income investing. CMLP is really not a new name, but it is one that does not get much attention. With an average volume of 76,000 shares traded a day, it is easy to miss this name. Crestwood Midstream Partners LP is a leader in natural gas gathering, processing and treating services for natural gas and natural gas liquids produced from the Barnett Shale in North Texas, the Fayetteville Shale in Northwest Arkansas, the Granite Wash area in the Texas Panhandle and the Avalon Shale area of Southeastern New Mexico. The company was formerly known as Quicksilver Gas Services LP and changed its name to Crestwood Midstream Partners LP in October 2010. Crestwood Midstream Partners LP was founded in 2004 and is based in Houston, Texas. Crestwood Midstream Partners LP is a subsidiary of Crestwood Gas Services Holdings LLC.
CMLP is building a midstream energy company by making strategic acquisitions. The company's growth strategy includes building a diversified portfolio of midstream businesses and assets by making investments across the entire midstream value chain and in multiple geographic locations. For example, the company recently completed acquisition of Tristate Sabine, LLC from affiliates of Energy Spectrum Capital, Zwolle Pipeline, LLC and the Tristate management. The acquired assets include approximately 61 miles of high-pressure natural gas gathering pipelines and carbon dioxide treating facilities located in Sabine Parish, Louisiana. With this purchase CMPL's assets seem to be well diversified across the map as shown below.
Click to enlarge.


CMLP also has long-term fixed fee contracts with limited commodity exposure to try to address the volatility that currently exists in the markets. In early November the company reported operating revenues totaling a record $58.6 million for the third quarter 2011, compared to $30.4 million for the third quarter 2010 and $55.5 million in the second quarter 2011. As a result the CMPL increased the third quarter 2011 distribution to $0.48 per unit, which represents a 14 percent increase over the $0.42 per unit distribution for the third quarter of 2010, due to continued increases in volumes, adjusted EBITDA and distributable cash flow.
Adjusted distributable cash flow represented a 1.3 times coverage of the third quarter distribution of $0.48 per unit which was payable on November 10, 2011. This distribution equals a 6.2% yield that is paid on a quarterly basis. Obviously there is much more to report on Crestwood Midstream, but I think that the above facts should be more than enough to uncover this hidden gem for a second look for those who might have missed it.
BreitBurn Energy Partners L.P. (BBEP)
Our second often overlooked equity is BreitBurn Energy Partners L.P. This is an independent oil and gas limited partnership, focused on the acquisition, exploitation and development of oil and gas properties for the purpose of generating cash flow to achieve their goal of providing unitholders with stable and growing cash distributions. The assets consist primarily of producing and non-producing crude oil and natural gas reserves located in the Los Angeles Basin in California, the Wind River and Big Horn Basins in central Wyoming, the Sunniland Trend in Florida, the Antrim Shale in Michigan and the New Albany Shale in Indiana and Kentucky. As of December 31, 2010, the company's total estimated proved reserves were 160 MMBoe, of which approximately 71 percent were natural gas and 29 percent were crude oil. Of the total estimated proved reserves as of December 31, 2010, 68 percent were located in Michigan, 12 percent in California, 10 percent in Wyoming and 8 percent in Florida with the remaining 2 percent in Indiana and Kentucky.
BBEP is also very concerned about maintaining and growing their production. Capital spending in 2011 it is expected to be approximately $80 million, with approximately 70% spent principally on oil projects in California, Florida and Wyoming. On top of this, BBEP is actively pursuing acquisition opportunities that are consistent with their current asset base which will promote commodity diversity and have production upside or exploitation potential. Needless to say, BreitBurn Energy is also big into the hedging game to try to control swings in commodity pricing. Below is their current hedging positions that they are currently working with.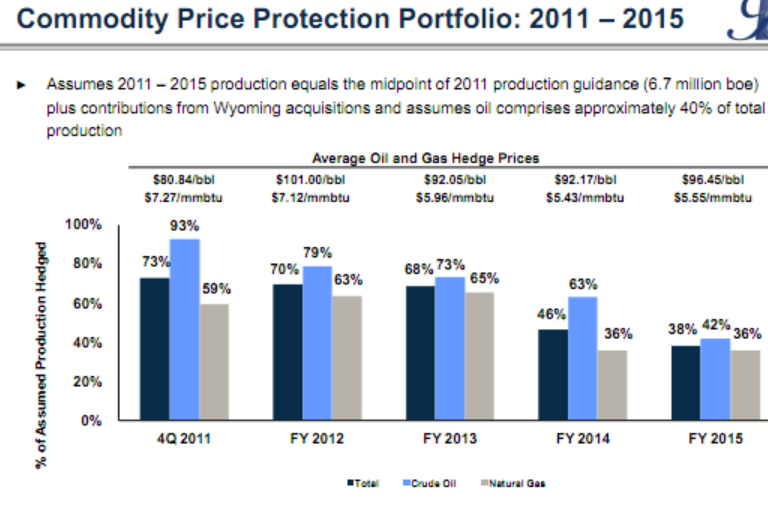 Third-quarter 2011 operating results were released on November 8, 2011, and showed some good comparisons to the second quarter. Total production increased from 1,662 MBoe in the second quarter of 2011 to 1,681 MBoe in the third quarter of 2011 primarily as a result of production from acquired properties. Average daily production was 18,273 Boe/day in the third quarter of 2011 compared to 18,265 Boe/day in the second quarter of 2011. The incremental cash flow from the latest acquisitions has supported BBEP's distribution growth strategy as well. Recently the company has announced a distribution increase of 3% and currently is $1.74 per unit on an annualized basis which make a yield of 9.6%. BBEP is another great income generator that remains hidden to many investors.
Pengrowth Energy Corporation (NYSE:PGH)
Another company that does not get much attention is Pengrowth Energy Corporation. It is interesting as they do get mention as a top dividend pick by many analysts, but it seems that companies like Penn West (NYSE:PWE) or Enerplus (NYSE:ERF) get more attention and press ink. PGH engages in the acquisition, exploration, development, and production of oil and natural gas reserves in the Western Canadian Sedimentary Basin. Pengrowth explores for crude oil, natural gas, and natural gas liquids in the provinces of Alberta, British Columbia, Saskatchewan, and Nova Scotia.
The current production mix is an even split of 50% liquids and 50% natural gas. The production rate calculated in late June 2011 is 70,958 boe per day. The company has approximately 900,000 acres of undeveloped land and at the end of 2010 it had a total proved plus probable reserves of 318.4 millions of barrels of oil equivalent. The reserve life index on the proved plus probable is 11.1 years.
What is nice to see about this hidden income investment is that management is committed to a sustainable business model where distributions plus capital expenditures do not exceed cash flow. Of course this is easier said than done as the company was just successful in the closing of its previously announced stock offering. Under the offering, Pengrowth through a syndicate of underwriters, led by BMO Capital Markets, issued 28,310,000 common shares at Cdn$10.60 per share for gross proceeds of approximately Cdn$300 million.
The net proceeds from the offering will be used to partially fund Pengrowth's 2011 and 2012 capital programs but will initially be used to repay indebtedness under their credit facilities. To help achieve this goal PGH employs a good deal of hedging to their production. This hedging adds an additional measure of stability to the company's balance sheet and investor's constant worry. Below is the most current hedging positions that are in place.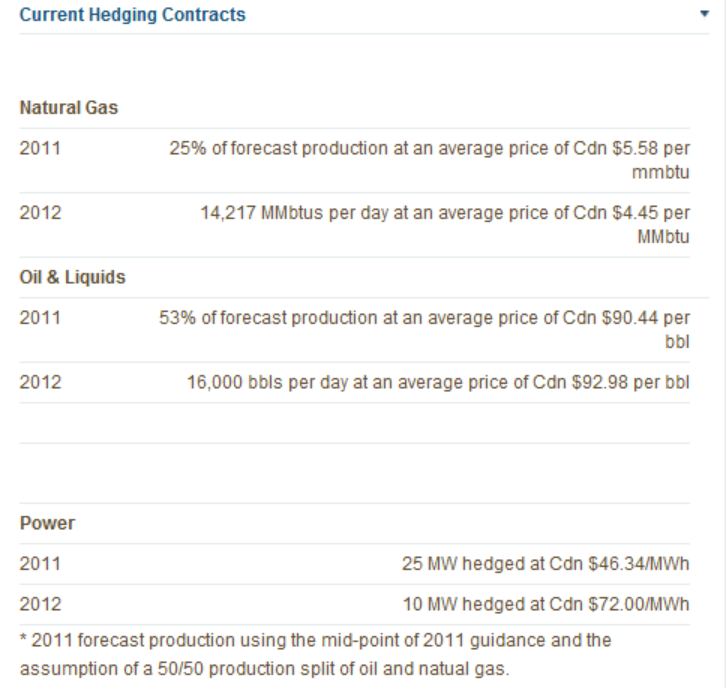 When looking at PGH's third quarter financials, one sees a company trying to steadily growing their business. The company produced an average of 74,568 barrels of oil equivalent per day in this quarter which was a 5% increase from the second quarter in spite of some delays. The company's capital program expenditures have also increased as a result of land purchases, small acquisitions, the initiation of several drilling programs, and increasing drilling and completions costs.
Pengrowth's 2011 capital budget has been increased by $60 million to $610 million. Needless to say the vast majority of these expenditures are being focused on the oil and liquid rich natural gas projects as this these are the most profitable projects in today's market. PGH currently sports a 7.6% yield that is paid out monthly. All in all, another interesting company that flies below lots of people's radar.
Provident Energy Ltd. Ordinary (PVX)
Much like PGH mentioned above, Provident Energy or PVX is another stock that does not get its fair share of press and coverage. Provident Energy Ltd. engages in the natural gas liquids (NGLs) infrastructure and marketing business in Canada and the United States. The company is involved in the extraction, processing, storage, transportation, and marketing of NGLs, as well as offers these services to third party customers. It also provides fractionation, storage, NGL terminalling, loading, and offloading services.
On top of this, the company is also beginning to come to grips with its potential in the growth of the Alberta oil sands. PVX has assets that are very well positioned to provide essential services to oil sands producers. For example the company could engage in providing condensate to dilute raw oil sands crude for transportation and storing and transporting oil sands-related products.
The business model for PVX is one that may put investors at ease. One of the listed priorities for the company is to provide a high dividend payout policy. The company must also be able to balance this with its funding maintenance and base capital expansions requirements via the cash flow, DRIP proceeds and available credit facilities. It should be noted though that to fund major expansion projects and acquisitions PVX will be required to issue new debt and equity. For a visual example, take a look at the graph below which was provided by the company in a recent presentation.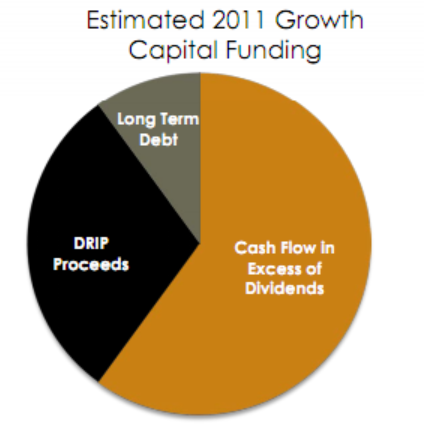 PVX also knows the importance of hedging, and has quite an extensive program in place. Below is a summarized attachment that details the hedging and shows the company is serious about trying to maintain their cash flows while providing shareholders with above average value.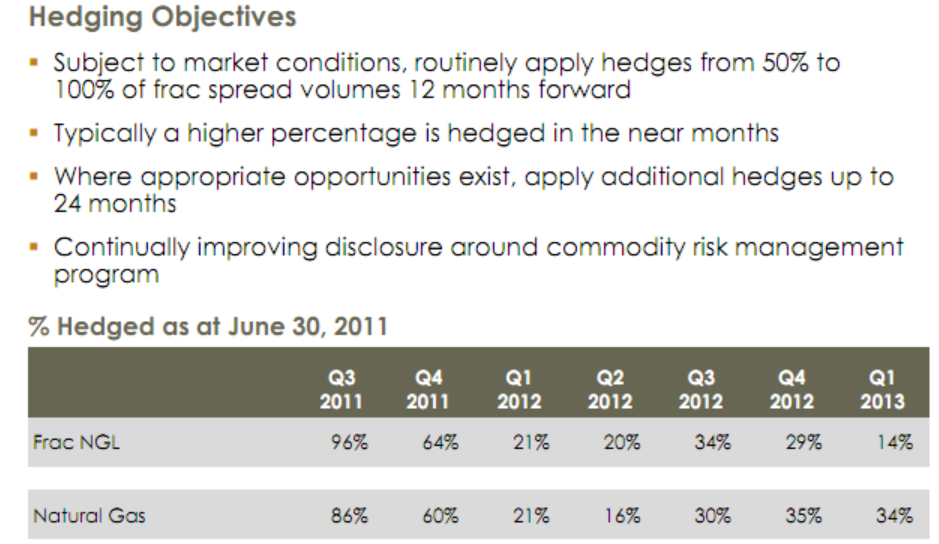 For the third quarter, the company reported that gross operating margin grew by 38 percent to $86 million, up from $62 million in 2010. This was due to strong NGL product pricing, higher frac spreads and increased sales volumes. Currently the company is paying out its distribution on a monthly basis that calculates into a 5.3% yield. Maybe PVX might warrant a closer look for those willing to dig a bit deeper.
Pembina Pipeline Corporation (OTC:PBNPF)
For our last hidden income play we have to go into the pink sheets, and there we find Pembina Pipeline. It is actually amazing how many great foreign companies trade on the pink sheets. Some retail income investors though will often shy away from them as the term "pink sheets" draws up bad connotations. Needless to say, these investors are truly missing out on some great opportunities just like PBNPF.PK.
Pembina Pipeline Corporation operates as an energy transportation and service provider in Canada. It operates in four segments; Conventional Pipelines, Oil Sands & Heavy Oil, Midstream & Marketing, and Gas Services. The Conventional Pipelines segment operates a 7,500 kilometer pipeline network that transports crude oil, condensate, and natural gas liquids in Alberta and British Columbia. The Oil Sands & Heavy Oil segment owns and operates the Syncrude pipeline, the Cheecham Lateral, and the Horizon pipeline, which deliver synthetic crude oil produced from oil sands. The Midstream & Marketing segment offers storage, terminal, and hub services. The Gas Services segment consists of natural gas gathering and processing facilities, including three gas plants and nine compressor stations. This segment also operates approximately 300 kilometers of gathering systems.
One thing that investor have to appreciate about Pembina is the diversification that they bring to the table. Transporting everything from natural gas liquids to oil sands and heavy oil means the company has exposure to different aspects of the energy sector. I have shown this graph below in other articles, but it is an excellent tool to show how each of the midstream and marketing segments work in tandem for investors and the company.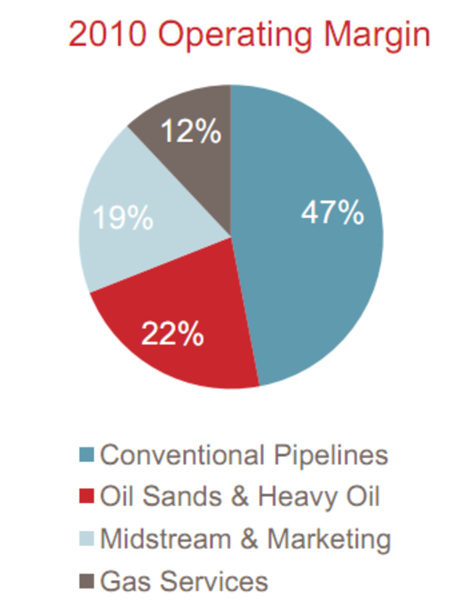 For the third quarter Pembina reported adjusted earnings of $47.4 million ($0.28 per share) compared to $34.4 million ($0.21 per share) during the third quarter of 2010. Adjusted earnings were $165.1 million ($0.99 per share) for the first nine months of 2011 compared to $128.7 million ($0.79 per share) during the first nine months of 2010. Looking at the cash flow from operating activities the company reported $88 million ($0.53 per share) during the third quarter of 2011 compared to $66.6 million ($0.41 per share) during the third quarter of 2010. Pembina generated cash flow from operating activities of $212.8 million ($1.27 per share) during the first nine months of 2011 compared to $202.6 million ($1.24 per share) during the first nine months of 2010.
Lastly, what else keeps investors interested in Pembina is that the company and management are not sitting still. Pembina has always understood that the key success is growth and the company has an expansive plan to do this. For example the company has two projects that they are very excited about (Saturn and Resthaven Enhanced Liquids Extraction Facilities). Both of these new projects are expected to be in-service in late 2013 for a total cost of $430 million. The Saturn Facility will be able to extract up to 13,500 barrels per day (bpd) of liquids.
Pembina plans to construct an 83 kilometre, 8 inch NGL pipeline to transport the extracted NGL from the Saturn Facility to Pembina's Peace Pipeline, which delivers product into Edmonton, Alberta. The Resthaven Facility will have gross capacity of 200 million cubic feet per day (mmcf/d) and 13,000 barrels per day (bpd) of liquids extraction capability, with ultimate capacity of 300 mmcf/d. Project plans include the construction of a 44 kilometre, 6 inch natural gas liquids (NYSE:NGL) pipeline to transport the products from the Resthaven Facility to Pembina's Peace Pipeline, which also deliver its product into Edmonton. The company pays out its distribution on a monthly basis and the current yield is close to 5.2%. PBNPF.PK is truly a hidden gem.
In conclusion, there are many great companies that can be discovered for those willing to dig a bit deeper. Above are just a handful of examples of equities that could provide great income streams for those looking to round out there portfolios.
Disclosure: I am long PWE.