Although I've generally been positive on large cap tech because of its rather low valuation and high quality earnings, it must be said that numbers for Q1 2012 might be hit by a temporary problem.
Basically, the floods in Thailand have provoked a shortage in hard disk drives, which has led IHS to lower estimates for Q1 2012 by a full 3.8 million PCs (from 88 million units to 84.2 million units).
Beyond the obvious hit to the direct HDD suppliers, like Seagate (STX) or Western Digital (WDC), which have already seen deep cuts in estimates, this kind of revision can also hit the major component suppliers to the PC market, namely Microsoft (MSFT) and Intel (INTC).
It's also negative for Micron (MU) and others, but for other reasons those have already taken huge lumps, given the state of the DRAM market, even before this problem cropped up.
Right now, Microsoft already has had a few downward revisions to its estimates, amounting to 3 cents less: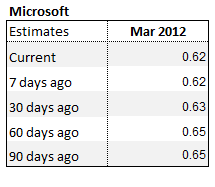 In Intel, on the other hand, the downward revisions were minor at just 1 cent: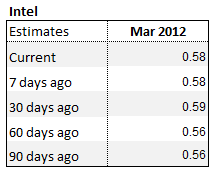 Fundamental and technical summary on the stocks affected
Microsoft
Microsoft has a market cap of $216.2 bn, it trades at a discount to the market (S&P 2011 PE = 13), with a 2011 PE of just 9.3 and a 2012 PE of just 8.5, even while being a much higher quality company than usual, with an ROE of 44.2% and huge operating margins (> 38%). Microsoft is also presently yielding 3.1%.
Technically, the stock is somewhat undefined, with some indicators pointing towards a downtrend, but the stock being caught within a range defined by an uptrend line (presently at $24.70) and a downtrend line (presently at $26.75).
Intel
Intel has a market cap of $127.4 bn, it also trades at a discount to the market, with a 2011 PE of just 10.2 and a 2012 PE of 9.8. Intel is also an higher quality company when compared to the market - it has a ROE of 27.2% and good operating margins at 32.8%. Intel is yielding even more than Microsoft, at 3.3%, and Warren Buffett seems to think its numbers are sustainable, having taken the unusual step of buying into Intel (unusual, given that Intel is a tech company).
Unlike Microsoft, Intel is already in a well defined uptrend, though it has gotten rather steep lately, with the uptrend line of support being as low as $23.3.
Conclusion
There's some risk to the estimates of Microsoft and Intel because of this event. However, since the event is clearly temporary and the situation will normalize, and since Microsoft and Intel are high quality names trading at deep discounts, it might be sensible to ignore the impact.