New York-based Orbimed Advisors is the world's largest healthcare investment company, with approximately $5 billion in assets under management. Besides their $2.7 billion in equity holdings in publicly traded companies, per their most recent SEC 13-F filing for the September 2011 quarter, Orbimed also manages a series of venture capital funds. Their investment team includes over 40 professionals, many of them with backgrounds in science, medicine and the life sciences industry, in addition to the more typical finance backgrounds. About 80%-85% of their fund is in the healthcare space, and most of the remaining 15% is in accident and healthcare insurance providers. Within the healthcare space, almost three-quarters of the capital is allocated to biotech, 10% to big pharmaceuticals companies, and 15% to medical equipment companies. Across capitalizations, more than half of their capital is in large-caps, 20% in mid-caps and the remaining 25%-30% is in small-cap equities.
With the biotech index down by almost by a third since the peak in May this year, now may be a good time to hunt for some bargains in the group. Based on Orbimed Advisors most recent Q3 filing, the following are its most bullish picks that may be of interest (see Table):
Affymax Inc. (NASDAQ:AFFY): AFFY develops drugs for the treatment of serious and life-threatening conditions, and include a peptide-based drug, Hematide, in phase 3 clinical trials for the treatment anemia associated with chronic renal failure. Orbimed Advisors added $7 million in Q3 to its $20 million prior quarter position in AFFY, and is by far the largest institutional investor in AFFY, holding 9.5% of the outstanding shares. AFFY shares were among the biggest movers on Thursday, up 37% after winning FDA advisory panel backing for its peginesatide anemia drug for the treatment of anemia in chronic kidney disease [CKD] in adult patients on dialysis. If approved, the drug would compete with AMGN in a multi-billion dollar market for anemia drugs.
Teva Pharmaceutical (NASDAQ:TEVA): TEVA is an Israeli developer of generic and branded drugs and active pharmaceutical ingredients. Orbimed added a new $21 million position in TEVA in Q3. TEVA is a consistent growth performer, with earnings up strongly almost every year recently, including through the 2008/09 recession, and earnings are projected to increase at 11.7% from $4.54 in 2010 to $5.66 in 2012, while it trades at a discount 7 forward P/E and 1.6 P/B compared to averages of 12.0 and 3.0 for the generic drug manufacturers group. TEVA's generics business is expected to benefit greatly from the woes of big pharmaceuticals that are expected to lose patent exclusivity on a number of big drugs.
Dendreon Corp. (NASDAQ:DNDN): DNDN develops targeted therapeutics to treat cancer using active immunotherapies, monoclonal antibodies and small molecules. Among investor circles, it is probably best known as the maker of Provenge® for Prostate Cancer. Orbimed initiated a new $6 million position in DNDN in Q3. DNDN shares have plunged recently, down over 80%, since July on back-to-back disaster quarter reports for the latest June and September quarters, leading investors to question the long term potential and competitive strength of its lead drug Provenge, an FDA approved immunotherapy for prostate cancer. The stock continues to bounce around at the lows, and may have hit a technical bottom, at least for now.
Pfizer Inc. (NYSE:PFE): PFE develops branded prescription drugs for cardiovascular and metabolic diseases and other conditions. At $157 million, including $21 million added in Q3, it is the largest position in Orbimed's portfolio. PFE is currently undervalued, and trades at a discount forward 8-9 P/E and 1.7 P/B compared to averages of 11.7 and 4.2 for its peers in the large cap pharmaceuticals group. PFE has an attractive 4.0% yield, and its earnings are projected to increase at a 2% annual growth rate from $2.22 in 2010 to $2.31 in 2012.
Merck & Co. (NYSE:MRK): MRK develops prescription drugs to treat asthma, osteoporosis, cardiovascular, metabolic and other disorders. Orbimed added $20 million in Q3 to its large $77 million prior quarter position in the company. MRK is also undervalued, and trades at a discount forward 9 P/E and 2.0 P/B compared to averages of 11.7 and 4.2 for its peers in the large cap pharmaceuticals group. MRK has an attractive 4.5% yield. Its earnings have been in an upward trajectory in the recent past, and are projected to increase at a 6% annual growth rate from $3.42 in 2010 to $3.84 in 2012.
The following are the stocks that Orbimed Advisors is bearish on based on their Q3 selling activity:
Gilead Sciences Inc. (NASDAQ:GILD): GILD is a developer of therapeutics to treat viral, fungal, respiratory and cardiovascular diseases. Orbimed sold $40 million in Q3 from their $134 million prior quarter position. GILD shares have performed well recently, up over 10% so far this year, as recent quarter operating results have beat estimates, and there is optimism about its deep pipeline of drugs under development. Its shares trade at a discount 9-10 forward P/E, and at 5.0 P/B, compared to averages of 22.2 and 11.3 respectively for the biotech group. However, shares took a hit recently over its proposed acquisition of Pharmasset Inc. (VRUS) for $137 per share, announced November 21st, as the transaction is expected to be dilutive to GILD earnings through 2014 and accretive beyond that. The acquisition of VRUS is expected to be a game-changer for GILD in terms of making it a premier player in the hepatitis C space.
Medtronic Inc. (NYSE:MDT): MDT develops implantable cardiac rhythm devices, spinal implants and other device-based medical therapies. Orbimed sold $6 million in Q3 from their $51 million prior quarter position. MDT is a stable growth company with earnings up every year, including through the 2008/09 recession, and it trades at a discount forward 9 P/E compared to the 29 average for its peers in the medical products group. However, part of this discount is warranted, as earnings at MDT are projected to increase in the 5% annual range while many companies in the group have expected growth in the 15%-20% or higher range.
Table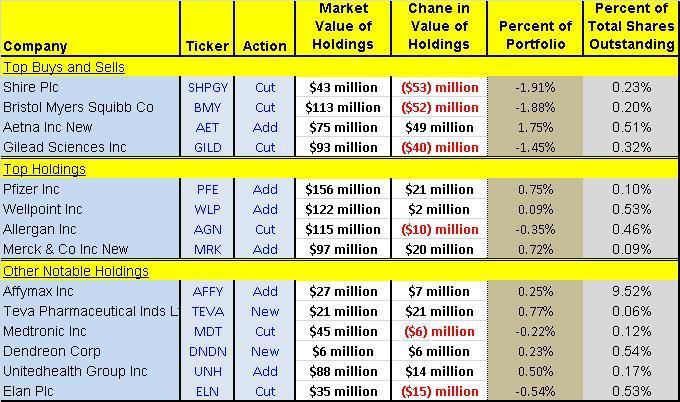 Click to enlarge
Credit: Historical fundamentals including operating metrics and stock ownership information were derived using SEC filings data, I-Metrix® by Edgar Online®, Zacks Investment Research, Thomson Reuters and Briefing.com. The information and data is believed to be accurate, but no guarantees or representations are made.
Disclosure: I have no positions in any stocks mentioned, and no plans to initiate any positions within the next 72 hours.
Disclaimer: Material presented here is for informational purposes only. Nothing in this article should be taken as a solicitation to purchase or sell securities. Before buying or selling any stock you should do your own research and reach your own conclusion. Further, these are our 'opinions' and we may be wrong. We may have positions in securities mentioned in this article. You should take this into consideration before acting on any advice given in this article. If this makes you uncomfortable, then do not listen to our thoughts and opinions. The contents of this article do not take into consideration your individual investment objectives so consult with your own financial adviser before making an investment decision. Investing includes certain risks including loss of principal.