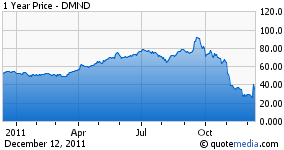 Today's setback in price with Diamond Foods Inc. (NASDAQ:DMND) is a perfect example of why I believe high volatility stocks generally should be avoided for the relative sanity of the options market. Options are a perfect tool to lower volatility on stocks you already own and stocks you want to own. The reverse is true with shorting highly volatile stocks as well. I have recently written two articles with a focus on Diamond Foods. Both articles are generally bullish on Diamond Foods and very bearish on many of the option strikes.
Click here to read my Diamond Foods articles.
Diamond Foods continues to leave investors questioning the company's accounting practices by announcing a delay in a required first quarter earnings report (10-Q) filing with the SEC. The announcement came with an update of Diamond Foods' Audit Committee research into crop payments to walnut growers. Investors are not expecting a conclusion and report from the Audit Committee until possibly sometime in February of 2012. The delay in filing the report also leaves Diamond Foods in a deficiency status with Nasdaq, the market Diamond Foods trades under with the symbol of DMND. Diamond will likely remain on the main board of Nasdaq without any disruption to the trading, but having one more strike against the current management is anything but comforting for investors.
After a massive volume trading day Friday with over 14 million shares trading hands, Diamond Foods' stock is set to break Friday's record. With about three hours of trading left in the day, Diamond has traded over 11 million shares. Based on my charts, today is already a record day for the number of shares traded during a down day for share price.
Adding to the late filing, it is being reported some walnut growers are currently disputing and questioning payments received. While Diamond Foods stated some payments to its walnut growers as recently as September was an advance, some growers are reporting they were told the payments were on top of the 2010 crop payments.
As a result of the recent headlines, Diamond Foods continues to have "needle pegging" massive implied volatility priced into every strike in the December and January series puts and calls. While the covered call options are generally priced with higher premium (better for option writers like me), the puts are kept very close due to the mathematical relationship they hold together. All things equal, an option writer will likely be able to receive a higher premium with a call compared to a put. Also, an investor will expect a covered call as close to in the money as possible, receiving the best of it, from a premium received point of view (if able to sell at the asking price). With adjustments to the strike price, overall risk and portfolio Beta can also be adjusted. The lower the strike price, the lower the risk and potential reward.
Diamond Foods opened trading today down 20% compared to Friday's closing price. The percentage decline is even greater when viewed from after hours trading on Friday. As expected, Diamond Foods' stock traded higher during after hours trading with trades priced over $41 a share. At the mid-day of trading today, Diamond Foods is still trading much lower, but off the lows of the day and above the opening price.
As long as Diamond remains above the opening price I will remain bullish on the stock and bearish on put options. I did trade the stock today to the long side, but it was based on a technical chart trade set-up and not related to my overall view of capturing option premium. I am currently looking at selling $30 strike price December and/or January PUT options. While I should in theory be able to make slightly more premium with a covered call, currently the PUT option liquidity is much greater and having a one leg trade entry is more desirable. Diamond will likely need to trade below $30 for me to sell put options once again. Based on today's trading range so far today, it appears very possible we may see a trading price below $30 even this week. While I believe the stock is worth much more, I am willing to sit on my hands and wait for a premium entry.
Disclosure: I have no positions in any stocks mentioned, but may initiate a long position in DMND over the next 72 hours.