I was a guest on Bloomberg's "Taking Stock" with Pimm Foxx earlier this year. I have been on Bloomberg radio many times this year. During this particular appearance, I was asked for a few top picks, as is usual. One of the two or three stocks that I gave to Bloombeg listeners at that time was a little known stock by the name of Golar LNG. (NASDAQ:GLNG).
The Bermuda based company provides international marine transportation services for liquefied natural gas (LNG) with a fleet of 12 vessels.
(Click charts to expand)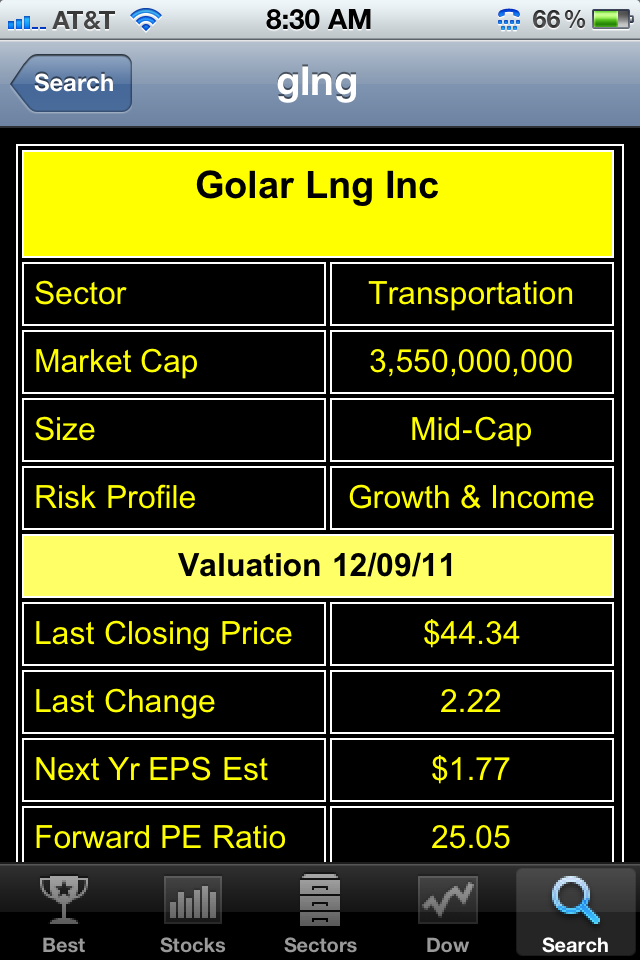 (Data from Best Stocks Now App)
The stock resides in the Transportation Sector and is currently a mid-cap stock at just over $3.5 billion in market capitalization. I have categorized the stock in the Growth & Income style box. It is suitable for investors who want a dividend payer with a good chance for capital appreciation also. The current dividend yield is 2.8%.
The company is one of the world's largest independent owners and operators of LNG carriers with over 30 years of experience. The company's strategic objective is to become an integrated midstream player in the LNG industry.
Liquified Natural Gas takes up about 1/600th the volume of natural gas in its gaseous state. LNG is principally used for transporting natural gas to markets where it is regasified and distrubuted as pipeline natural gas.
The energy density of LNG is 2.4 times greater than compressed natural gas (CNG), which makes it economical to transport natural gas by ship in the form of LNG. The energy density of LNG is comparable to propane and ethanol, but is only 60% that of diesel and and 70% that of gasoline.
Due to energy shortage concerns, many new LNG terminals are being comtemplated in the United States. There is extreme controversy in the building of these plants however, because of safety concerns. Receiving LNG terminals currently are located in 18 different countries.
Global trade of LNG is expected to grow substantially during coming years.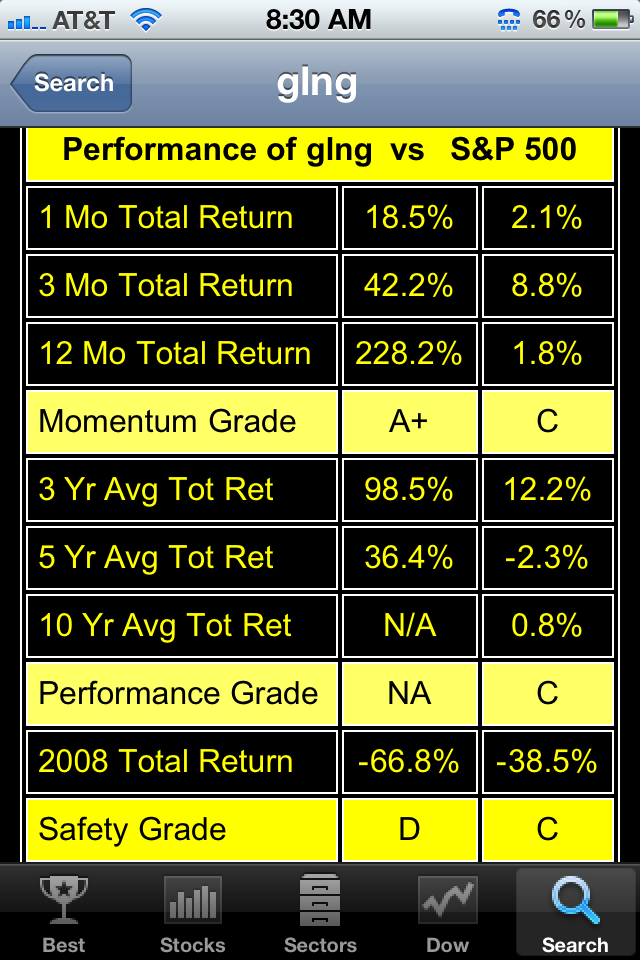 (Data from Best Stocks Now App)
As you can see, Golar LNG's stock has more than tripled over the last 12 months. In fact, Golar is the third best performing stock in the entire market over the last 12 months.
Over the last three years, the stock has nearly doubled each and every year. Over the last five years, the stock has averaged a 36.4% total return per year. This is currently one of the best peforming stocks in the entire market. It should be noted however, that this stock was down a whopping 66.8% during the market sell-off of 2008. This is not a stock for widows and orphans.
The stock has been a top performer, but as we all know, investing is all about the future, although it is very important to examine a company's past.
The way we look at the future of a company is by examining future growth prospects and doing a valuation on the shares. I spent several years in my business visiting publicly traded companies, meeting with management, and coming up with such projections and valuations.
I am not going to visit Bermuda on this one, I am going to look to the analyst community that follows the company for guidance instead. There are currently five analysts that follow the company. They currently have a consensus estimate of $1.77 per share for next year.
The forward estimated growth rate over the next five years is an almost unbelievable 80% per year. In fact, I don't quite believe it, but consider that the the company only made $0.01 per share last year, is expected to make $0.97 this year, and $1.77 next year, however. This is astonishing earnings growth.
I am using a 50% average annual growth rate on earnings estimates of $1.77. Carrying those earnings out over the next five years nets earnings power of $8.96 per share. I next apply a multiple of 8X to compute a five-year price target of just over $73 per share. The calulations look like this: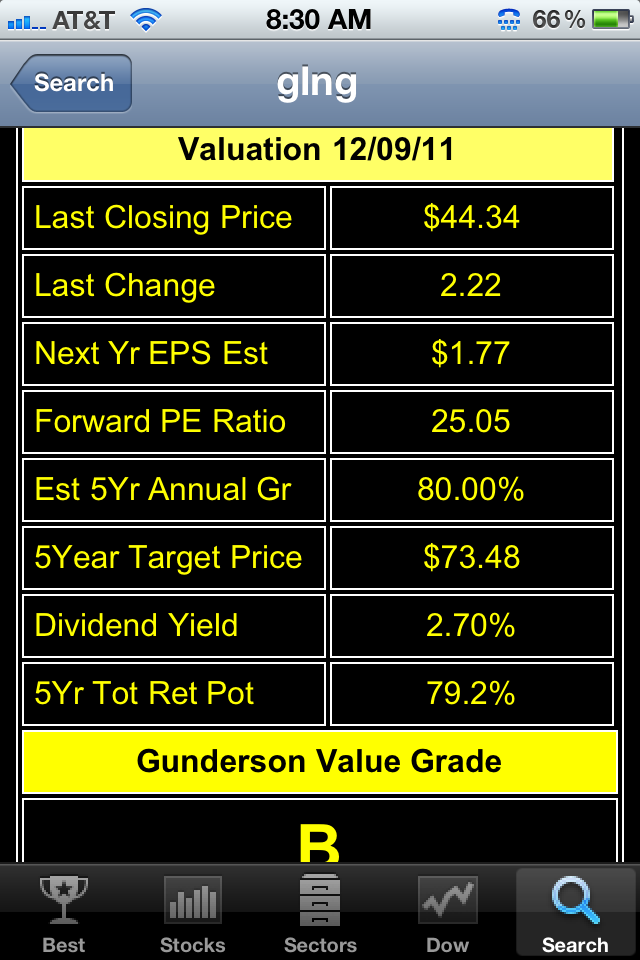 (Data from Best Stocks Now App)
(Note: may app lists the consensus analyst's five-year growth rate, but I have overwritten with a 50% rate in my value calculation).
Even though the stock has more than tripled over the last year, it still has considerable upside potential. I like to buy stocks when they have 80%-100% upside potential over the next five years. GLNG is currently just barely shy of this. I could definitely still buy the stock here at this level, however.
I believe strongly that Golar LNG can continue to be one of the premier growth stocks in the market. The stock still has considerable upside potential over the next five years. My propietary grading system takes into account a combination of performance and value. Golar currently possesses both. Out of 2,682 stocks, I currently rank Golar at number 32.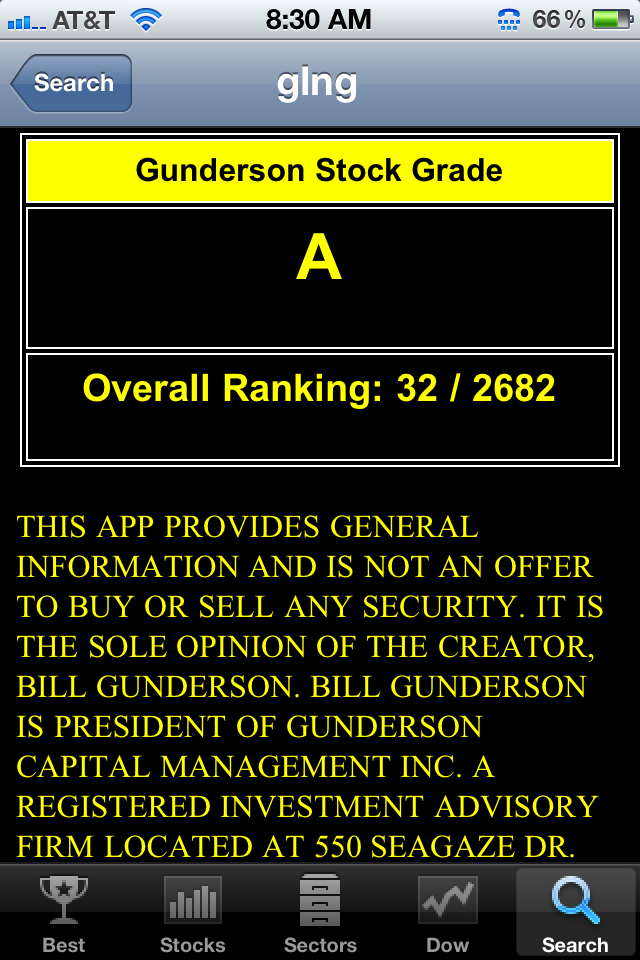 (Data from Best Stocks Now App)
Disclosure: I am long GLNG.