"There are only two emotions in the market - hope and fear. The problem is you hope when you should fear, and fear when you should hope."
This is a famous quote from Jesse Livermore, a famous trader who made and loss millions in the market. I believe it is quite apropos at this juncture in the market. I posit the market is at an inflection point and the bulls are about to take control once the calendar clicks over to 2012. As we all know, in life, timing is everything. Well, it works the same way in the market and the time is now for the following stocks.
In this article we will discuss the following seven stocks: Alcoa, Inc. (NYSE:AA), Bank of America Corporation (NYSE:BAC), Citigroup, Inc. (NYSE:C), Ford Motor Co. (NYSE:F), Freeport-McMoRan Copper & Gold Inc. (NYSE:FCX), SPDR Gold Shares (NYSEARCA:GLD) and iShares Silver Trust (NYSEARCA:SLV).
Monday's Market Snapshot
An afternoon buying spell facilitated stocks off session lows, although the general market still took a substantial beating as investors fixated on the daunting challenges in front of eurozone bureaucrats and a substandard projection from Intel (NASDAQ:INTC). Apprehensions about the macro state were rejuvenated first thing in the morning as market partakers processed data that specified China experienced a slowdown in export growth during November, which many viewed as a symbol of a slowdown in the country that has been the engine of the global economy.
Eurozone euphoria quickly dissipated as participants shifted their focus from the significant step of getting a deal signed to the daunting task of implementing the plan itself. Based on uncertainties that the sovereigns will continue to schlep sideways without genuine results, yields on the debt of nations in the eurozone fringe were sent higher. The region's major bourses were likewise chastised by traders, with the EuroStoxx 50 falling about 1.6%. Exacerbating the situation was Intel with a disappointing outlook. The stock's 4% single-session slide pulled down the rest of the semiconductor sector with the Philadelphia Semiconductor Index shedding nearly 3%.
Company Reviews
Current Performance Chart
Click to enlarge


Company-Specific Analysis
Alcoa Inc. and Freeport-McMoRan Copper & Gold Inc.
Alcoa wrapped up the day down 3% at $9.35 and FCX was down nearly 2% at $38.55. This is approximately 50% off its 52-week high for AA and 33% for FCX. Alcoa has a price to tangible book ratio of .07 and a PEG Ratio of 0.2 while FCX has a PEG Ratio of one. Both companies are well-run global leaders in their respective spaces with many positive company specific catalysts and macro catalysts. I have traded in and out of these names several times over the last few years and always seem to make money when I buy in at these levels. Any positive news out of the eurozone and these stocks will soar in no time. Once the central bank printing presses go into overdrive in an attempt to paper their way out of debts, I see an inflationary environment evolving which will drive these commodity related stocks to new heights.
Fundamental Statistics
Alcoa, Inc.
Click to enlarge


Freeport-McMoRan Copper and Gold Inc.

Bank Of America Corp. and Citigroup
The banks are everyone's punch horses right now. This is the time when I start to get interested. BAC and C closed the day severely below their 52-week highs and near recent 52-week lows. Trading at fractions of tangible book, I think it's time to start a position in these beaten down banks. I know Warren Buffett got a special deal for his investment in BAC and you shouldn't jump in to a stock simply because a major player takes a position, but Buffett didn't make the investment thinking the stock was going to zero and you are getting in at a much lower price than Buffett at this point. I like these two banks here for a trade at least. This is a speculative play, although your buy in price point is the greatest factor in determining profit potential.
Fundamental Statistics
Bank Of America Corp.
Click to enlarge


Citigroup

SPDR Gold Shares and iShares Silver Trust

In regard to the two precious metal picks, GLD and SLV, the inflation factor as well as a safe haven status against fiat currency issues will continue to drive these commodity ETFs higher. GLD and SLV will continue higher as investors pile into them as inflation insurance hedges. With the central banks of the world battling it out to attain as much gold as possible and China's seemingly never ending lust for silver, these ETFs will continue to rise throughout 2012. Gold has been up in all of the past 10 years. The GLD and SLV are both up nearly 20% over the past 52 weeks. I view the recent correction as technically healthy for these names. Please review the following chart detailing their five-year performance results.
Click to enlarge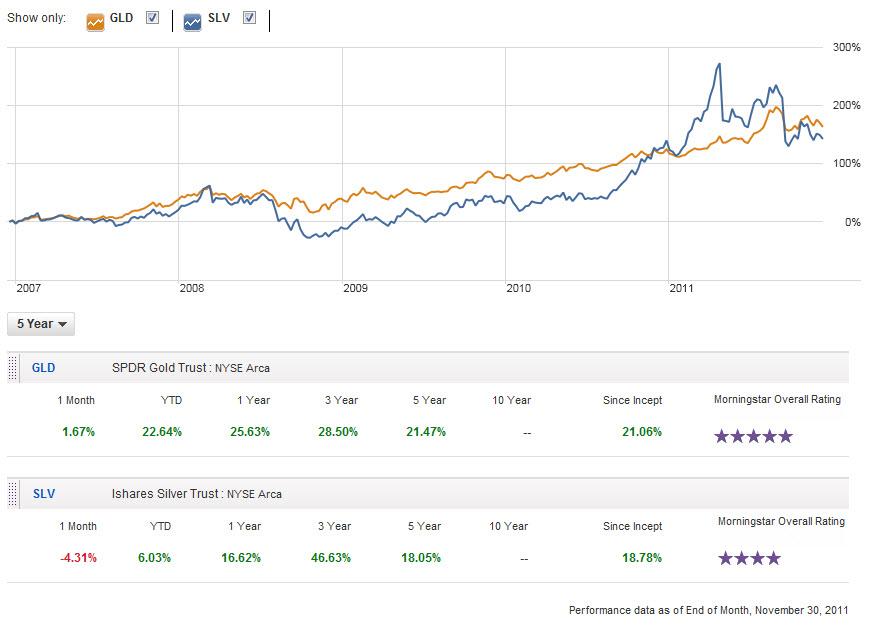 Ford Motor Co.
Ford is trading nearly half off it's 52-week high and has vastly improved the company's financial position. The company recently announced the reinstatement of a dividend and Ford's credit rating was recently upgraded. I have traded this stock successfully many times over the last year. I believe Ford can make a quick run to 14 in short order. This price level was defended quite well for most of last year and you may see significant resistance at 14. The Ford F-150 Is Motor Trend's 2012 Truck of the Year. Ford still remains America's favorite for not taking bailout money in 2008. The risk/reward on Ford at this level is enticing. Please review below chart for fundamental statistics.
Click to enlarge


Conclusion
The FOMC minutes for the two-day November meeting suggest that under current economic circumstances the Federal Reserve may engage in a third round of quantitative easing. According to CNN.com, The Federal Reserve, along with five other central banks, recently acted to make it cheaper for banks around the world to borrow U.S. dollars - a staple of global financial transactions. It's a big move, meant to not only lower the cost of short-term borrowing for troubled European banks, but also keep the global economy free and clear of an all-out credit crunch as in 2008.
The solution to the eurozone's sovereign debt issues will inevitably lead to euro printing presses cranking up, allowing them to paper their way out of their solvency problems, which will only spur stock prices even higher. When the eurozone gets its act together, and they took a huge step by signing a new pact, and the global economy achieves viable economic traction, you can kiss the current share prices goodbye. I envision a day in the not-too-distant future where we will look back at current market levels in awe of the amazing values currently presented. Although, the S&P ratings agency may provide one more buying opportunity with possible downgrades coming for the eurozone sovereigns.
Finally, the market is significantly underinvested. Once investors' fear factor has been significantly reduced, look for a colossal pile of cash on the sidelines to come pouring in to the market providing a huge boost to share prices.
Disclosure: I have no positions in any stocks mentioned, but may initiate a long position in AA, FCX, C, BAC, GLD, SLV, F over the next 72 hours.