2011 has proven to be a difficult year for gold miners. From production delays to weather playing havoc with construction plans to inflation and sovereign risk, gold mining stocks have had a difficult time gaining the attention of investors. Yamana Gold (NYSE:AUY) stands out from the rest as they continue to deliver on guidance, mine openings, and exploration.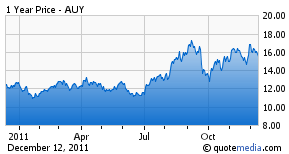 Yamana Gold recently reported third quarter revenues of $555.2 million, up 22% from a year ago. Year to date, operating cash flow has moved up to $945 million from $568 million in 2010.
Co-product cash costs totaled $468 per gold equivalent ounce (geo) and $94 per geo on a by-product basis. Over the first 9 months of 2011 by-product cash costs were $9 per geo, an astounding figure when you take into account their geographic profile of Brazil, Argentina, and Chile. Production totaled 279,274 geo broken down into 230,986 gold ounces and 2.4 million silver ounces.
On the development side, Mercedes has started operations six months ahead of schedule with the first gold pour expected to occur shortly. This will be Yamana's first Mexican mine, representing further diversification of their asset base. Mercedes will add an estimated 120,000 geo of annual production with Santa Luz, Ernesto, and Pilar mines in Brazil scheduled to begin production in late 2012/2013. All four mines will allow Yamana to reach their goal of 1.7 million geo by 2014.
Yamana has not been following in the footsteps of their rivals by investing in many startup exploration companies due to their internal track record. As mentioned in an earlier article, Yamana's organic track record this year has been strong and we will see a nice bump up in resources and reserves when the update is released in February of 2012.
For the second time this year Yamana has raised the quarterly dividend, which now stands at $0.05 per share or $0.20 on an annual basis. Based on Friday's closing price, investors receive a dividend yield of approximately 1.35%. Yamana has been hitting on all cylinders in 2011. Mercedes is operational six months ahead of schedule and cost containment efforts have borne fruit with margins exploding higher. Excess cash flow is being returned to shareholders in the form of higher dividends while organic exploration efforts have yielded success across the board.
With a dividend yield approaching 1.35% and annual production expected to increase by 60% on a geo basis over the next 3 years investors should look at the recent selloff in Yamana as a buying opportunity. Investors looking to buy Yamana on the dip will be well rewarded over the next few years
Source: Yamana Gold website
Disclosure: I am long AUY.