A trend in the market lately (and really throughout all of history) has been to smack down investments that have gotten too far ahead of themselves. This was seen with the big slide of Netflix (NASDAQ:NFLX) and Green Mountain Coffee Roasters (NASDAQ:GMCR). When these companies started to show signs that they may not be able to keep up with huge earnings growth estimates, they saw their stock price slashed. Lately many in the market have started to indicate that this may also be the case with Chipotle Mexican Grill (NYSE:CMG).
What's Wrong With Chipotle?
Backers of CMG are going to argue that the stock deserves such a huge stock for many reasons. The first of these that is often cited is an 11.3% increase in same stores sales the last time that earnings were reported.
I have to admit, that is an impressive number. I only question the idea that this is enough to maintain a stock price that is almost 39 times next year's expected earnings. Same store sales are not everything, and it is not like selling Mexican food is a new idea. There is a lot of competition for the customer base in this space. Such high multiples are typically given to companies that are either in the technology space or else have a very unique product. Low competition could warrant such a multiple, but other than that, it is difficult to say that a company will grow at such a fast pace. Chipotle does not have the niche product appeal that high multiple companies need to have.
Valuation Problems
There are plenty of investors who like to look at how their stock investments have been doing in comparison to its past performance. Those who look at this when it comes to Chipotle (CMG) are going to realize that the stock is near its 52 week high ($347.94). Now, many would say that this is a sign that the stock is about to break out. It has been said that stocks nearing their 52 week high are ones that should be purchased.
However, in this case, I say the exact opposite. Being near the 52 week high at this high of a multiple is something I consider to be a sign of a fall. It shows to me that investors have bid up the stock to these levels before only to pull back on it when it got here. CMG hit its high on Oct. 31st only to have the stock fall to an even $300 a share just 3 and a half weeks later. That is nearly a 14% decline before recovery. Climbing back to these levels is merely a sign of a fall to come in my opinion. This is disregarding of all of the other issues that Chipotle has as an investment.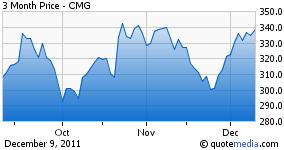 As it currently stands, Chipotle trades at 39 times next years projected earnings. The company is expected to grow at an annual rate of 20% per year for the next five years. Most would therefore peg CMG as at fair value when it traded at 20 times its next year earnings. Some stocks are awarded a higher valuation when they have been able to prove themselves capable of continually producing results. This is why a McDonald's (NYSE:MCD) or a PepsiCo (NYSE:PEP) for example could demand a higher than "fair value" valuation.
However, I do not feel that Chipotle has earned the right to be valued so highly. Its not that CMG hasn't met its earnings expectations in the past, in the most part it has. However, expecting such a large company to continue to grow at 20% per year is a lot to ask. Even that though could potentially be accomplished for a year or two. The problem is that Chipotle is currently priced in to its "fair value" levels four years from now. That is to say that if CMG met that 20% growth rate in earnings each year for the next five years, then it would be trading at 20 times earnings at its current price. It is important to remember that this is with no stock appreciation.
I believed based on these findings that CMG has very little upside potential and a lot more downside risk. I would certainly get short this stock.
Options For Shorting
I typically recommend that investors simply short a stock I think is overpriced and cover their short at a lower price. That is certainly an option with CMG, and it is perhaps the safer option. If that is the route that an investor were to take, I would recommend a short at the current $338.60 price (or anywhere within $10 of that price) and I would cover when the stock hits $260 a share.
Those looking to take a little more risk might consider purchasing some puts though. The Jun 12 $300 options look appealing at $21.30 (last trade on 12/9/2011). If these options can be purchased under $23, I believe that they are worth it. They give the investor six months to wait, and I believe that those puts will hit $30 at some point in that period of time. I would put in a limit order to sell those puts at $30 in order to snag a very handsome profit. There is obviously more risk to this strategy and it shouldn't necessarily be added to everyone's portfolio.
However, getting short CMG at a minimum is a solid investment idea in my opinion.
Disclosure: I have no positions in any stocks mentioned, and no plans to initiate any positions within the next 72 hours.