By Paul Quintaro
On Thursday, McDonald's (NYSE: MCD) reported a larger than expected rise in November same-store sales, prompting shares of the fast-food company to rally to over $98.
McDonald's reported that comp-sales rose 7.4% globally. Analysts were anticipating a rise of 4.6%. Even in Europe, McDonald's beat estimations, as same-store sales rose 6.5%. Expectations were for an increase of 3.8%. In the Asian/Pacific, Middle East and African region, sales rose 8.1%, well above an expectation of 4.9%.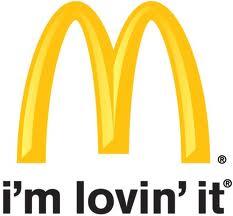 McDonald's may be benefiting from a shift in menu. The company has recently introduced more varied items, including premium angus beef burgers and coffee products competing directly against for instance Starbucks (NASDAQ: SBUX).
CNBC's Jim Cramer stated that while he liked McDonald's, he would not take a position at the current levels—instead preferring to wait for a more attractive entry point.
McDonald's rally on Thursday was even more pronounced, given the sell-off experienced in the broader market that day. Comments by Mario Draghi of the European Central Bank (ECB) propelled the markets lower. And even on Monday, when Wall Street at large took another beating, MCD shares stayed just over the $98 mark.
The negative events swirling around the eurozone may demonstrate the precarious state of the global economy, which could actually be beneficial to McDonald's.
Although McDonald's may not be the cheapest fast food out there, their products are still seen as being on the lesser expensive end of the dining out spectrum. Rather than spend their money on more expensive casual diners, consumers may opt for the offerings of McDonald's.
This phenomenon may be especially powerful in McDonald's coffee offerings, which are notably cheaper than comparable products at Starbucks.
If the economic situation continues to deteriorate, McDonald's may continue to beat expectations for sales.
Further, the stock itself may present an attractive opportunity given its broader class. In an environment of low interest rates and intense volatility, retail investors may flock to stocks like McDonald's as a safe haven play.
Of course, even McDonald's may not save investors from a market collapse. Given the negative activity in the eurozone, a market pullback could be as brutal on McDonald's as any other stock, as the company sold off in the wake of the 2008 financial crisis.
Further, as the company is trading near 52-week highs, perhaps Jim Cramer is correct in his assessment. Current price levels may be seen as too high by many investors.
Important Note
Content, including research, tools and securities symbols, is for educational and informational purposes and should not be intended as a recommendation or solicitation to engage in any particular securities transaction or investment strategy. You alone are responsible for evaluating which securities and strategies better suit your financial situation and goals, risk profile, etc. The projections regarding the probability of investment outcomes are hypothetical and not guaranteed for accuracy or completeness. They do not reflect actual investment outcomes and are not guarantees of future results, and do not take into consideration commissions, margin interest and other costs that will impact investment outcomes. Content may be out of date or time-sensitive, and is subject to change or removal without notice. Supporting documentation for any claims made in this post will be supplied upon your email request to editor@zecco.com.
At the time of distribution of the material contained herein, neither Zecco Trading nor Zecco Forex was a market maker or acted as the contra-party for customer transactions through the firm's principal accounts for the securities discussed.
Zecco Holdings, Zecco Trading, Zecco Forex, and their officers/partners/employees may hold a nominal financial interest in any of the securities discussed herein, with the nature of the interest consisting of, but not limited to, any option, right, warrant, future, long, or short position.
Neither Zecco Trading nor Zecco Forex has participated as a manager or co-manager in public offerings of the securities mentioned herein within the last twelve months.