Many issues could affect shipping, including potential European failures, Asian recessions and further Middle-East instability, among domestic and other risks. Risks combine with concern for the significant shipping overcapacity existing due to largely unwanted fleet expansions made in the late mid-2000s.
The fourth quarter of 2011 started off well for many of the leveraged and high-risk shippers, after several quarters of market underperformance. Some shippers performed incredibly well during the first two to three weeks of October, increasing as much 60 percent. Most have since given back any short-term gains and some have even fallen further.
Below are seven low-priced, high-beta shippers that I have previously identified. I have provided their 1-week, 1-month, 6-month and 2011-to-date share performances.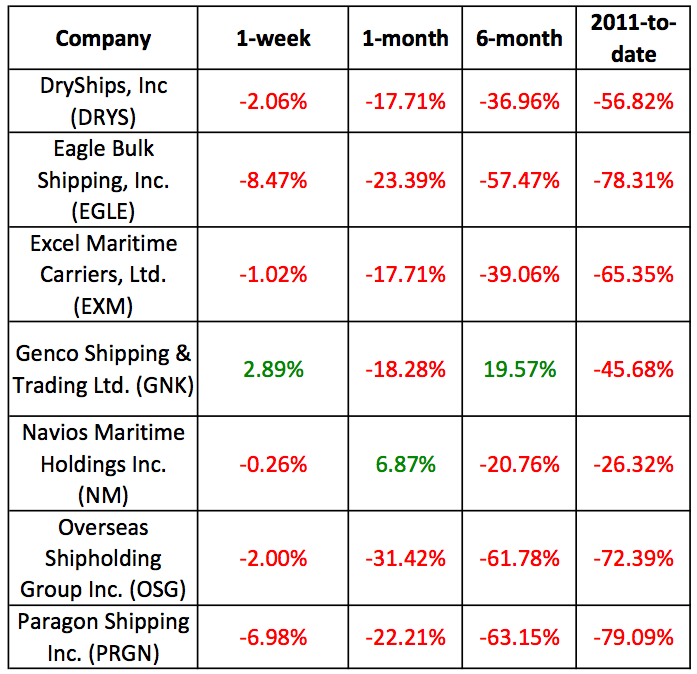 Click to enlarge
Shipping suffered significant demand reductions and fleet increases just as the financial crisis began. Many shippers expanded fleets prior to the crisis. Shipping volumes have since declined and then stabilized, so far at least. The industry is left with the present overcapacity and concern over future demand, coupled with fears of a brewing global economic crisis.
Much of this overcapacity development was leveraged, leaving several competitors with problematic levels of debt and an aging, relatively unused fleet. This business cycle is common and usually results in some companies failing while others survive, stronger and/or with greater market share. The survivors are still unknown, which creates uncertainty and potentially undervalued equities. Nonetheless, the recent broad concerns over global growth and demand highlight the concerns and issues that have plagued the shippers.
These companies offer significant risk and potential returns. Their ownership should be limited, though exposure to shipping and transportation is generally considered appropriate in a broadly allocated portfolio.


Disclosure: I have no positions in any stocks mentioned, and no plans to initiate any positions within the next 72 hours. This article is intended to be informative and should not be construed as personalized advice as it does not take into account your specific situation or objectives.