So Apple has lagged the market pretty consistently now for the last several months since its earnings report. While certainly anyone can get one trading call right or wrong, I did have a fairly good prediction in my October article, when I wrote that Apple was likely to sell-off because of how overcrowded the stock appeared as both a trade and an investment.
I took two positions in my article. First, I wrote that Apple would likely underperform the broaders indexes longer-term for a variety of reasons, centered on the expectations becoming too high relative to the company's realistic long-term prospects. Second, I thought that as a trade, Apple was likely to go down after earnings since a positive earnings reports was already priced into the stock which was trading at an all-time high of nearly $430 a share. Obviously, the former call will be proven right or wrong over a longer period of time. Still, given that I did have a fairly good call on the fact that Apple was overbought in October, I think I have slightly stronger footing to take a position when I say now that Apple is ripe for another sell-off.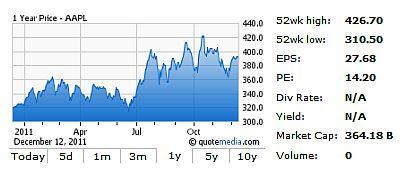 What is interesting to me about the recent commentary about Apple is that nothing has changed with the company's underlying fundamentals. While Cramer and some other long-term analysts have suddenly toned down their positive outlook for the company without any change in the fundamentals, I think it is worth asking why the view of the company has changed after all these years despite the fundamentals staying relatively strong. It is easy to dismiss the price action in Apple as yet another period of consolidation after a temporary earnings miss, but I think something more is at play here. What has changed to me about the way the stock is discussed is that the previous threats to Apple, like Samsung (OTC:SSNLF) outselling the iPhone and Amazon (NASDAQ:AMZN) coming out with a new tablet, are suddenly being viewed as real issues that could affect the company's earnings.
This represents a paradigm change to me, and suggests that the company is no longer being given the benefit of the doubt by longtime followers. The sales numbers of Samsung and competing tablets are just a few of the previous threats that have existed for some time. The fact that these company's products are being taken seriously now shows that, tragically, the death of Steve Jobs has changed the way traders and investors look at Apple. There is now a view that the company is not invincible. Apple is going into the holiday season with expectations sky high, and warnings signs of a soft Christmas for electronic retailers are all around. Leading electronic retailers like Amazon have disappointed on earnings, chip companies like Altera have warned, and competing accounts of analysts suggest iPad production numbers from Asian exporters could be lower.
Apple's stock remains at or near its all-time high despite having underperformed the market by a fairly wide margin since the company's disappointing earnings reports last quarter. Given the high expectations that already exist going into the holiday season with the new iPhone launch, and the stock's still fairly high price, I think a short position here at around $392 with a stop out at the $420 level where the stock topped out at before their last earnings report sets up nicely.
While Apple has a strong cash position and revenue stream, if the growth story begins to falter, it is likely that traders and investors will look at other more beaten up parts of the market that offer dividends and equal or greater potential growth than this nearly four hundred billion dollar company.
Many institutions already have large gains from previous investments in Apple at much lower levels, and if sentiment towards the stock and the prospect of their future product launches begins to shift, a sell-off could occur quickly. With the iPad and iPhone being two of the best product launches Apple has had in the company's history, it is worth asking if the bar has been set too high at the wrong time.
Disclosure: I have no positions in any stocks mentioned, but may initiate a short position in AAPL over the next 72 hours.