Ampio Pharmaceuticals (Nasdaq: AMPE) is a page straight out of the Isolagen Playbook (ILE: Delisted) Our group has no doubt Ampio Pharmaceuticals will follow.
Isolagen was a hot stock in the early 2000s. To its customers, it offered a miraculous anti-aging process that was all but certain to be approved by the FDA. To its investors, it offered the promise of exponential returns as it captured the aging baby-boomer market. The stock traded as high as $8, as management touted how it's "Isolagen Process" was successfully marketed and used in the U.K., and how FDA approval was imminent in the U.S. It issued numerous press releases to this effect. For example, the March 3, 2004 publication states:
The Company anticipates that the Isolagen Process could be commercially available in the United States as early as 2005.
The February 25, 2005 press release states:
Since its launch in the U.K. in 2001, Isolagen has received resounding endorsement from surgeons, patients and medical bodies and demand is growing at an increasing rate.
In the meantime, insiders knew the truth was quite different – that the treatment was not working well for younger people, and did not work at all for people over age 45 (how many baby-boomers do you know younger than 45?). Furthermore, there were flaws in the treatment regimens so that even if treatments were successful, the FDA would not accept the results of the trials. There was no chance for FDA approval, and Isolagen's doctors repeatedly told them this. In the meantime, insiders sold large portions of their stock as part of a secondary offering as Isolagen continued to pump out press releases of the treatment's success, and imminent FDA approval.
But the trials couldn't go on forever and the truth came out – the treatments did not work. The stock plunged down to the pennies and was finally delisted. The CEO and other Isolagen insiders were successfully sued for deception, fraud and many other acts of wrongful and illegal conduct. The case summary from the plaintiffs' attorneys states:
Defendants' scheme to mislead the investing public concerning Isolagen's chances of obtaining FDA approval of the Isolagen Process and to mass produce its sole product inflated the price of the Company's securities and allowed Isolagen to sell millions of dollars of new securities to investors - even while the Company's executives were dumping their own Isolagen stock at artificially inflated prices.
Consumers also successfully sued since the treatment didn't work after paying thousands of dollars each for the treatments.
What does Isolagen have to do with Ampio Pharmaceuticals? Michael Macaluso was the CEO of Isolagen. He is now Chairman of the Board of Ampio Pharmaceuticals. The similarities between the two companies are striking. But before we go there, let's take a look at Ampio Pharmaceuticals.
Ampio Pharmaceuticals has turned a minuscule stock investment into a company with a $206 million market cap. Management was savvy enough, before this idea got off the ground, to issue themselves 7.35 million shares of stock for a penny a share in April of 2009 (Macaluso owns roughly 3 million shares). Of course Ampio had no assets and was operating under a loan of $150,000 from the chairman during this time so it needed some cash. So the insiders brought in friends and relatives, and issued another 15 million shares at $1.75 per share plus warrants. At the time of this actual raise the stock dropped from $9 to $2.
These new shares were initially to be unlocked at the end 2011 but suddenly, as the deadline approached, the company found a way to put it off. The company did not want to unlock all of the stock at once or the price would get crushed before the company could issue more stock -- so insiders are allowing holders to sell 5% of their holdings right now, each month, if they have an Ampio Pharmaceuticals-approved brokerage account and are willing to extend their lock-up agreements until July of 2012. This gives the company time to do another offering, and Ampio recently filed to raise another $80 million, with insiders selling another million shares ahead of those that have agreed to extend their lock up dates.
Ampio Pharmaceuticals latest 10-Q filing states
Ampio management and employees holding an aggregate of 8,250,000 shares agreed to extend their existing lock-up restrictions until July 15, 2012, but they will not be prohibited from selling a pro rata portion of their holdings of a total of up to 1,000,000 shares for all selling stockholders should Ampio decide to sell stock in a future public offering."
If you are worried about the stock going up in the future, don't, 12 million shares of the 28 million outstanding will now come off lockup in June of 2012.
Ampio Pharmaceuticals' 10-Q goes on to state"
We have not generated any significant revenues and have therefore incurred significant net losses since our inception in December 2008. The assets we purchased from BioSciences in April 2009 generated minimal revenues prior to their acquisition. Unless we secure a collaborator for one or more of our product candidates and generate substantial license revenues, we will need additional capital in order to continue to implement our business strategy. Although we have raised capital in the past and raised net proceeds of $10.9 million through the sale of common stock in March and April 2011, we cannot assure you that we will be able to secure such additional financing, if needed, or that it will be adequate to execute our business strategy. Even if we obtain additional financing, it may be costly and may require us to agree to covenants or other provisions that will favor new investors over existing shareholders. Due to the time required to conduct clinical trials and obtain regulatory approval for any of our product candidates, we anticipate it will be some time before we generate substantial revenues, if ever. We expect to generate operating losses for the foreseeable future.
The key here is that the so-called valuable assets acquired from BioSciences have generated minimal revenues prior to their acquisition. If there was actually a profitable market for this cast of drugs, BioSciences would have pursued it.
Ampio's 10-Q further states:
The assets that Life Sciences acquired from BioSciences had a carrying value of zero.
Now Ampio Pharmaceuticals is in the same dire straits as BioSciences with limited options. No wonder the company is trying to push more stock out the door before the lock-up expires. Ampio has burned over $10 million in the last 12 months and has roughly $5 million, or one to two quarters of cash left until the company is, in our opinion, flat broke. By the way, Ampio just spent an additional $2 million. Its December 8, 2001 8-K states that Ampio spent $2 million to acquire
all of Valeant's rights, title and interest in and to certain specified data, information and know-how relating to an oral rapid dissolve tablet (ODT) formulation of Tramadol that had been previously in development by Valeant.
By the way, Valeant is the old Biovale. Biovale had already tried and failed to conduct a study of Tramadol for treatment of PE (premature ejaculation) and failed.
Isolagen followed a similar pattern. One year before the stock collapsed, the company performed a secondary offering of 7 million shares. Four months before the stock collapse, the company performed a convertible bond offering of $90 million. Insiders sold 2.4 million shares during this time period, collecting over $17 million.
Ampio Pharmaceuticals is all about controlling the share price. Any time the stock price drops, the company puts out a press release that has a positive spin on a drug trial. Looking back, there have been zero drug trial press releases from this company that did not have successful results. Go ahead -look at all of the press releases put out over the past few quarters. Do these sound similar to the press releases put out by Isolagen?
By the way, did we mention that the trials are being conducted by the chief scientific officer of the company in his own research facility?
Ampio's latest 10-Q states that Ampio
entered into a Sponsored Research Agreement with Trauma Research LLC (TRLLC), a related party, in September 2009. The Sponsored Research Agreement may be terminated without cause by either party with a 180 day notice. Under the terms of the Sponsored Research Agreement, Ampio paid for leased equipment used by TRLLC through January 2011. Ampio also reimburses TRLLC for miscellaneous third party expenses it incurs on behalf of Ampio. The payments for reimbursements and equipment leases were $17,391 and $22,757 for the three months ended June 30, 2011 and 2010, respectively, and $31,901 and $60,908 for the six months ended June 30, 2011 and 2010, respectively. Additionally, Ampio is obligated to provide its employees to work with TRLLC on the sponsored projects. Ampio pays all salaries and benefits related to these employees.
Now, after Isolagen got into trouble for not putting proper procedures in place to perform uniform clinical trials that would be acceptable to the FDA, why would Ampio Pharmaceuticals allow the research to be conducted in the Chief Scientific Officer's own research facility as opposed to an independent lab? But then Vaughan Clift, Ampio Pharmaceuticals's Chief Regulatory Affairs Officer was the VP of Operations at Isolagen so he must like the idea. If you are going to run the same play, you might as well hire the same players!
Ampio Pharmaceuticals is another RTO (Remind anyone of China reverse mergers China MediaExpress Holdings (CCME) and China-Biotics (CHBT)?). On March 2, 2010, Life Sciences merged with Chay Acquisitions (Now Ampio Pharmaceuticals), a wholly-owned subsidiary of Chay Enterprises, Inc., a public company (the Merger). Chay issued 15,068,942 shares of common stock to acquire Life Sciences, which resulted in the stockholders of Life Sciences owning approximately 95.7% of Chay's (Ampio Pharmaceuticals's) outstanding common stock.
So what did Life sciences own that was worth Ampio Pharmaceuticals stock? It had the rights to Zertane which Biosciences had recorded an $11.2 million dollar loss in developing. Zertane is a repurposed drug to treat male sexual dysfunction pertaining to premature ejaculation (PE) in men. But Zertane is just a brand name for Tramadol, a pain killer developed in the 1970's which has been used to treat restless legs syndrome and fibromyalgia:
Patients taking Tramadol have reported withdrawal symptoms including
uncontrollable nervous tremors, muscle contracture, and thrashing in bed if weaning off the medication happens too quickly. Anxiety, buzzing, electrical shock and other sensations may also be present, similar to those noted in Effexor withdrawal.
In May 2009, the United States Food and Drug Administration issued a warning letter to Johnson & Johnson (JNJ). The warning letter alleges that a promotional website commissioned by the manufacturer had "overstated the efficacy" of the drug (Tramadol) and "minimized the serious risks". The warning letter further states that the company which produced it, the German pharmaceutical company Grünenthal GmbH, was alleged to be guilty of
minimizing the addictive nature and proposed efficacy of the drug...Furthermore, this disclosure of risk information omits serious risks associated with Ultram ER (Ultram ER is JNJ's brand of Tramadol)… Ultram ER is associated with the serious risks of potent narcotics, some of which are potentially fatal…The PI also includes warnings regarding the risk of seizures, the risk of suicide, the potentially fatal risks of serotonin syndrome and anaphylactoid reactions, respiratory depression, interaction with CNS depressants, increased intracranial pressure or head trauma, use in ambulatory patients, use with MAO inhibitors and serotonin re-uptake inhibitors, withdrawal symptoms, misuse, abuse and diversion of opioids, drug abuse and addiction, and the potentially fatal risk of overdosage...the overall effect of this presentation undermines the communication of important risk information, minimizing the risks associated with Ultram ER and misleadingly suggesting that Ultram ER is safer than has been demonstrated.
Since receiving the warning letter, Johnson & Johnson (JNJ) better discloses these risks. The website now states
ULTRAM® ER may worsen central nervous system and respiratory depression….Seizures have been reported in people taking Tramadol, the active ingredient in ULTRAM® ER, at recommended doses…Risk of convulsions may also increase in people with epilepsy, a history of seizures, or a recognized risk for seizure (such as head trauma, metabolic disorders, alcohol and drug withdrawal, and central nervous system infections)…People who are suicidal or have a history of addiction should not take ULTRAM® ER…Use of alcohol should be avoided when taking ULTRAM® ER…ULTRAM® ER may be associated with a potentially life-threatening condition when taken together with (certain other drugs)… Symptoms of Serotonin Syndrome can include mental-state changes such as agitation, hallucinations, and coma…

Serious and rarely fatal anaphylactic (allergic) reactions can occur, even if you have never taken Tramadol…Taking ULTRAM® ER, alone or in combination with alcohol, or medications such as tranquilizers, hypnotics, or other opioids, can cause respiratory depression, seizures, overdose and possibly death."
Interestingly, Pfizer (PFE) did a clinical trial on Tramadol vs. Celecoxib and found Tramadol wasn't even very effective at relief for lower back pain. The clinical trial results state that
celecoxib 200 mg BID was significantly more effective than tramadol hydrochloride 50 mg QID in the treatment of pain.
The study also found high incidences of side effects including nausea, headache, dizziness, somnolence, vomiting, constipation, pruritus and fatigue.
But that study only analyzed Tramadol for pain relief. What about using Tramadol to treat Premature Ejaculation (PE)? The Journal of Sexual Medicine performed a study using Tramadol to treat PE. It compared Tramadol to Paxil over a 12 week period on 35 patients with life-long PE. The study showed:
Conclusions: Daily paroxetine (e.g. Paxil) is more effective than on-demand Tramadol for treatment of lifelong PE. Tramadol is not recommended as a long-term treatment of lifelong PE.
But that's not all. Private industry also attempted to study Tramadol as a PE treatment. Valeant Pharmaceuticals International (VRX) did not think there was any value to Tramadol. Valeant initiated a study to test its effectiveness on PE but abandoned it one year ago. The clinical trials website states:
This study was terminated because of recruitment difficulties.
So basically, several sources refute what Ampio Pharmaceuticals is telling us -- that, "Opiates" are the perfect cure for PE. First, PE is not considered a diagnosed medical problem in the U.S. by the FDA. No insurance company acknowledges it as a disease. Second, we don't see how any doctor worth his salt is going to recommend an addictive pain medication to treat PE, unless there are truly extraordinary circumstances, or unless perhaps its Michael Jackson's doctor.
Does this sound similar to Isolagen at all? Isolagen's treatment essentially consisted of taking a patient's own skin cells, extracting them, reproducing them in their lab, and then re-injecting them back into the patient. This, it claimed, would counter the effects of aging. Do the treatments touted by both Ampio Pharmaceuticals and Isolagen sound a little too good to be true?
But Ampio Pharmaceuticals had told us that it has a partner (Daewoong) in South Korea to help it develop the drug. The company stated that this was a multimillion dollar agreement. The agreement is actually for $500,000 and a little more if the drug, in combination with a drug Daewoong is already selling, (a Viagra-like chemical) is ever approved – i.e. Ampio Pharmaceuticals will get another $700,000. Turns out that the $500,000 is really $417,500 after taxes and will be recognized over ten years. While there is no indication in the 10Q, and we have no evidence, we wonder if Ampio Pharmaceuticals offered a few warrants to go with the agreement. Of course, Ampio Pharmaceuticals has indicated that it's close to product approval in South Korea.
Does this sound a little like Isolagen's claims too? With Isolagen, it was the U.K. where the treatment was succeeding and being marketed widely. 200 doctors and 4000 patients were signed up. Isolagen went to the U.K. first because their treatment was not regulated as a medical procedure in the U.K. No FDA-type approval was necessary. So it could get up and running quickly and make great claims as to the product's success. Claims that ultimately backfired. A January 8, 2007 post from the U.K. states:
Isolagen's much hyped non-invasive face-lift procedure is found to show zero results. The complaints are pouring in from patients and doctors for refunds, in UK. The company has introduced this procedure in UK had shut down its operations due to legal threats from various patients and opposing bodies.

The Financial Players
So ask yourselves, what broker would be crazy enough to take on the risk of offering Ampio Pharmaceuticals stock to the public. Of course – a name from the past pops up "Fordham Financial". You can see from its website what a super record this firm has with the companies it assists in raising capital. One of the companies Fordham brought to market was…surprise… Isolagen. Again, if you are going to run the same play, you might as well hire the same players!
Obviously, Fordham has brought other companies to market - let's check them out: There's Polymedix - a 60 cent penny stock with 100 million shares outstanding. Then there's GlobeTel. A July 24, 2006 post states:
GlobeTel which hit (the) radar screen with an out of the blue, too good to be true $600 million Russian Wi-MAX deal last year, will have its shares delisted by the American StockExchange.
Of course, the shares were promptly delisted.
And who does Fordham Clear through? Another blast from the past -- Legent. Don't even get us started on that outfit.
But maybe Michael Macaluso got a raw deal with Isolagen. Maybe he's highly qualified to chair a pharmaceutical company. Let's look at his background. Before Isolagen, he ran a printing company. Before that, he played basketball. Yep, one season in the NBA. The Buffalo Braves in 1973. While there are probably a lot of drugs in professional sports, we're not sure exposure to this qualifies as credentials here.
But Macaluso is only Chairman of the Board of Ampio Pharmaceuticals. Ampio's CEO is Donald Wingerter, Jr. What about his background? He was sued for fraud and breach of contract by Allison Gerber. Initially we read that he lost in summary judgment, however the author has recently been informed by Mr. Wingerter's representative that there is a press release available on the internet explaining that the case was settled with prejudice by both parties. Mr. Wingerter representative has pointed out that the fraud claim was dismissed. This was just located by the author on June 12th 2012:
ORDER. The 177 , 180 ( 178 Sealed) stipulated motions for entry of judgment are granted. The 179 unopposed motion to seal is granted in part and denied in part. Plaintiff's claims for fraud and civil theft against defendants Donald B. Wingerter, Jr. and BodySelect LLC are dismissed with prejudice, each side to bear their own costs and attorney's fees. Plaintiff has waived her rights to appeal the dismissal of her fraud and civil theft claims. Judgment shall enter against defendants Donald B. Wingerter, Jr., Greenhorn Ranch, LLC, and BodySelect, LLC, jointly and severally, on plaintiff's contract claims in the amount of $2,150,000, each side to bear their own costs and attorney's fees. The parties waive their right to appeal this judgment. The trial scheduled to commence on 10/3/2011 is vacated. By Judge Philip A. Brimmer on 7/28/11. (mnf, )
As previously mentioned, Vaughan Clift is the Chief Regulatory Affairs Officer (previously VP of Operations at Isolagen). His curriculum vitae tout his extensive NASA background. He claims to have been named as one of NASA's Top Ten Inventors in 1995. But we can't find that such an award exists. We can't find anyone else who has won it and if you Google it, nothing comes up.
The Doctors have their say
Just to be sure, we asked a few Urologists if they recommend Tramadol to treat PE. None responded favorably. Some said no or never. Some said only in rare circumstances. Here are the specific comments from one Urologist who wished to remain anonymous. He dabbles in stock investing and considered buying Ampio Pharmaceuticals as a possible long-shot but backed off. He mostly prescribes SSRIs for PE – Paxil, Prozac, Zoloft – saying that they work roughly 1/3 of the time. The biggest red flag for him on Ampio Pharmaceuticals – the Journal Of Sexual Medicine study that concluded Tramadol is not an effective treatment. He has prescribed Tramadol on rare occasions in past but had some really bad side affects – heavy nausea and vomiting. Another red flag for this doctor is that Ampio Pharmaceuticals cannot get FDA approval for a medicine to treat PE since PE isn't a recognized disease in the U.S.
Ampio Pharmaceuticals's strategy is to go to Europe and Canada, and also to do a combo drug with Viagra or something similar. Without a U.S. market he thinks the upside would be limited even if Tramadol worked. He doesn't understand why Ampio Pharmaceuticals is at $7 when there are basically no revenues. He thought the stock had a reverse split. Sorry Doc, no split... just a wild irrational run up!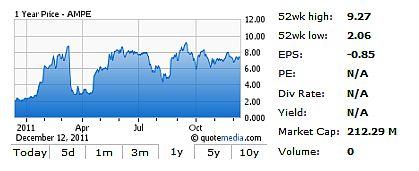 By the way, you will find several Seeking Alpha posts on Ampio Pharmaceuticals. They tend to pair Ampio Pharmaceuticals with Abbott (ABT), Merck (MRK), Bristol-Myers (BMY) or Lilly (LLY) to make the articles seem more credible. We would not be surprised if they are all the same person publishing under different names. From their own disclaimer it seems that they may be compensated by Ampio Pharmaceuticals for their promotional services. It should not be this easy to make money, but it is!
Cautious Investing to All!
Additional disclosure: Our group can trade AMPE at anytime.