Warren Buffett made headlines earlier this year when he invested $10.7B in IBM (NYSE:IBM). Around that time, I argued that the company was nowhere close to its peak here. Although I continue to agree that IBM trades below intrinsic value, I believe more attractive services firms exist right now. Accenture (NYSE:ACN) is one such firm. The Street currently rates shares a "strong buy", which compares to only a "buy" for those of IBM.
From a multiples perspective, Accenture is the more expensive of the two. It trades at a respective 17.3x and 13.9x past and forward earnings. IBM, on the other hand, trades for 15.4x and 13.1x past and forward earnings. At the same time, Accenture has the higher dividend yield at 2.3%. Going forward, I expect much greater relative demand for Accenture's services than for IBM's. Whereas macro pressures are causing firms to shift over to Global Delivery in Accenture, IT spending could experience a double dip and significantly challenge earnings for IBM.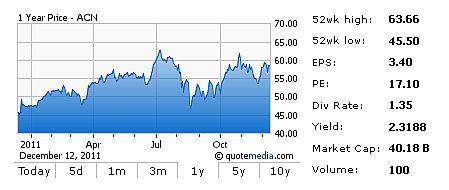 On the fourth quarter earnings call, Accenture's CEO, Pierre Nanterme, also noted stellar performance:
"We delivered record new bookings of $8.4 billion for the quarter, and $28.8 billion for the year. Revenues for the quarter increased 14% in local currency to $6.7 billion with all 5 operating groups delivering double-digit growth. Full year revenues increased 15% in local currency to $25.5 billion, a new record.

Earnings per share for the quarter were $0.91, a 38% increase over Q4 last year. For the full year, earnings per share were at record $3.40, up 28% over fiscal year 2010. We expanded operating margin for both the quarter and the full year. We generated free cash flow of $1.2 billion for the quarter and $3 billion for the full year, exceeding the top end of our annual range by more than $300 million".
Management further remains committed to returning free cash flow to shareholders, as evidenced by the $2.8B worth of share repurchases. As the balance sheet is healthy and replete with cash, it is likely that the capital allocation policy will become even more aggressive in the quarters ahead. At the same time, the firm is doing well cutting costs. It also has significant control over G&A, thus providing limited vulnerability to macro headwinds. Going forward, investors are advised to watch staffing as a metric for managerial optimism.
Consensus estimates for Accenture's EPS are that it will grow by 12.4% to $3.82 in 2012 and then by 10.7% and 9% more in the following two years. Assuming a multiple of 17x and a conservative 2012 EPS estimate of $.10, the rough intrinsic value of the stock is $69.70. This implies 18.7% upside. Even if the multiple falls to 15x and 2012 EPS turns out being 5.4% below the consensus at $4, there is no downside to the investment by this calculation.
As for IBM: fourth quarter results are likely to be an inflection point and indicative of 2012 earnings. On the positive side, computing is becoming less expensive and bound to benefit Watson. Management also contends that IBM Power Systems can operate Oracle (NASDAQ:ORCL) at lower costs than Exadata can. But with increasing competition from Oracle (ORCL), HP (NYSE:HPQ), Cisco (NASDAQ:CSCO), and Dell (NASDAQ:DELL), I am not terribly optimistic about margins.
Consensus estimates for IBM's EPS are that it will grow by 16.1% to $13.38 and then by 11% and 10.3% more in the following two years. If the multiple falls to 13x and 2012 EPS turns out to be just 2.4% lower than the consensus at $14.50, the stock should fall 3.1%. While I believe that the company has solid fundamentals and that this will not occur, in my view, Accenture is the more attractive pick at the current moment from a risk/reward perspective.

Disclosure: I have no positions in any stocks mentioned, and no plans to initiate any positions within the next 72 hours.