Microsoft Corporation (NASDAQ:MSFT) is to the computer industry what Coca-Cola (NYSE:KO) is to the soft drinks industry: the market leader and a household name. In a little over three decades, MSFT has gone from a small technology company with growth potential to a component of the Dow Industrials and a bell-weather stock of the United States market.
MSFT shares are currently trading around $25.75, and the mean 12-month price target from analysts researching the stock is $31.07 (20.6% upside potential). This stock is trading near its 50-day exponential moving average of $25.86 and its 200-day exponential moving average of $25.97. The stock has declined through the year, as it retraced ground from its 12-month high of $29.46 set in February to its 12-month low of $23.65 hit in late June, though the share price has been choppy through the second half of the year.
(Click chart to expand)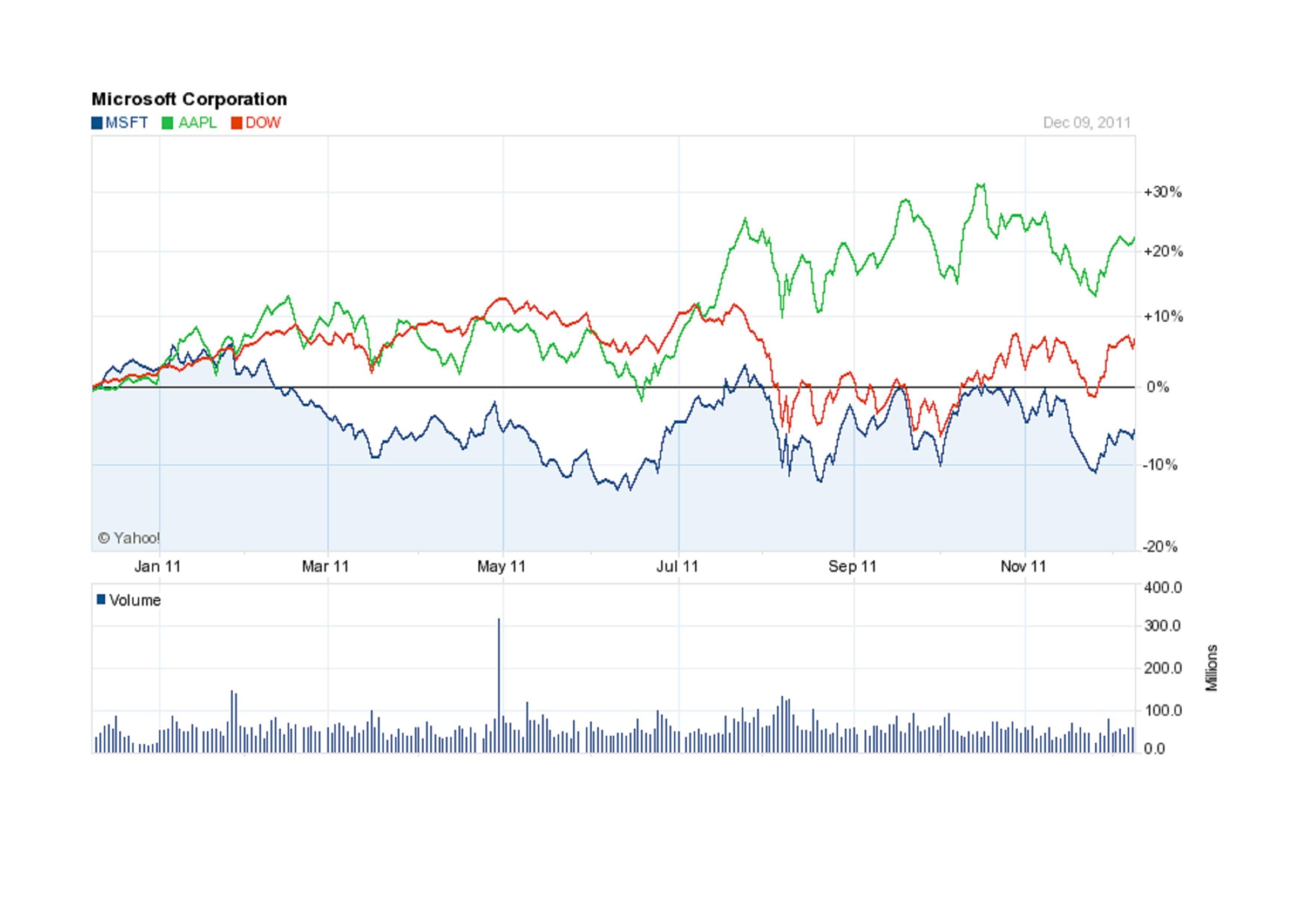 Earnings per share for the last 12 months are $2.75, and these are expected to reach to $3.04 in its next fiscal year (ending June 2012). These numbers place the shares on a trailing price-to-earnings ratio of 9.34, and a forward multiple of 8.45. This trailing price-to-earnings ratio is below the sector average of 24.02, and below Apple's (NASDAQ:AAPL) 14.22. Indeed, AAPL is trading at a forward price-to-earnings ratio of 10.49. Other large-cap companies within the sector, Google (NASDAQ:GOOG) and Oracle (NASDAQ:ORCL) trade at forward price-to-earnings ratios in double figures also (14.28 and 11.91 respectively).
For dividend investors, MSFT yields 3.1% at the current market price, whilst AAPL and GOOG pay no dividend and ORCL pays a modest yield of 0.80%. MSFT has paid a dividend since 2003, and increased its dividend in each of the last five years. With a cover of 3.5 times, this dividend is under no pressure and is likely to be increased again next year.
Current operating margin at MSFT is 38.78%, and profit margin is 33.01%, with a return on assets of 17.33% and a return on equity of 44.16%.
MSFT's last quarterly report showed revenue growth of 7.30% over the same period last year, and it has $55.94 billion of cash, whilst debts stand at just $13.107.26 billion. Its debt/ equity ratio of 22.05 is more than manageable, particularly with operating cash flow of $27.29 billion per annum.
Looking at the 12-month chart, shareholders in MSFT have fared a little worse than the Dow Jones Industrial Index and far worse than shareholders of AAPL. This divergence has been apparent throughout the last 12 months. The volatility of MSFT's share price has been decreasing in the last few months, and the trading highs and lows converging since June. This looks like preparation for a sizable rally in the shares, which could see them start to markedly close the gap in the performance against AAPL.
Bolstering my bullish view on MSFT is recent newsflow such as the following:
MSFT continues to make inroads into the healthcare market, this weekend announcing a

joint venture

with GE Healthcare that is designed to aid better population health management;
Bill Gates is known to be a huge supporter of education, at home and abroad, and MSFT's

Live@edu

now has 22 million users, a 100% increase year on year. I see this as an important indicator of a loyal customer base moving forward;
Finally, the company is pushing its X-Box, now 10 years as a leading product. Sales are building fast, prompted by developments that see it as a television control interface. It is now firmly entrenched as the number one selling game console in the United States, having

sold 1.7 million

units in November alone, up 23% year on year.
Overall, the trading pattern of MSFT shares, along with its strong fundamentals, lead me to consider this is a company that is well managed on the financial level. I like its positioning in the PC market but am captured with its progress on all fronts, in particular with its X-Box. It is seeking to continue building in areas such as healthcare and education, and has the financial muscle and market position to build all areas of its business steadily. The company pays a healthy and increasing dividend, and shareholders will be rewarded with both income and capital growth over the next 12 to 24 months, even in a weakening economy.

Disclosure: I have no positions in any stocks mentioned, and no plans to initiate any positions within the next 72 hours.