PepsiCo (NYSE:PEP) is one of the world's largest food and beverage companies. Its principal businesses include Frito-Lay snacks, Pepsi-Cola beverages, Gatorade sports drinks, Tropicana juices and Quaker foods. North American divisions operate in the United States and Canada while international divisions operate in over 200 countries, with the largest international operations in Mexico and the United Kingdom. Customers include franchise bottlers, distributors and retailers.
STRONG BRANDS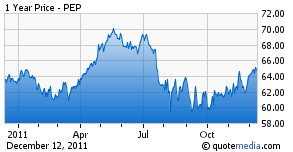 In the late 1800's Caleb Bradham, a North Carolina pharmacist, created Pepsi-Cola. Several decades later in the 1930's, Fritos brand corn chips and Lay's brand potato chips started appearing in chip bowls. In 1965, the two firms completed a tasty merger adding salty snack foods to Pepsi's growing beverage business. Hundreds of other great brands have since been launched and acquired.
Pepsi's product portfolio today consists of a panoply of strong brands which appeal to consumers of all ages. Nineteen of Pepsi's brands each generate retail sales of more than a billion dollars annually. Pepsi- Cola, Tropicana Juice, Gatorade, Lay's Potato Chips, Diet Pepsi, Doritos, and Mountain Dewrank among the best-selling brands in U.S. supermarkets.
As beverage tastes shifted to non- carbonated drinks, Pepsi responded by rolling out Aquafina—today's leading bottled water brand. The acquisition of Quaker Oats in 2001 brought Pepsi the powerful Quaker and Gatorade brands.
click to enlarge

Click to enlarge
TASTY DIVIDEND
Pepsi Co delivers strong returns to shareholders through substantial profit growth, sound investment decisions and disciplined cash flow management. The company's dividend in 2011 was increased for the 39th consecutive year from $1.89 to $2.06, representing a 9% increase. PepsiCo's dividend currently yields a tasty 3.3%.
In addition, the company plans to repurchase $2.5 billion of its stock in 2011. From 2001-2005, PepsiCo returned $18 billion to shareholders in the form of dividends and share repurchases. From 2006-2010, which included the economic turmoil of recent years, PepsiCo's total cash returned to investors increased to $29 billion.
SOLID THIRD QUARTER RESULTS
Despite a challenging global economic environment, PepsiCo reported solid results for the third quarter of 2011 with increases in volume, revenue, operating profit and earnings per share. Revenue popped 13% higher with operating profit up 7% for the quarter on volume growth, effective pricing increases, favorable exchange rates and the Wimm-Bill-Dann (NYSE:WBD) acquisition. The WBD acquisitionexpandsPepsiCo's operations in Russia.
Disclosure: Hendershot Investments holds a long position in each stock presented. The content in this article should not be taken as investment advice or construed as a recommendation to buy or sell any security. Ideas expressed may not be suitable for every account, depending on an individual's investment objective, risk-tolerance and financial situation. Information presented here was obtained from sources believed to be reliable but accuracy and completeness and opinions based on this information are not guaranteed. It should not be assumed that investments discussed will be profitable or will equal the performance of securities listed here or recommended in the past. All data, information and opinions expressed are subject to change without notice. Further information on companies mentioned is available upon request.