One of the companies that is highly followed by both the individual and professional investor is Pfizer (NYSE:PFE). In the near future, PFE's bread winner Lipator comes off patent and will become a generic drug. Many experts feel there are enough drugs in late stage trials to make up for that lost income stream but I don't see that in the revenue and earning projections. Since early August the stock had good upward price momentum as evidenced in this graph provided by Barchart [click to enlarge]: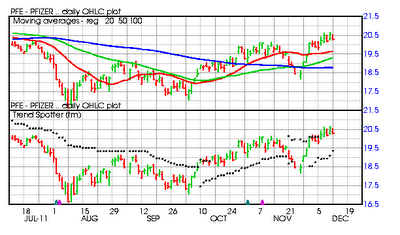 Pfizer Inc., a biopharmaceutical company, offers prescription medicines for humans and animals worldwide. The company's Biopharmaceuticals segment provides Lipitor for elevated LDL-cholesterol levels in the blood; Enbrel for rheumatoid arthritis, polyarticular juvenile rheumatoid arthritis, psoriatic arthritis, plaque psoriasis, and ankylosing spondylitis; Lyrica for post-herpetic neuralgia, diabetic peripheral neuropathy, fibromyalgia, neuropathic pain, adjunctive treatment of epilepsy, and general anxiety disorder, as well as for use as an adjunctive therapy for adult patients with partial onset seizures; Prevnar/Prevenar for invasive pneumococcal disease; Celebrex for osteoarthritis and rheumatoid arthritis, and acute pain; Viagra for erectile dysfunction; Xalabrands for reducing elevated eye pressure; Effexor XR for depressive, generalized anxiety, social anxiety, and panic disorders; and Norvasc for hypertension. It also offers Zyvox for gram-positive pathogens; Premarin for menopausal symptoms; Sutent for renal cell carcinoma; Geodon/Zeldox for schizophrenia; Detrol/Detrol LA for overactive bladder; Zosyn/Tazocin, an intravenous antibiotic; Genotropin for growth hormone deficiency; Vfend, an antifungal agent; and Protonix for gastroesophageal reflux disease; Chantix/Champix for aid smoking cessation; BeneFIX, ReFacto AF, and Xyntha for lifelong bleeding disorder; Caduet for cardiovascular events; Revatio for pulmonary arterial hypertension; Pristiq for depressive disorder; Aricept for Alzheimer's disease; and Spiriva for breathing problems.

The company's Diversified segment offers animal health products, such as vaccines, anti-infectives, anti-inflammatories, antiemetics, and parasiticides; consumer healthcare products, such as dietary supplements, pain management, respiratory, and personal care; nutrition products; and gelatin, liquid, softgel, non-animal, and fish gelatin capsules. Pfizer Inc. was founded in 1849 and is headquartered in New York, New York. (Yahoo Finance profile)
Factors to consider
Barchart technical indicators:
88% Barchart technical buy signal
Trend Spotter buy signal
Above its 20, 50 and 100 day moving averages
16 new highs and up 11.18% in the last quarter and is just 1.50% off its 1 year high
Relative Strength Index 58.25%
Barchart computes a technical support level at 20.04
Recently traded at 20.31 with a 50 day moving average of 19.31
Fundamental factors
16 Wall Street brokerage firms have assigned 23 analysts to monitor the company's numbers
Analysts project revenue to be down .80% this year and another 5.70% next year
Earnings estimates are for an increase of 2.20% this year, an additional 1.30% next year and continue at an annual increase rate of 3.34% for the next 5 years
These consensus numbers resulted in the analysts issuing 7 strong buy, 11 buy, 5 hold and not a single under perform or sell recommendation to their clients
The P/E ratio of 8.82 is much lower than the market's P/E and the dividend rate of 3.96% is above average. This company has a trailing P/E of 16.3 under normal market conditions
The issue enjoys an A+ financial strength rating
I am concerned that the recent cost cutting environment will impact R&D but I seem to be in the minority on that one
General investor interest
I think the readership of Motley Fool is a good barometer of what the individual investor is thinking and 6,101 of their readers voted an opinion on this one
They voted 90% that the stock will beat the market
The more experienced and savvy All Stars vote 94% for the same result
Fool notes that 92% of the last 36 reports on the stock have been positive
Although Jim Cramer gave a thumbs down, Dave Tepper, Pat Dorsey, Rick Pzena and Edwin Owens were all more positive
I like to compare the price action of a stock to its major competition to see how the market votes. In the past year PFE is up 19%, Novartis (NYSE:NVS) and Merck (NYSE:MRK) down about 3% and Bayer (OTCPK:BAYRY) down almost 20%: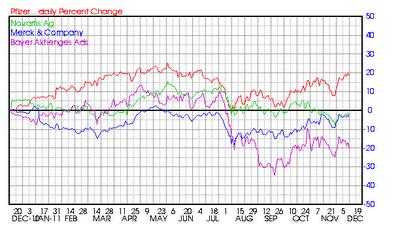 Summary
I'd buy Pfizer for 2 reasons. the first is that the stock is selling at about half its trailing P/E ratio. The second is that most analysts think that the company will be able to find replacements for Lipator coming off patent. If you are going to jump on board now is the time. Since late September the stock has been pushing up the upper limits of the high channel on the 14 day turtle chart so I wouldn't look for a new dip. Get on board before the train leaves the station.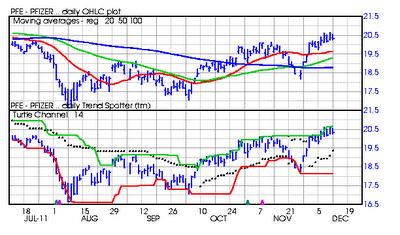 Disclosure: I have no positions in any stocks mentioned, and no plans to initiate any positions within the next 72 hours.