By Vincent Maxwelle

No company has captured the admiration of Wall Street in recent years more than Apple (NASDAQ:AAPL). But will the company continue to amaze in 2012? Apple's ability to outperform again in 2012 will depend on its ability to continue to lure customers with innovative technology and personal electronics. Trying to predict the future capabilities of Apple products is overwhelming, but it is necessary for the intelligent investor to understand Apple's product pipeline before making a bet on its performance in 2012.

"Death is very likely the greatest invention of life." This is what Steve Jobs told the graduates of Stanford University as he delivered their commencement speech. He used this powerful message to remind us that the new will constantly be replacing the old, each new generation providing a better version of the last. Therefore, to see where the new life is going to come from, let's take a look at the dead products Apple can't continue to rely on.

For Apple, sales growth is key. Demand for Desktop Macs has stalled; customers seem to have developed a taste for the mobile capabilities of the portable Mac. Fiscal 2012 saw unit sales increase in portables outpace desktops 34:1. We can anticipate that Apple will respond by providing the mobility that customers demand: The Mac Mini is Apple's response. You can connect the Mac Mini with any display screen, keyboard or mouse, and you have all the technology of a Mac desktop. The Mac Mini will build upon the desktop market and continue to grow and attract new customers as a cost-effective way to access the desktop technology of the Mac. Although the desktops struggle to retain current sales rates, expect Apple will continue to improve the Mac Book Air and keep its current growth rate and earn new sales the with the Mac Mini, reaching over $26 billion in total Mac sales.

We can't expect too much more from the iPod. iPod sales were the only of all the Apple products to decrease in fiscal 2011, down 10% since 2010, inferior to an overall increase in sales of 66%. An easy explanation is simply that Apple customers are choosing to purchase the iPhones instead, using its many features which include an iPod. Sales have been up 261% since 2009. Apple will continue to earn profits from its music brokerage through iTunes, but the actual iPod Sales will decrease.

There'll be more than enough demand for the iPhone to make up for it. Customers will continue to increase iPhone demand with the Siri voice recognition technology available on the iPhone 4S. iPhone 5 is rumored to feature a better camera with panoramic capabilities, continued diversity of features with the Siri software, and a unique messaging system that has been developed to compete with Blackberry messenger. Apple continues to reach lucrative agreements with wireless providers to reach a larger customer base. Competition will be tight, but iPhone sales were almost $50 billion this past fiscal year, and have increased annually over 85%. iPhone sales could pass $75 billion in fiscal 2012 and that's even a conservative estimate.

Apple TV will arrive among the mix of available Apple products, and revolutionize television much as the iPod revolutionized music. Apple TV will give viewers access to their entire collection of downloaded television or movies from any of their Apple products. Competitors may be able to provide a similar selection of television to choose from, but will not be able to match the convenience of Apple TV. Customers who already have other Apple products will be the first to join. Out of the 100 million or more iPhone owners, an estimate of 50 million units sold of Apple TV can bring in another $5 billion in sales. Apple will also experience an increase in sales from selling televised material though iTunes. Apple TV will rise much more in later years as more customers begin implementing it into their personal entertainment.

The capabilities of the iPad have only begun to be realized. Exciting product features continue to expand the use of the iPad in business and in education. Simple and fun to use, the iPad can have an array of purposes for a wide spectrum of customers. iPads improved in sales more than any other Apple product this past fiscal year, and expect a repeat champion in this category for the upcoming fiscal year. The iPad 3, to be released in February, adds more potential to sales growth. Again, we know that competition will be intense, Amazon's (NASDAQ:AMZN) Fire comes to mind, but there is plenty of room for growth in this space for multiple competitors. Sales will hit over $40 billion.

Software is currently Apple's smallest sales producer of revenue from all its products, but it is impossible to overestimate what can be done here. This software will be used on all Mac products, increasing user value. If we see growth here similar to the last two years, sales could wind up providing about $3.5 billion.

The synergy between Apple products that will enhance the value of every available Apple product may be more exciting than any individual product. The iCloud gives customers access to their saved files through every Apple product they own. Customers who already own Apple products will be more likely to purchase more, connecting and interacting multiple products enhances the value of each individual product.

This gives an estimate of $150 billion or more in revenue next year. With a gross margin of 40%, constant to last year, this gives us $60 billion in gross margin. Using a constant expense ratio, Apple will earn $33 billion in net income. We arrive at $35.24 EPS, higher than the median among analysts of $34.65. The market cannot anticipate the growth potential of selling an entire ecosystem of connected products, all pushing the bounds of human imagination. Apple is a buy.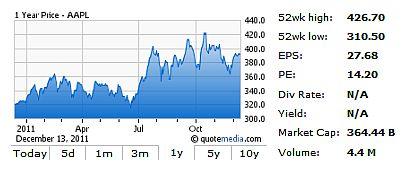 Disclosure: I have no positions in any stocks mentioned, and no plans to initiate any positions within the next 72 hours.