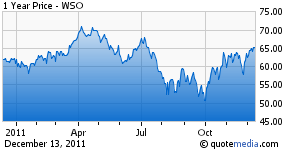 In Earnings Workout, we scrutinize quality of earnings, the balance sheet, the conference call transcript and federal filings in an effort to assess whether a company may be vulnerable to future disappointment. We believe that Watsco's (NYSE:WSO) Q3 results exhibited several red flags.
WSO missed 3Q Street estimates badly on October 20th. The stock price dropped on the earnings miss, but has since rallied strongly. WSO bulls believe a 4.2% yield provides solid support (we note that the dividend payout ratio is approaching 80%) and that a new consumer replacement cycle due to previous deferrals by an overly cautious consumer is inevitable. We would point out that the valuation is quite high with an EV/EBITDA ration of 11X and a forward P/E (FYE December 2012) of 21X.
Watsco, the largest distributor of air conditioning, heating, and refrigeration equipment ("HVAC") reported 3Q11 EPS of $1.02, below the $1.14 consensus. This is Watsco's second consecutive earnings "miss". A lower tax rate (31% vs. 33% in most models) boosted EPS by $0.05. Revenues were $914.0 m, slightly below expectations. HVAC equipment unit growth and increased sales of commercial products were the quarter's highlights, but management acknowledged a "very difficult consumer environment". FY11 EPS guidance was reduced from "above $2.86" to $2.65-$2.75, which infers 4Q guidance of $0.33-$0.43, below Street consensus of $0.41.
Street analysts lowered 4Q and FY12 revenue estimates and now assume FY12 organic sales growth of +2 to +3%, down from +5.5%. An industry survey recently conducted by FBR Capital Markets concluded that there has been continued sales softness in 4Q.
Street analysts also lowered FY12 EPS estimates from $3.49 to $3.14. On the 3Q CC, the CEO made the following comment on FY12 EPS: "I can say that regardless of demand, we have enough strength with offering increasing the product offering in our locations and increasing our vigilance on spending that I'm hoping that when we do get into planning, we'll be able to plan at a minimum of 20% earnings per share growth. That's hope at the moment, they're not plans."
In order to achieve this hoped-for 20% EPS growth, Street analysts are now mostly assuming WSO will acquire an additional 10% of its JV with Carrier in mid-2012, which they estimate will add $0.19 in EPS.
In 3Q, overall revenues increased +12.5% y/y, of which two-thirds of this increase was attributable to new Carrier Jvs. in the Northeast and Mexico. Same-store sales increased +4% y/y (vs. -2% in 2Q). The company acknowledged that sales trends weakened throughout the quarter. Early in 4Q, organic sales are down low-single-digits. On the 3Q CC, management attributed the softness to "weak consumer confidence".
Watsco has an extremely difficult 4Q comparison due to an expiring $1500 tax credit in 2010 that pulled demand forward. Aided by this credit, 4Q10 same-store sales were +17% y/y. Analysts are modeling Q4 same-store sales of -2%. We believe that this may be too optimistic given the tough comp, weakness as described on the CC, a lack of cold weather in the Northeast and continued construction softness.
Gross margins declined 10 bps y/y to 24.0% due to a higher mix of lower margin HVAC equipment sales as compared to higher margin non-equipment sales. SG&A declined to 15.9% from 16.2% y/y. According to the 3Q 10Q, for the nine months ended September 30, 2011 gross margins improved 60 basis-points "due to increased selling prices and improved discounts and rebates from vendors, reflecting increased purchasing activity during the nine months ended September 30, 2011." Neither increased selling prices nor improved discounts and rebates from vendors were cited as a factor for Q3 gross margins.
Purchases from Carrier and its affiliates comprised 51%, 48%, 47% and 52% of all purchases made during the quarters and nine months ended September 30, 2011 and 2010, respectively. WSO has three distribution joint ventures with Carrier Corp: one in the SunBelt, another formed April 2011 in the Northeast, and yet another formed July 2011 in Mexico. Carrier receives a 40% minority interest payout for each JV. Carrier Enterprise, LLC ("Carrier Enterprise"), in which Watsco has a 60% controlling interest and Carrier Corporation has a 40% noncontrolling interest, maintains a separate bank-syndicated, secured revolving credit agreement that provides for borrowings of up to $125,000 (raised in July from $75.0 m). According to the 3Q 10Q, "Effective July 1, 2011, Carrier Enterprise's standard payment terms with Carrier for inventory purchases accelerated. At September 30, 2011, $40,000 was outstanding under this revolving credit agreement."
WSO burned $59.0 m in operating cash flow (compared to $96.5 m positive operating cash flow y/y) to fund $70.0 m of incremental vendor payments related to the expiration of favorable up-front payable terms for the Carrier Sunbelt JV (described above) and higher inventory levels "due to our seasonal buildup including the purchase of previously consigned inventory from one of our key suppliers in 2011 for $17.0 million." DSI rose +7 days y/y (to 89 days) while DSO increased +4 days y/y (to 49 days).
Disclosure: I am short WSO.