The emerging market players have long been discussing the BRICs (Brazil, Russia, India and China) as the place to be for emerging market ETFs. China will be a beast in the future, but now they have problems with inflation, real estate and bad debts in the banking system. You should wait until we have more direction from what is really happening in China before you invest.
India's stock market is overvalued, and it still suffers from corruption in government. Brazil will be in big trouble when the commodity prices fall as the boom recedes and its government tends to be big spenders. The same can be said of Russia, with a significant corruption problem as Putin returns as president.
No one has a plan to stabilize Europe, while Japan has been down for so long it will be a very slow recovery. Where should you be invested outside the United States? I recommend investing in the countries that feed the high growth markets indirectly. Here is a list of ideas that can be played through ETFs.
Canada (NYSEARCA:EWC) is one place to be for a developed country that has been very stable over the last decade. Canada avoided the financial crisis as its banking system is strong while real estate never reached a boom like the U.S. Over the past decade, Canadian stocks have outperformed both U.S. stocks and the GSCI by about 9% annualized. Some of these gains can be attributed to a stronger loonie. Investors concerned about a falling U.S. dollar could invest in EWC to gain exposure to non-U.S. dollar assets.
Canadian materials and energy companies, which make up nearly half of EWC's portfolio, can thank emerging markets' seemingly insatiable demand for pushing up commodity prices. With the correlation between commodity prices and Canada's stock so high, EWC can be seen as an indirect play on emerging markets and commodities. As an added bonus, Canada's political system is remarkably stable and its balance sheet is relatively clean, which subtracts a major element of uncertainty present in other commodity-driven stock markets.
Korea (NYSEARCA:EWY) is the anti-commodity play, as the EWY is led by the technology sector. In particular, despite EWY's 30% weighting in information technology stocks; it was also not very correlated to U.S. tech stocks, as measured by the Nasdaq 100 Index. As such, a holding in EWY does provide meaningful diversification benefits for U.S. investors. South Korea is the fourth-largest economy in Asia and has a strong export orientation (exports account for about 60% of gross domestic product).
This ETF's heavy weightings in cyclical industries such as information technology, industrials, financials, and materials suggest that this fund would outperform during periods of global economic expansion. South Korea also has strong economic ties to China as its exports to China account for about 15% of South Korea's gross domestic product. The economic development in China (as well as in other emerging markets) will be an important driver of growth for many of South Korea's larger companies in the near and medium term.
Although it is sometimes considered an emerging market, Taiwan (NYSEARCA:EWT) has a fairly developed economy, with a GDP per capita of around US $30,000. Taiwan enjoyed steady high-single-digit economic growth in 1981-1995, driven by privatization, industrialization, and trade liberalization. Since 1995, Taiwan's economic growth has moderated, as the economy has shifted from labor-intensive manufacturing to technology and services industries.
At this time, exports account for about 70% of Taiwan's GDP, and of that amount, about 40% of exports go to China and Hong Kong. The electronics sector is Taiwan's most important sector, as Taiwan is currently the world's largest supplier of contract computer chip manufacturing services and is a leading producer of LCD panels, DRAM computer memory, networking equipment, and consumer electronics.
IShares MSCI Taiwan Index provides broad exposure to the Taiwan equity market. An investment in Taiwan is often considered a technology play, as information technology companies (primarily hardware manufacturers) constitute more than 50% of EWT's portfolio. The two largest holdings are Taiwan Semiconductor (NYSE:TSM) and Hon Hai (OTC:HNHAF), which account for 13% and 6% of the portfolio, respectively. Taiwan Semiconductor is the world's largest contract chip manufacturer, and Hon Hai is the world's largest electronics contract manufacturer, who makes products such as iPhones and Dell PCs.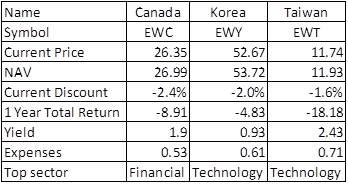 Disclosure: I have no positions in any stocks mentioned, and no plans to initiate any positions within the next 72 hours.