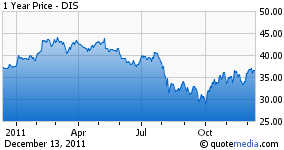 I wish that the Walt Disney Corporation (NYSE:DIS) had held off for a couple of weeks in announcing a big 50% hike in its dividend. That would have enabled us to pick up this great stock at an even more attractive price.
You see, I had already planned to recommend the stock this week because I think this company is extremely well positioned to deal with the economic challenges of our times. We could have picked it up for around $34 (figures in U.S. dollars) on Nov. 29, the day before it was announced that the annual dividend would be increased by 50%, to $0.60 a share. Now we have to pay a little more. Never mind, it's worth it.
While the 50% increase is impressive, the yield is still only 1.6% based on Friday's closing price. But the move shows the confidence of the board of directors in the company's future and that has consolidated my good feelings about this business.
I always prefer a dividend increase to a stock buyback, which can be illusionary. And management teams often seem to have no better idea than ordinary investors as to what the fair price for their stock should be and tend to overpay on buy backs. A dividend, on the other hand, is money in your pocket.
December is usually a good month for media stocks in general and this dividend hike should continue to give a nice lift Disney not only for the next few weeks but through 2012 as well. The long-term payout for Disney is only about 20% of the 2011 free cash flow. So the company could continue to raise dividends over the next few years without any difficulty. But whether they do or not, this is an interesting well-run business that deserves a place in your portfolio.
The company is basically broken down into five business units. The first is Media Networks which is comprised of Disney television and ABC television and which also includes the valuable ESPN franchises. They also have a number of cable properties including A&E, A&E International, the Biography Channel, and the History Channel. As well, there are a number of local broadcast franchises in some of the largest markets in the country including New York, Los Angeles, Chicago, Philadelphia, and San Francisco. With 2012 being an election year, local broadcasters will do very well from campaign advertising. Media Networks also has millions of cable subscribers to the Disney Channel itself, which is a worldwide business. Also included is Disney radio which has broadcasting rights in a large number of U.S. cities.
The second unit is Parks and Resorts. This includes the famous Disneyland Park in Anaheim, California (not far from where I live). And, of course, many Canadian readers will be familiar with Disney World in Orlando, Florida. They also have a park located outside Paris, the Disney Park in Hong Kong, and this year the company broke ground on a new resort in Shanghai, the first in mainland China. The company also has two large cruise ships and a total of 42 hotels comprised of more than 36,000 hotel rooms.
Third business unit is Studio Entertainment. This includes their movie production business, Walt Disney Studios, and Pixar Animation (Steve Jobs' former company). Among many other successful animated features, it gave birth to "Toy Story", which this past year sold over $1 billion at the global box office, joining "Alice in Wonderland" as the second billion-dollar film in the 2000s. (When Pixar was acquired, by the way, it made the Jobs the largest single shareholder of Disney. The shares have now gone into a trust administered by his wife since Jobs' unfortunate death.) Late last year, Studio Entertainment acquired Marvel Entertainment with its long list of action heroes like Spiderman and the Hulk.
The fourth business segment is Consumer Products. It produces the numerous toys, books, fashion accessories, Disney games, and other related products that emerge from their hit entertainment franchises. These are sold both through Disney stores and other distributors as well as online through the numerous company websites.
Finally, there is Disney Interactive Media which is comprised of a vast array of web and mobile platforms which distributes the company's content worldwide. They have the No. 1 Family site along with a number of family oriented gaming sites and video offerings.
In addition to Marvel Entertainment, the company also recently acquired Playdom, a social game developer platform, and Tapulous, which is a leading developer of music games for the iPad, iPhone, and iPod Touch. In fact, the company has been active on the acquisition front over the last few years adding two or three businesses a year. After the newcomers have been successfully integrated Disney moves on and add more. None of these businesses has been transformational but have all been accretive to the company's bottom line and support the Disney offerings, particularly in the interactive business.
Financially, the company is sound. In their recent fourth quarter and full year 2011 earnings statement they reported EPS growth of 24% to a record $2.52 compared to $2.03 in the prior year. Net income for the year increased 21% to a record $4.8 billion. This is particularly impressive in light of the tough economy we have all been living through. The results will only improve as the economy strengthens.
The company is led by Robert Iger who has brought quiet competence to the executive suite after the tumultuous years under Michael Eisner. The stock is up 54% under his tenure compared to a 2% rise in the broad market. He's only 60 so hopefully he'll be around for at least five more years.
Despite the post-dividend bump, the stock, which closed on Friday at $36.56, is selling at 17.5% below its 52-week high of $44.34 and I think we could see a 30% move up over the next year.
Action now: Buy with a target of $50.
Disclosure: I am long DIS.