In Part I of this discussion, I began with the following ...
"Be fearful when others are greedy. Be greedy when others are fearful." - Warren Buffett

Since Mr./ Buffett has traditionally favored a U.S. market orientation, he was thinking about the inevitable changes in investor behavior that create the market cycles we are all-too-familiar with these days. To his observation above, however, I would now add Shaefer's Corollary to Mr. Buffett's dictum. In this globalized world we now inhabit, we must also "Be fearful where others are greedy. Be greedy where others are fearful."

The world may be our oyster, but in an increasingly-globalized world, it behooves us to not employ merely a temporal component to our investing strategy, but also a geographic one. That's why I look for value when it exists, but also seek it wherever it exists.
I then went on to describe the seven stocks the French brokerage firm Cheuvreux suggested Mr. Buffett buy, agreeing with three of them but choosing four different firms to comprise my own seven recommendations for him. I believe that Europe-based firms right now offer superb entry prices without typical European risk. These are all multinational firms that derive, in most cases, more revenue outside Europe than within Europe
Germany's Daimler (OTCPK:DDAIY) makes Freightliner trucks, The Netherlands/U.K. firm Unilever (NYSE:UL) owns Ben & Jerry's, and Toyota (NYSE:TM) builds cars in the U.S. You can enjoy the guilty pleasure of a Big Mac and fries in Paris or a Pizza Hut pizza in Beijing, both of which you arrived at in a Boeing (NYSE:BA) jet. Why be parochial - or xenophobic? Why not even consider a company based in Paris that derives the bulk of its revenue from outside Europe, when you'd buy a company based in Cleveland that gets most of its revenue from Europe?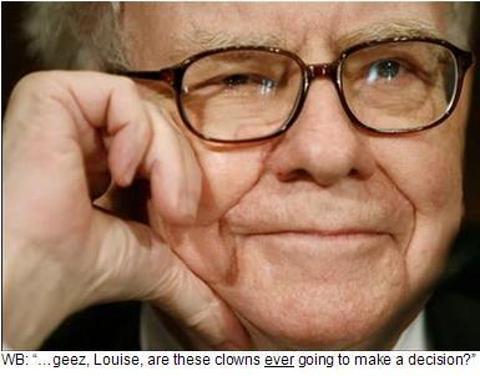 Europe's dilly-dallying, for which I traced the roots in my previous article, is our opportunity.
With the steps that have now been taken, it remains primarily to rein in the re-hypothecation loopholes most countries' financial firms are using thanks to the U.K.'s failure to regulate what is an inherently dangerous practice.
That's not to say Europe's troubles have ended. Karl Marx wrote, "A specter is haunting Europe; the specter of Communism." Updating the gentleman a bit, I would submit that, after more than half a century of messing about with socialism, this wake-up call Europe is getting may translate to, "A specter is haunting Europe; the specter of (well-regulated) Capitalism." We can only hope the United States and its constituent states will catch on to this reality as well. Crony capitalism doesn't work any better than any form of socialism or communism. Robber barons are so yesterday (except in Russia and on Wall Street, which needs to have its reins pulled in). What works are markets as unfettered as possible consistent with 100% transparency of transactions (no off-books dealings) and protection of all parties concerned. It's called the rule of law.
Since U.S. markets have been more resilient, I think the bargains in Europe are even better, by and large. When you have completed your own due diligence, see if you don't agree. Here are seven to start with:
Our seven consist of one from Finland, Konecranes (OTC:KNCRF); two from France, Total Fina (NYSE:TOT) and Schlumberger (NYSE:SLB); one from Spain, Telefonica (NYSE:TEF) - all members of the Eurozone - and three more from Europe, but not EC members: Norway's Statoil (NYSE:STO) and Switzerland's Zurich Financial (OTC:ZFSVY) and ABB (ABB.) They share in common that all are depressed by the general European malaise and a fall-off in orders from within the eurozone currency region. But the thing is they're making up for that fall-off by increasing their sales elsewhere.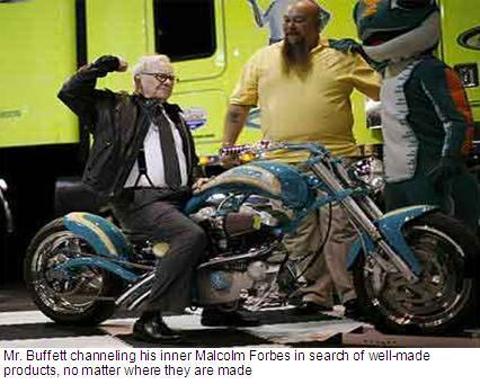 Konecranes is the world's largest supplier of industrial and shipyard gantry cranes, wire rope hoists and (regrettably, more and more in demand) explosion-protected crane technology. The company is also a global supplier of cranes and lift trucks for container handling and bulk materials, state-of-the-art automation technology for ports and terminals, and light crane systems and chain hoists. Every bit as important to the bottom line, Konecranes is the clear market leader in crane service with the world's most extensive service network. Its 3,300 service technicians around the world don't only service and maintain their own cranes and machine tools; some 75% of the cranes in their maintenance base are non-Konecranes equipment. That speaks volumes about the respect clients have for both their manufacturing and service divisions. More than one-third of KNCRF's revenues are derived from emerging markets in Asia, South America, Africa and Eastern Europe. They operate five manufacturing plants in China and India. The stock has fallen from 47 to 18.80, its low for the year.
France's Total explores for and produces oil and gas, provides power generation from gas-fired power plants, nuclear, and renewable energies; produces and markets coal; and has a toe in solar power systems. Its proved reserves total 10 billion barrels of oil equivalent in its oil and gas holdings. And it has interests in 24 refineries located in Europe, the United States, the French West Indies, Africa and China, as well as its network of 17,490 service stations and its chemicals segment which produces petrochemicals and fertilizers. TOT sells at 1.3 times its in-the-ground book value, with virtually no premium for its network of customers, its experience in over 50 nations, or its relationships with other major and secondary firms. It sells at half of sales and a PE of just over 7. Finally, it yields over 5%.
Schlumberger typifies the modern "European" multinational. They are nominally headquartered in Paris, but they have more staff in Paris, Texas (OK, Houston, anyway) than in Paris, France. SLB is the world's No. 1 provider of oilfield services including wireline technology, engineering support, directional-drilling, well services, artificial lift, data and consulting services, reservoir imaging, monitoring, development services, 3D and time-lapse (4D) seismic surveys, drilling fluid systems, drill bits and borehole tools, and other drilling tools and services. The stock sold for 80-plus a year ago and 95 this summer. It's now 72.
Switzerland's electrical engineering giant ABB is the most intelligent way to play "renewable energy." For me, it has been pretty much the only way I'll dabble in this
area. I don't do it by buying solar panel companies or ethanol producers or windmills. The reason I have chosen ABB as my vehicle is amply demonstrated by this chart from the U.S. Energy Information Administration which clearly shows that industry's "consumption" of various energy sources reflects more loss of electricity in transmission, etc., than the actual use of electricity. ABB's forte in the boring business of power distribution is to reduce those losses. Doing so is by far the cheapest way to "renewable energy" - by reducing the wasting of electricity. The big bucks made/saved by electric utilities are going to come from making the transmission and distribution of electricity more efficient.
Better transformers and other components along the way will do more for them than following some bureaucrat's diktat, like that in California in which utilities must buy 20% of their power from solar, wind and biomass. ABB offers a far greater savings with their products and services. It is the purest infrastructure play in this critical sector, very well managed, is near the bottom of its 1- and 2-year range, yields better than 3.5%, sells at a PE of 14 and S&P projects a 13% annualized growth rate, giving it a 5-year PEG ratio of less than 1.
I'd also suggest Mr. Buffett take a hard look at Norway's Statoil. We don't currently own STO, but we will again, especially if this latest pullback is unkind to the stock. Our portfolios, like yours, have a finite amount of money, unlike financial writers who don't provide a published portfolio that anyone can check anytime to see if it is up or down. (They just keep touting scores of stocks. The ones that do well they use for their next solicitation; the ones that don't they presume you'll have forgotten about.) That discipline caused us to keep Norway's Seadrill (NYSE:SDRL) in the portfolio, with the expectation we could buy STO once again as we free up cash. (It's far less volatile than SDRL.)
Statoil is a fully integrated energy company: exploration, production, transportation, refining, and marketing of oil, natural gas, natural gas liquids, and petroleum-derived products. In addition, the company sells retail heating oil, kerosene, liquefied petroleum gas, and heavy fuel for industrial purposes, marine and aviation fuel, lubricants and chemicals. It currently enjoys more than 2.2 billion barrels of proved reserves and 509 billion cubic meters of natural gas.
It runs a network of more than 2,250 service stations in Scandinavia, Poland, Latvia, Lithuania, Estonia and Russia. And on top of all this, it is one of the few $50 billion companies that invited me to visit them a few years back when I was in Stavanger, Norway. I have deep respect for management's ethics, ability and, as a result of that visit, transparency. STO is a serious contender worldwide with the deep pockets to partner with the likes of Exxon (XOM,) Chevron (CVX,) and a number of sovereign national energy monoliths. It sells at a PE of 7.5 and yields 3.7%.
A couple months ago, I wrote an SA article about Telefonica here. At that time, it was selling for 18 or so. Today, it sells for just pennies under that price. I also wrote puts for clients then – the 17.50s of March, receiving $155 per contract in premium income. Those are now down to $120, good for the home team, but if you are willing to go out to July you can get $210.
TEF is not really a "Spanish" company, though it is subject to Spain's developed-nation approach to corporate governance, transparency and reporting. It is, rather, a global powerhouse. TEF is the biggest mobile communications provider in Great Britain. It's also the largest in Brazil, Peru, Venezuela and Chile, and the second largest in Mexico.
TEF also owns 10% of Telecom Italia. You may think, "Whoopee. Another of the PIIGS." But if you've been to Italy, you know that Italians would sooner give up their sports cars than their mobile phones. Ditto for TEF's 10% holding of Portugal Telecom (NYSE:PT) which effectively adds to TEF's market share in Brazil and gives them entrée to Africa. Finally, TEF owns 10% of China Unicom (NYSE:CHU), which provides wireless, mobile and land-line services in China. In the aggregate, nearly two-thirds of Telefonica's revenues come from outside Europe. That also means that, if the euro continues its decline, TEF actually enjoys a currency conversion benefit.
TEF is sitting in the catbird seat of a massive global trend. People in many cases need and in even more cases simply want to be able to communicate with each other, TEF allows them to do so. While I may respect a lot of companies, to consider purchasing their stock it has to be cheap. TEF is cheap. The stock currently sells just below its March 2009 price, with a PE ratio of 15, a dividend yield of 9%, and a price/sales ratio of 1.
And finally we arrive at the two stocks we have not previously written about. I'm going to discuss AXA and Zurich Financial together because they are two peas in a very unpopular pod right now. Which may mean opportunity. AXAHY was founded in 1852 and ZFSVY in 1872. They've seen bigger calamities than the current one by far, and they not only survived, they thrived. They've seen bank panics, the Great Depression and two world wars. This current malaise? Poof! This is nothing.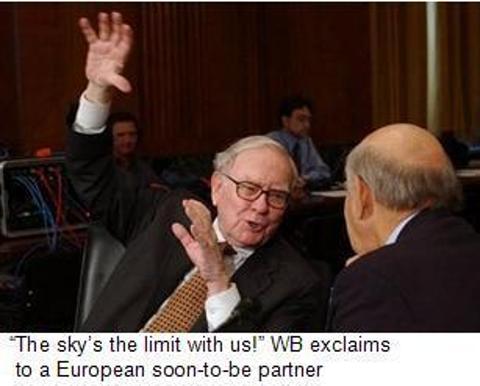 They are both global insurance companies that offer just about every kind of insurance imaginable. In addition, they both offer investment advice, mutual funds and such to extend their reach in the financial services arena. And they are both depressed right now because they have had exposure to eurozone turmoil, Italian bonds, etc. But both have credibly marked their portfolios to market and both are writing huge amounts of business well beyond Europe. AXA trades at a PE of 6, a 5-year projected PEG Ratio of 0.15, a Price/Sales ratio (PSR) of 0.20, a Price/Book of 0.53, and pays a yield of 7%.
Zurich Financial has a typically bulletproof Swiss balance sheet, has hedged a large part of its equity exposure, and was smart enough to sell Italian bonds before the current brouhaha. The stock has a 7.7 P/E, a PSR of 0.59, a Price/Book of 1.02, and yields more than 8.5%.
"Be fearful when others are greedy. Be greedy when others are fearful."
"Be fearful where others are greedy. Be greedy where others are fearful."
I believe Europe is at the nexus of the right time and the right place to begin investing there.
Disclosure: We, and/or those clients for whom it is appropriate, are long KNCRF, SLB, TEF, TOT (options), STO (options), AXAHY and ZFSVY.
The Fine Print: As Registered Investment Advisors, we see it as our responsibility to advise the following: we do not know your personal financial situation, so the information contained in this communiqué represents the opinions of the staff of Stanford Wealth Management, and should not be construed as personalized investment advice.
Past performance is no guarantee of future results, rather an obvious statement but clearly too often unheeded judging by the number of investors who buy the current #1 mutual fund only to watch it plummet next month.
We encourage you to do your own research on individual issues we recommend for your analysis to see if they might be of value in your own investing. We take our responsibility to proffer intelligent commentary seriously, but it should not be assumed that investing in any securities we are investing in will always be profitable. We do our best to get it right, and we "eat our own cooking," but we could be wrong, hence our full disclosure as to whether we own or are buying the investments we write about.