Moody's examines revised disclosure requirements for banks' capital markets activities anticipated to come into effect in 2013.
Disparate accounting rules on when a company should offset assets and liabilities and report a net amount on its balance sheet gives rise to one of the most significant differences between US Generally Accepted Accounting Principles (GAAP) and International Financial Reporting Standards (IFRS) for banks with significant capital market activities.
The US Financial Accounting Standards Board (FASB) and the International Accounting Standards Board (IASB) are each scheduled to issue a revised disclosure standard in this area by the end of the year to enable users to better understand and compare the differences in presentation. However since the underlying accounting rules themselves are not being converged, users will have to remain vigilant to the potential non-comparability of key metrics between different entities.
Existing disclosures in this area tend to be weak, especially for entities that report using IFRS.
For example, many banks that prepare their financial statements using IFRS don't disclose the amounts of financial assets and financial liabilities offset on the balance sheet; and many don't disclose the effect of rights of setoff not taken into account in arriving at the amounts presented on the balance sheet.
Although the new disclosures will help to shed more light on banks' presentation of financial assets and financial liabilities that are subject to offset, the underlying accounting rules themselves are not being converged, since the FASB and IASB disagree on whose rules are best. This means that there will remain significant differences in the amounts reported for these on the face of the balance sheet.
A useful example of this is to compare the derivative assets and derivative liabilities reported on the balance sheet and disclosed by JPMorgan Chase (NYSE:JPM) (reporting under US GAAP) and HSBC (HBC) (reporting under IFRS) at June 30, 2011.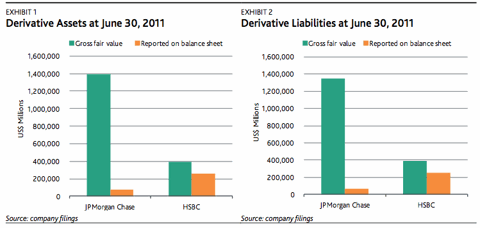 The main reason for this difference in presentation appears to be simply due to the difference in accounting rules between IFRS and US GAAP, rather than in some fundamental difference in how the banks manage their derivatives activities and exposures. HSBC, reporting under IFRS, is not able to net nearly as much of its derivative activities as JPMorgan Chase, reporting under US GAAP, can. Having such a significant difference in the reported amounts result from a difference in accounting rules rather than from differences in the underlying business practices presents a misleading comparative view of these activities. The new disclosure requirements will provide users with more meaningful comparative metrics on which to compare and understand banks' activities and exposures in these important areas.