For many investors, 2012 just cannot come fast enough. As the curtain on 2011 slowly drops, many are left looking at portfolio statements and bringing new definition to the popular lamenting terms, the typical "shouldas, couldas, wouldas." Of course to these terms, there's also the ever popular counter viewpoint that suggests "don't cry over spilled milk." But it does not mean that one should not reassess and consider where he/she should have instead placed the glass to avoid the spill or perhaps enjoyed a cold bottle of water instead.
In the stock market, regret is par for the course. If there is one person that has never had to deal with regret, I can argue that is also one person that has never taken a risk - or at the very least, has never invested his or her own capital. 2011 will indeed go down as the year of lessons and also the year that I vow to put to rest several of the market myths that have contributed to a significant portion of my mistakes – myths that if I had ignored, would have placed my portfolio in better standing.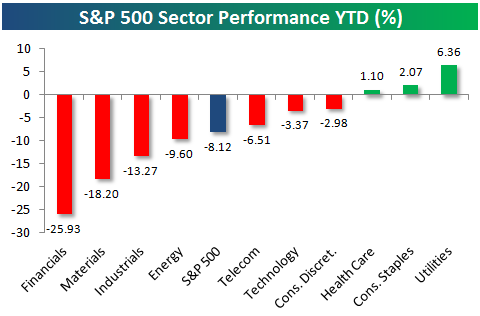 (Chart courtesy of Bespoke Investment Group)
Looking at the chart above, we get an easy summary of how each sector performed. Clearly it is easy to see where most of the regrets might be targeted. However, more important than beating ourselves up,is to understand why we think we deserve the beating and looking for ways to ovoid it in the future.
Should Have Owned More Technology
By default, I love technology. Though overall it is down slightly above 3% for the year, it has outperformed the S&P. My portfolio has the typical names such as Apple (NASDAQ:AAPL), Cisco (NASDAQ:CSCO), Oracle (NASDAQ:ORCL) and Microsoft (NASDAQ:MSFT), but my regret comes from not timing my purchases a little bit better or from not having the capital available to acquire more shares when opportunities presented themselves.
There was a point when investors were wondering if technology was dead. Apple had declined close to the $300 after having reached the magical $400. Cisco was touching a new 52 week low each week and everyone (including yours truly) was calling for Chambers' resignation – this was before it got its house in order. And of course there are the constant concerns surrounding RIM (RIMM).
It is easy to get concerned with a sector especially when seeing its leaders fall out of favor with investors. But as often is the case, there is a rebound and particularly in technology it tends to be swift and all it takes is one good quarter. Going into 2012, the sector will remain as dominant as it has been in previous years with Apple, Google (NASDAQ:GOOG) and Amazon (NASDAQ:AMZN) leading the way.
Should Have Avoided Financials
This is the no-brainer of no-brainers. The financials have been in trouble all year and there is little evidence that it will perform much better in 2012. My love-affair with Bank of America (NYSE:BAC) was short lived and this was before Standard & Poor's lowered its credit rating as well as that of other names such as Goldman Sachs (NYSE:GS), JPMorgan Chase (NYSE:JPM), Citigroup (NYSE:C) and Wells Fargo (NYSE:WFC).
The fact of the matter remains, some of these names as well as some that were not mentioned may perform better in 2012. As investors it is hard to ignore what we think is a bargain – and currently some of the banks do fit that category. But it is best to avoid the one with considerable exposure to our recent financial problems – particularly foreclosures. Unfortunately, it means staying clear of the names that are closely tied to real estate or mortgage-backed securities.
Should Have Owned Utilities
What can be said about the market's best performing sector other than I wish I had owned some. Clearly this has been the place for investors who crave stability within the volatility that we have experienced this year. Regrettably I had ignored it, as I'm sure many of you also did. The reason is simple. Though the sector performed very well at 6.36% YTD, it lacks the sexy names that inspire growth – this is even though many of the sector names have produced decent profits.
Names such as Duke Energy (NYSE:DUK), a stock that has gained almost 25% so far this year should have been in every portfolio. Southern Company (NYSE:SO) as well as PPL Corporation (NYSE:PPL) have more than outperformed many of the tech giants that have provided more sex appeal. Another way investors could have played the utilities sector was with the Vanguard Utilities ETF (NYSEARCA:VPU), an ideal, low-cost way to add an entire basket of power, water and electric companies to a portfolio.
Should've Owned Gold and Silver

Amid all of the economic turmoil, every investor appreciates a safe haven. For years this has been in gold and silver and this year proved to be no different. Earlier in the year as oil prices continued to soar, the price of gold jumped as fears over consumer spending weighed heavily or stocks. Investors rushed to limit exposure in the stock market and found comfort in precious metals. We saw a similar reaction when the European debt situation grew progressively worst - both gold and silver futures spiked up considerably.
But all of that notwithstanding, Silver has always had industrial applications and has always been a popular investment vehicle. But this year was truly remarkable to see the reaction. Both silver and gold prices experienced unusual price swings, and moved to an all-time high of $49.51 per ounce in late April 2011. This was while stocks were preparing for huge declines and ultimately bottomed out after nearly seven months of declines.
Summary
The great thing about regret is that sometimes it is short lived and its lifespan often depends on how great the next decision proves to be. While beating yourself up is sometimes deserved and might make you feel a little bit better afterwards, learning the lesson is often more effective. Going into next year, I will have to say that financials will see a slight rebound and technology will be in the green. I think those are safe guesses. But clearly if I would take anything away from this year's sector performances, it would be that in strong bear markets, diversification rarely makes a difference and safe havens are grossly underrated.
Disclosure: I am long AAPL, CSCO, MSFT, ORCL.