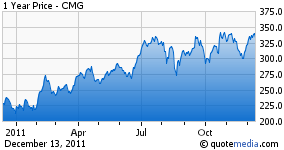 I like Chipotle Mexican Grill (CMG) and I'm long the stock. I read an article on why CMG is going to $400 over the weekend on Seeking Alpha, and the comments (as well as a few previous bearish articles I have read) have led me to step in here and defend the rationale for owning a stock trading at what is a very high multiple relative to the peer group. Rather than simply outline the bull case (which I do on my blog), I am going to go through some of the points made by the shorts and try and offer a different perspective.
The product is very good with a loyal following. CMG owns restaurants that make burritos and tacos, served quickly and efficiently in a clean and simple environment. I have been to 21 CMG restaurants throughout the U.S., and all have been about the same in terms of quality and cleanliness (they do a good job). CMG stores usually have lines around mealtime. The reason: the product is very good. The company has shown consistent same-store-sales growth, and average revenue per restaurant has been on an up-trend for several years now (during the latest quarter, the company was generating almost $2.0 mm of revenue per restaurant, up from $1.8 mm at year end and $1.6 mm as of 12/31/2006).
So, let's move past the argument about preference as a valuation case for the short (such as, I like Burger King, so I am short CMG because the stock is more expensive). This argument is silly. While some may prefer not to go to CMG stores and prefer other food types, quite a few people do like CMG restaurants. Watch this recent video on the opening of the first CMG in Albuquerque, New Mexico, as a further example of the brand quality. Oh, and let's move past price. CMG successfully raised prices in the 3Q to reflect the higher cost of food, and customers didn't blink.
They are NOT just another Krispy Kreme, Inc. (KKD). This argument is for the lazy trader who has no interest in reading a 10-K. At no point in the history of KKD was the company in the same financial shape as CMG. CMG has (by my count) public financials highlighting eight years (with 2011 being a likely nine) of consecutive growth in EBITDA, solid operating margins (consistent with peers), no debt and cash and equivalents of over $400.0 mm as of 9/30. This company is managed well (consistent improvements in operating margin are a key indicator), with the founder in charge of product development. Dismissing CMG as a fad is wrong. They are a real business, and will be around for a long-time.
The valuation is high, but what about a new restaurant chain? CMG has introduced the Shophouse Southeast Asian Kitchen in the Washington, D.C., area (check it out, from the link). The store has opened to solid customer reviews that are consistent with the ratings of most CMG stores. I agree with the general assessment that trading at 39.5x 2012 and 31.5x 2013, CMG stock is valued aggressively. However, what is the announcement that CMG is going to open 20-25 Shophouse restaurants in 2012 or 2013 worth, in terms of multiple support? What if CMG has 250 Shophouse stores open in five years? Does that change the view on valuation?
I remember when a computer company in Cupertino, California, announced that they were making a digital music player, opening up the business to new possibilities (innovation). I think most would agree that the shareholders of Apple, Inc. (AAPL) have done OK since the company announced the iPod. This is a similar moment for CMG, especially because CMG is still a relatively "small" company (I see them doing $226.3 mm in net income in 2011), and a new chain would move the needle financially (similar to where AAPL was when the iPod was announced). The company will need to find growth beyond opening new CMG stores. If they didn't have it, I would firmly agree that the stock was expensive and on a dangerous treadmill. However, Shophouse, if it works, changes everything and throws the value in question for a loop (innovation should do that).
It is easy to point to stocks that are trading at a high (and in this case, very high) relative valuation and throw arguments (most flimsy, a few substantive) at why the stock is a short (this article and this article are great examples of that). In the case of CMG, disappointing earnings (not a miss, but results that indicate the growth is slowing), a decision not to expand the Shophouse or a decline in same store sales would certainly support a sell-off and multiple contraction for CMG.
However, continued execution by a management team that has an exceptional track record to-date, and running a very good business well, should continue to support the multiple enough to allow growth in the business to catch-up with the story over the long-term.