In a healthy economy, job creation often accompanies job destruction. Resources freed in one economic activity get redirected to new sources of economic growth. This can happen when consumers take the savings from cheaper products to buy new products or when businesses take savings and invest in new profit opportunities. It is very easy to forget this theoretical relationship in poor economic times like now.
On a recent trip, I received an interesting reminder of the symbiosis between job destruction and creation at a Hertz (NYSE:HTZ) rental car drop-off.
As I waited for my receipt, I noticed a bearded figure checking out my transaction. I thought he was inspecting the car and/or waiting to drive it back to the Hertz car care center. It turned out that this guy was sizing me up for a ride to the airport terminal. He startled me when he asked whether I wanted a ride. After sizing HIM up, I figured the official-looking Hertz badge on his shirt meant that his solicitation was genuine. An impostor would not be allowed to loiter amongst customers, right?
My next surprise came when he told me to leave my bag in the trunk because we would be driving my (former) rental car to the airport. After buckling up, my curiosity compelled me to ask "Tony" whether Hertz had started some kind of new program. He explained that Hertz is trying to add some more customer service to the rental experience by offering rides to the airport terminal. He typically looks for senior citizens, the handicapped, people who are running late for flights, or people who are otherwise having a hard time getting around. I did not fit any of those categories so I just benefited from the "luck of the draw." Tony was looking for something to do and wanted to avoid getting sent off to wash cars once someone (his manager?) noticed he was standing around with his hands in his pockets. I responded in sympathy imagining the misery of washing cars in the cold (even if Hertz actually has indoor washing facilities).
Tony further explained that he had been a shuttle driver for Hertz for 20 years (yes, TWENTY!) but lost his position once the airport built a centralized car rental facility. These centralized systems relieve car rental companies of the need to operate their own shuttles to their own rental facilities. Costs drop…and jobs disappear. Tony lamented that things "got rough for a while there," but he managed to stay employed with Hertz (I assumed he implied that he was one of the lucky drivers). If this new custom ride service gets a positive response, the innovation will create more jobs as Hertz hires more drivers. In my head, I made the calculation that the centralized facilities have freed Hertz to deploy resources into other customer-centric investments. Given the individualized service, Hertz may eventually hire more drivers than it did when it operated its own shuttles – job destruction working hand-in-hand with job creation.
Some car rental companies used the shuttles and rental facilities as service differentiators. For example, in the mid-1990s Hertz ran a marketing campaign with the catch phrase "not exactly" to point out that competitors could not match Hertz's service and amenities like canopies to protect travelers waiting for pick-up from inclement weather. This was exemplified in a famous 1996 commercial featuring ventriloquist and comedian Jeff Dunham.
With centralized car rental centers, every car rental company offers protected areas for pick-up and drop-off. The cheery greeting from the shuttle driver and helpful travel tips get delivered to customers of any company. Differentiated customer service can only occur when the customer is directly interfacing with Hertz. The drop-off is one such point of contact and opportunity for innovation.
The ride to the airport lasted less than 10 minutes but during that time I learned a lot about "Tony," his life, and his work. We even had a great chat about football and the day's games. I wished him the best, and I promised to write to Hertz complimenting the service and suggesting the company keep it. It was one of the first things I did when I returned home.
Overall, Hertz certainly seems to have the financial wherewithal to roll out custom rides across the company. In the company's last earnings report, the rent-a-car unit reported an annual (latest 12 months or LTM) $6.9B in revenue (10% growth from 2006) and $949M in EBITDA. Revenue per employee has soared from $175 in 2006 to $222 today. This year, Hertz even attempted to acquire Dollar Thrifty (NYSE:DTG) until DTG announced completion of the solicitation process.
Rental car companies were one of many amazing recovery stories from the recession and financial panic. The stocks in many of these companies, like DTG and Avis Budget (NASDAQ:CAR), rose from near bankruptcy levels to double digits within weeks and months. Hertz dropped as low as $1.55 in November, 2008. By the end of the year, it had quadrupled in value. After a plunge to the March, 2009 lows, Hertz went on to soar as high as $11.50 by August, 2009. By November, 2009, car rental prices were up about 50% over the previous year. Since then, Hertz's stock has had a few short rallies that have not lasted long. This year, HTZ reached a post-recovery high of $17.64 before returning to the middle of the multi-year trading range.
(Click chart to expand)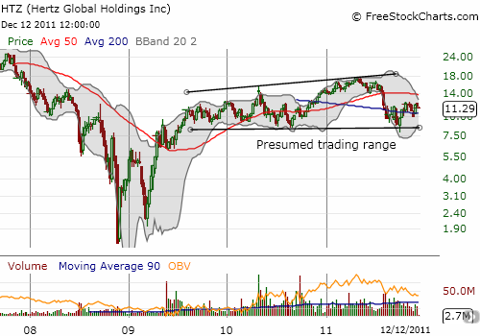 Like many car rental companies, Hertz experienced a swift post-recovery rally that stalled out within months
Source: FreeStockCharts.com
Given my recent experience, I will be following Hertz's story a little more closely going forward. I also do not plan to miss another opportunity to buy the stock on the cheap if the opportunity presents itself again.
Disclosure: I have no positions in any stocks mentioned, and no plans to initiate any positions within the next 72 hours.