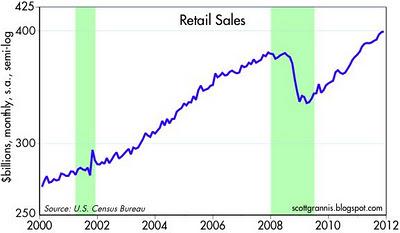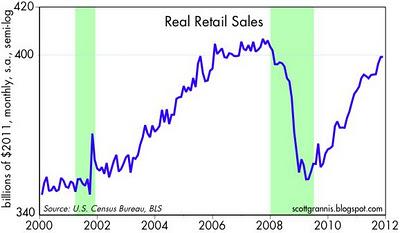 November retail sales rose a bit less than expected, but growth since the recovery got underway has been fairly impressive. Nominal retail sales are now at a record high, 5.5% above their pre-recession high, despite the fact that non-farm employment is still 6.3 million below its pre-recession high. Even after adjusting for inflation—which has not exactly been quiescent—real retail sales are only about 1.5% below their prior high while employment is 4.5% below its prior high. Today's workforce is a lot more productive than it was just a few years ago, and consumer confidence and willingness to spend has apparently not been much affected by the sluggish recovery.
Mark Perry adds some color:
Retail spending in November was 6.7% higher than the year-earlier level, and spending in every category except department stores (-3.0%) registered annual gains last month, with especially strong gains in auto sales (+7.5%), miscellaneous stores (+7.7%), gasoline stations (12.9%) and nonstore retailers (+13.9%). Excluding gasoline sales, retail sales increased by 6% on an annual basis.