Not every­one has the lux­ury of or stom­ach for being net short as I rec­om­mended in my "Get Short Now" arti­cle. So, I offer some of my top picks for those that need to be long.
As long as you believe in the long-term via­bil­ity of the United States, being long should serve you well in the long-term. The key word in the last sen­tence is "long-term", which I would define as at least five to ten years.
In the near-term, if you are going to own stocks I highly encour­age investors to avoid "tech­ni­cal" strate­gies based on momen­tum or what the big mutual funds are sell­ing to avoid report­ing under-performing stocks in the quar­terly filings.
If you intend to be an investor, as dis­tinct from a spec­u­la­tor, then there is only one, true way to out-perform over time and that is with supe­rior fun­da­men­tal research.
Supe­rior fun­da­men­tal research is not nearly as excit­ing as spec­u­la­tive invest­ing, and it is much more dif­fi­cult. Instead of ana­lyz­ing fancy charts and short-term mar­ket move­ments, real invest­ing requires under­stand­ing the true eco­nomic earn­ings of com­pa­nies and the expec­ta­tions for future earn­ings that are baked into stock prices. Admit­tedly, the returns for many value investors have not been as good over the past sev­eral years; How­ever, I believe that is going to change for rea­sons explained here.
In case you couldn't tell, I con­sider myself an investor, not a spec­u­la­tor. I have been able to put up a decent track record in both my research (since 2005) and hedge fund (since 2008) lever­ag­ing strong fun­da­men­tal research.
With that lead-in, here are my top 3 stocks to buy and hold. The best ETFs and mutual funds that hold these stocks are at the end.
Ana­log Devices (NYSE:ADI)
Bris­tol Myers Squibb (NYSE:BMY)
Kla-Tencor (NASDAQ:KLAC)
All of these stocks make my Decem­ber Most Attrac­tive Stocks list because they have:
Strong and ris­ing eco­nomic earnings
Cheap val­u­a­tions
The table below high­lights the strong ROICs of my three picks and the low expec­ta­tions for future growth as com­pared to the S&P 500.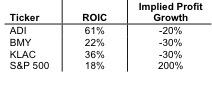 In a chal­leng­ing mar­ket, investors need to be long stocks that have strong prof­itable busi­nesses, a trait best mea­sured by ROIC. ADI, BMY and KLAC all have impres­sively high ROICs. Investors also need to be in cheap stocks. Here again, ADI, BMY and KLAC fit the bill, espe­cially com­pared to the S&P 500. ADI's stock price of about $34.50 implies the company's prof­its will per­ma­nently decline by 20%. The cur­rent stock prices of BMY and KLAC imply a per­ma­nent decline in prof­its of 30%. Those are some very low expec­ta­tions, espe­cially com­pared to the S&P 500, whose value implies a 200% increase in prof­its over the next 22 years.
Once stocks pass my prof­itabil­ity and val­u­a­tion thresh­olds, I review the strate­gic posi­tion of their busi­ness and sector.
The tech­nol­ogy and health care sec­tors top my list of the best sec­tors in which to invest.
Both sec­tors have sec­u­lar growth prospects that put a bot­tom on val­u­a­tions and pro­vide mean­ing­ful profit growth prospects in almost any eco­nomic environment.
Regard­ing the tech­nol­ogy sec­tor, I think of it as a play on growth oppor­tu­ni­ties within every sec­tor. What indus­try does not rely on tech­nol­ogy for some part of its oper­a­tions? Tech­nol­ogy is embed­ded in nearly every­thing we do. There are excep­tions, but that list is shrink­ing as tech­no­log­i­cal inno­va­tion is mak­ing processes and things bet­ter all the time. The bot­tom line is the best com­pa­nies are those that inno­vate the most, and tech­nol­ogy com­pa­nies are the most inno­v­a­tive com­pa­nies by a wide margin.
The health care sec­tor is prob­a­bly sec­ond only to tech­nol­ogy in terms of its pace of inno­va­tion. In addi­tion, no mat­ter the envi­ron­ment or eco­nomic cycle, peo­ple need health care. The aging of our pop­u­la­tion and sim­i­lar demo­graph­ics around the world mean that health care busi­ness will not have any trou­ble attract­ing new cus­tomers for the fore­see­able future.
Each of my picks offer com­pelling upside poten­tial com­pared to lim­ited down­side risk. Upside poten­tial is strong as these com­pa­nies have strong busi­nesses in the best sec­tors. Down­side risk is lim­ited by the fact that val­u­a­tions are already quite low. How much lower can expec­ta­tions for future earn­ings get than –20% to –30% per­ma­nent profit declines?
If you have to be long, own these stocks or the ETFs and mutual funds below, which allo­cate mean­ing­fully to these stocks and get my attrac­tive or bet­ter pre­dic­tive fund rat­ing.
Royce Fund: Royce Spe­cial Equity Multi-Cap Fund [RSEMX] – allo­cates 4% to ADI (no other classes of this fund get my attrac­tive rating)
ProShares Ultra Semi­con­duc­tors (NYSEARCA:USD) – allo­cates 3% to ADI
Pow­er­Shares Buy­back Achiev­ers (NASDAQ:PKW) – allo­cates 5% to BMY
SunAmer­ica Focused Series, Inc: Focused Div­i­dend Strat­egy Port­fo­lio [FDSAX] – allo­cates 4% to BMY (same applies to B and T classes)
iShares PHLX SOX Semi­con­duc­tor Sec­tor Index Fund (NASDAQ:SOXX) – allo­cates 5% to KLAC
Mutual Fund Series Trust: Cat­a­lyst Strate­gic Value Fund [STVCX] – allo­cates 2% to KLAC (no other classes of this fund get my attrac­tive rating)