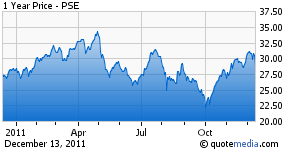 Pioneer Southwest Energy Partners (PSE) was under pressure Monday night, as PSE and Pioneer Natural Resources (NYSE:PXD) announced an offering of 4.4 million common units. Of these, PSE will issue 2.6 million new units and receive the proceeds from these units. PXD will offer 1.8 million of the roughly 20.5 million units that it owns for sale, and will allow an underwriters option for an additional 660,000 units. PSE will use the proceeds of the offering for general purposes, and to add a third drilling rig to its 2012 drilling program. PXD will use the proceeds for general corporate purposes.
I've got to think that investors are over-reacting to the news of the additional units, and ignoring the benefits of PSE adding another drilling rig. While the new units do dilute existing unit-holders by almost 8%, the addition of a new drilling rig should add pretty substantially to growth in 2012. In the December investor presentation, the company says it expected to drill about 40 wells in 2011 using the two-rig program. PSE also forecasted production growth greater than 5% in 2011 over 2010, again under the same two-rig program. Assuming that PSE can get a drill rig on-site by the beginning of the year, and that the addition of the rig increases the amount of wells drilled by 50%, since the number of drilling rigs is increasing 50%, PSE could drill almost 60 wells in 2012. That would certainly have to increase the growth rate above the rate for 2011, and lead to higher distributable cash flow for unit holders.
The partnership is forecasting Q4 production of between 7100 and 7600 Boe/d, which should remain unaffected by this announcement. However, expect management to announce a new drilling plan for 2012 by the time they report Q4 results, likely raising guidance for both the 2012 growth rate and production rate. With increasing production from the new drilling rig, the possibility of an increase in the distribution is also increased, adding another possible catalyst to PSE.
Currently yielding about 7%, PSE looks well positioned after this offering to ramp up its drilling program, and with that, its growth.
Disclosure: I am long PSE.