There is no doubt that Amazon (NASDAQ:AMZN) has been a darling with both Wall Street and the individual investor for some time. The company was thought by some to have almost unlimited growth possibilities and has definitely been the leader in online retailing.
Has the stock hit its peak, or is there room to grow? This graph provided by Barchart shows a 20-, 50- and 100-week moving average and a 14-week turtle chart, which seem to imply the stock price has hit a resistance level: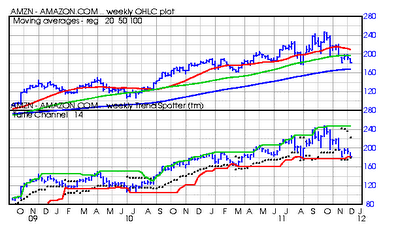 When I compare the stock price over the last 50 trading sessions to the Value Line Index of 1,700 stocks, it shows that the price weakness has nothing to do with the recession or the market: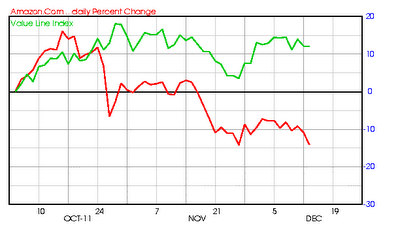 Amazon.com, Inc. operates as an online retailer in North America and internationally. It operates retail Web sites, including amazon.com and amazon.ca. The company serves consumers through its retail Web sites and focuses on selection, price, and convenience. It also offers programs that enable sellers to sell their products on its Web sites, and their own branded Web sites. In addition, the company serves developer customers through Amazon Web Services, which provides access to technology infrastructure that developers can use to enable virtually various type of business.
Further, it manufactures and sells the Kindle e-reader. Additionally, the company provides fulfillment; miscellaneous marketing and promotional agreements, such as online advertising; and co-branded credit cards. Amazon.com, Inc. was founded in 1994 and is headquartered in Seattle, Washington. (Yahoo Finance profile.)
Factors to Consider
Barchart technical indicators:
Barchart uses technical indicators from 7 days to 6 months duration to analyze the direction and strength of a stock's current price. Lately the sell signals have been increasing and getting stronger.
80% Barchart technical sell signal
Trend Spotter sell signal
Below its 20, 50 and 100 day moving averages
Barchart computes a technical support level at 175.74
The stock is 26.05% off its 1 year high and 17.95% off its 1 month high
Relative Strength Index 36.11% and falling
The stock is recently trading at 182.61 and below its 50 day moving average of 211.98.
The Barchart hourly trading graph of the last month show a current decline in price: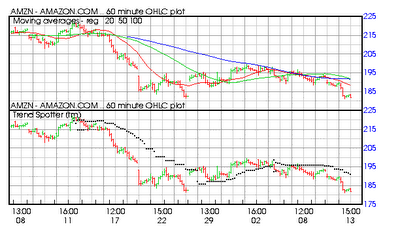 Fundamentals factors:
Wall Street brokerages love this stock, and 26 firms have assigned 36 analysts to monitor the numbers.
The analysts project sales to increase by 42.70% this year and another 33.40% next year.
Earnings estimates are to decrease 52.60% this year and up 69.20% next year.
Please remember that after a 50% drop you must come up 100% to be even.
The 5 year annual earnings growth rate is forecast to be 22.00% over the next 5 years.
These numbers resulted in analysts having 11 strong buy, 11 buy, 13 hold and only 1 sell report in place for clients to consider.
At the present time the company is spending a lot more in new capital improvements than seems warranted in relation to the sales and earnings growth projections.
The company does enjoy A+ financial strength.
General investor interest:
I use the opinions of the readers of Motley Fool to gauge what the individual investor is thinking, and like to see opinions of over 75% that a stock will beat the market.
6,072 readers voted 81% that the stock will beat the market.
86% of the more experienced and savvy All Stars voted 83% for he same result.
Fool notes that 89% of the last 37 articles about the company have been positive.
Some financial columnists that are positive are Stew Collins, Tobin Smith, Chris Davis, Bill Miller and Gary B Smith.
Summary
Although I think Amazon will increase sales and earnings in the long run, I think the price is too high to enter at this point. If I owned the stock, I'd make sure I had stop losses in place, or at least buy some protective puts. If I did not own this stock or wanted to add to an existing position, I'd monitor the stock's price using the 20-, 50- and 100-day moving averages and a 14-day turtle chart like to one attached to decide when the stock price should bottom out.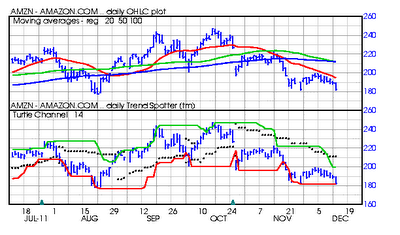 Disclosure: I have no positions in any stocks mentioned, and no plans to initiate any positions within the next 72 hours.