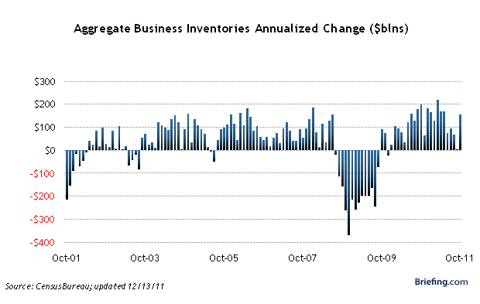 The market struggled on Tuesday after several reports and data points came out that were not bullish. German PM Merkel commented that she was against raising the bailout fund for European nations, which had been one of the catalysts for the market last week. Data from retail sales were weaker than expected, and the Fed disappointed the market with basically no development at all. Many had been hoping for some form of quantitative easing.
At home, retail sales came in worse than expected at 0.2% vs. the 0.6% expectations. Retail had also been a good catalyst for the market. Sales were supposed to be quite good for the market over the November spending season, but these results seem to bunk that thought. Business inventories did drop in November, which is bullish. It was an afterthought though in a major economic data day.

There were several significant upgrades and downgrades that were impactful on the day. Deutsche Bank was busy upgrading different mid-level oil producers. They bumped Murphy Oil (NYSE:MUR), Hess (NYSE:HES) and Marathon Oil (NYSE:MRO) to Buy. Panera Bread (NASDAQ:PNRA) was upgraded to Buy at Jefferies. Canadian National (NYSE:CNI) and Norfolk Southern (NYSE:NSC) highlighted downgrades as both were dropped down to Hold by RBC Capital.
We had another good day in the marketplace. We were able to lock in a 2.75% gain in Ultra Proshares Dow30 (NYSEARCA:DDM) at the open this morning. We also were able to lock in a 14% gain overnight selling the $38 puts on Direxion Small Cap Bull ETF (NYSEARCA:TNA). A lot of our other positions moved well for us. We have short or short option positions on Skyworks (NASDAQ:SWKS), Research In Motion (RIMM) and Sina (NASDAQ:SINA). All three dropped over 3% on the day. Our sold $77.50 puts on Exxon Mobil (NYSE:XOM) dropped back down in value after XOM bucked the trend of the market. We continue to hold long positions on the SPY, Starbucks (NASDAQ:SBUX), AutoZone (NYSE:AZO), CarMax (NYSE:KMX), Nike (NYSE:NKE) and Pier One (NYSE:PIR).
We added short positions on oil with SCO and on Salesforce.com (NYSE:CRM). We went long on Monsanto (NYSE:MON).
Moving into tomorrow, the market looks sickly again. The market really fell apart at the close after the Fed meeting, and it looks like things are starting to look a lot weaker for the market right now. Where is a catalyst for upside? What was supposed to be a start to a further Christmas rally may be quickly losing ground. A lot of data is still on tape for this week, but unless we get something big from the market ... more pressure appears likely.
Two stocks that we are looking at or adding more bearish positions are LinkedIn (NYSE:LNKD) and Weingarten Realty (NYSE:WRI). Both stocks have downward moving trends and extremely large P/E ratios with disappointing results in Q3 that are creating upward resistance. We would look for both stocks to continue lower in a down moving market and have trouble in strength.
Click to enlarge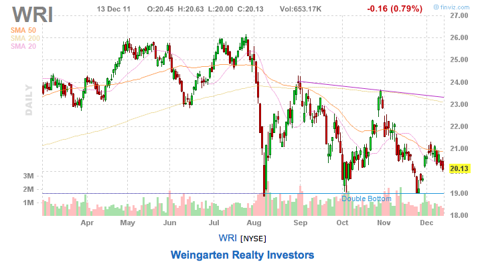 Disclosure: I am long XOM, SPY, SBUX, MON, AZO, KMX, NKE, RL, PIR, SCO.
Additional disclosure: I am short CRM, SINA, RIMM, SWKS.