By Mark Bern, CPA CFA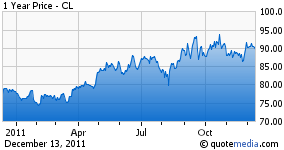 We didn't get put the stock on the first try, but we did collect the premium on the put we sold. Recall from my first article on Colgate-Palmolive (NYSE:CL) that the stock price was $89.54 (all prices and premiums quoted from the first article are as of the market close on September 29, 2011) while the premium on the November $82.50 strike Put was $2.19. We collected $219 ($2.19 x 100) on the one contract that we sold, but we also paid a commission of $9 (assumed amount that is about the average of discount brokerage premiums; you can do better if you shop around). That leaves us with $210 net of commissions which represents a return of 2.3% for 54 days (expiration occurred on November 18). If you annualized that return (using the method I explained in my original article in this series; link provided at the end of this article) you would come up with about 14.1% without owning any stock. That is the kind of return that makes this strategy work. We won't get those every time, but often enough to keep me happy.
I will include information of call selection in this series in the future only after we have been put the stock. That will keep this series more focused upon the return to the complete strategy rather than mixing it up with other issues. We will build a portfolio of dividend-paying stocks over time and compare our return to the return of the broader market after two years.
Now, for the remainder of this article I will focus on the next steps with Colgate. In earlier update articles on United Technologies, Union Pacific (NYSE:UNP), Chevron (NYSE:CVX) and Intel (NASDAQ:INTC) I address other related issues such as exit strategies and variations to the basic strategy as well as a proper diversification strategy. To find those articles in case you missed them just search within SA (upper right hand corner of the article page) for the words, "Updated Enhanced Income Strategy" and all of these articles will come up at the top of the search. Also, I have published a summary for the first 90 days that includes how we did relative to a straight buy-and-hold portfolio. You can find that article at this link: here.
I have also tried to address other questions that were raised in comments to previous articles in the above listed articles. In this and future article updates I will attempt to put some of the variations to work for us and explain why I chose to apply the specific variation relative to the then current investing environment. I hope you will stick around until I've had a chance to fully expand the possibilities, the risks and other considerations that apply to enhanced income investing.
For those who read the earlier article on Colgate (here) you will recall that I believe Colgate to be a well-managed company with exceptional upside potential. I may not have said it in those exact words, but there you go. I like Colgate a lot and think that it is a great investment for the long-term. At its current price of $89.69 (as of the close on December 13, 2011), I believe that the company still represents a good value. However, with all the uncertainty in the market today, I think the volatility will give us an opportunity to buy this company at a better price. One of the reasons that I like Colgate so much is that I found its stock to be more resistant to losses and more resilient than the broader market indexes. When the S&P 500 was down about 57% from the 2007 peak to the 2009 trough, Colgate was down only 30%. And while the S&P 500 is still about 20% below its 2007 high, Colgate has risen to new highs. Including dividends, from 2007 peak to 2011 peak, investors would have a total return of 21% while the owners of the index are still under water during the same period. That is a difference of nearly 40%; advantage Colgate.
My favorite put option on Colgate at the moment is the January 2013 $80strike with a premium of $4.95. After the commission you are left with a return of 5.4%, or 5% on an annualized basis. The exercise date is January 18, 2013, so you earn the 5.4% in 13 months. Not the best return on cash but if we get put the stock our cost basis will be $75.05. I would really like to own Colgate at that price even if the market goes back down to its 2009 lows because, in the end, we'll collect those dividends (at what would be a yield of 3.1% on the lower cost) and own a great stock that should perform better than the broader market, giving us excellent appreciation potential. If the market does not tumble (and I don't know what will happen really), but instead begins to surge higher we will be able to buy back our option contract for nearly nothing in a few months, dramatically improving our return. Then we will just take another stab at it from a different perspective and price level. Right now I'm more defensive and will continue to be until we have a better resolution to the problems facing Europe.
As always, I enjoy the comments and will try my best to answer questions if readers will take the time post them. If you are a new reader and are confused about what strategy I keep referring to please see the first article in the series for a primer. You can find that original article at the following link here.
Disclosure: I am long UTX, INTC.