On Tuesday morning, Best Buy (NYSE:BBY) reported Q3 (November) adjusted earnings of 47 cents per share on sales of $12.1 billion. This missed analyst estimates for EPS of 51 cents and sales of $12.14 billion. Best Buy shares plunged on the news, even though the company maintained its full year sales and adjusted earnings guidance, and has a rock-bottom forward P/E multiple (now down to about 6). At $24, Best Buy's risk-reward tradeoff is more appealing, but there is still too much downside to recommend the stock at this point.
Best Buy and its bricks and mortar competitors like H.H. Gregg (NYSE:HGG) and Radio Shack (NYSE:RSH) have come under increasing pressure in recent years. The threat mainly stems from Amazon.com (NASDAQ:AMZN) as the online retailer undercuts their prices. Particularly with the increase in U.S. smartphone penetration, consumers can browse in a Best Buy store, find what they want, and then check the Amazon price while they are there. Thus, Best Buy risks turning into a (free) showroom for Amazon's merchandise. Best Buy has been forced to fight this trend by offering better deals to keep the sales in its own stores and on its own website. This in turn has pressured the company's margins. Thus, while Best Buy is finally seeing slight increases in comparable store sales, these come at the expense of gross margins.
Things are not likely to improve in the short-term. While Best Buy may have internal data to support its full-year forecast, I am skeptical that the company will meet its target. Tuesday morning also saw weaker-than-expected retail sales numbers for November. Electronics were supposedly a bright spot, and yet this did not help Best Buy's bottom line for the quarter just ended. If the company's Black Friday deals pulled some sales into November that would otherwise have been made in December (a likely scenario), then sales trends could actually weaken somewhat going forward.
I am very interested in Best Buy on a business level, as I think that they are finally doing the right things to get the company back on track. Last month's deal to take full control of Best Buy Mobile stores in the U.S. and to more or less take the company out of the European market was a step in the right direction. Best Buy will continue to grow the mobile business and no longer needs to share the profits with Carphone Warehouse. The company's Five Star outlets in China also remain a growth opportunity.
On the other hand, the economy continues to sputter along. There is a substantial possibility that December retail sales will be worse than the market expects. Until we see more data on consumer spending trends, it's hard to justify buying retailers unless they are already showing strong profit growth (e.g. Macy's (NYSE:M) or Nordstrom's (NYSE:JWN)). Consumers are being very cautious this year, and many may have finished (rather than begun) their shopping on Black Friday weekend. If this results in lower demand over the next two weeks compared to previous years, then Best Buy could miss its earnings targets again for Q4.
If Best Buy shares fall back below $22 over the next few weeks, I would consider opening a long position. Otherwise, I will wait to see December retail sales numbers, and re-evaluate at that time.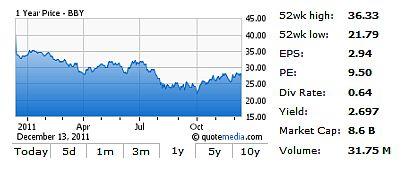 Disclosure: I have no positions in any stocks mentioned, and no plans to initiate any positions within the next 72 hours.