Dividend stocks can make or break an investor's monthly income stream. Investors have to be attentive to buying the right stock at the right price. My dividend investment philosophy is to pick the best dividend stocks and ensure the price per share is appropriate. I will highlight 7 stocks with appropriate entry points. The goal is to preserve capital while building a dividend income producing portfolio.
The discussion of dividend stocks needs to be placed in context of the European sovereign debt crisis, as this issue is not going away anytime soon. The media likes to hype rumors of a new solution. There isn't a solution that doesn't incur financial pain. Europe is an aging region and has fewer young workers entering the employment ranks. The revenues are not meeting the expenditures. Fewer workers in Europe will only decrease tax receipts in future years. Dividend investors must focus upon business models which should thrive despite the known global problems. Many companies will continue to outperform.
The key is moving past the hysteria on page 1 of the Wall Street Journal and finding what is working on page 16 of the Wall Street Journal. New and relevant information will make or break a portfolio. My dividend investing philosophy is to sell the losers and buy the winners.
Click to enlarge
SeaDrill Limited (SDRL)
SeaDrill is a leading offshore deep water drilling company. The company has an industry respected fleet which works in shallow to deep waters. The types of drilling units include: semi submersibles, deep water drill ships, tender rigs, semi tender rigs, and jack ups. The company has over 6,000 employees.
SeaDrill continues to post strong earnings and revenue numbers. The company has also stated that the day rate contract prices for the fleet remain strong. Personally, I have a love-- hate attitude towards SeaDrill due to its corporate hierarchy. John Fredriksen has served as SeaDrill's Chairman of the Board and President. John Fredriksen is a billionaire with incredible business insights and experience. I admire the company for possessing a willingness to take risks and develop a profitable sector strategy. Mr. Fredriksen is known for hiring only the best managers and employees. I do not lack any confidence in management or the business model. This is the good news.
The bad news is the dividend policy.
Mr. Fredriksen operates multiple companies, such as Frontline (FRO), to pay out the majority of its earnings as dividends. This is acceptable, and financially charming during strong business conditions. When the business model changes, the lack of cash on hand can create a liquidity crisis. A company cannot pay a dividend if it is unprofitable. This is the case with Frontline.
The company has over $8.879 billion in debt outstanding. If a significant percentage of fleet back orders are cancelled, then SeaDrill will be in a tight financial position. The world wide demand for oil remains strong and the day rates are currently rising in favor of SeaDrill.
I am a fairly conservative investor, with a preference for companies with a strong balance sheet versus companies loaded with debt while paying a significant dividend. I plan to acquire shares at a $25 - $27 price target. The trading technicals, per the above stock chart, indicate SeaDrill is breaking out of support levels.
Main Street Capital Corporation (MAIN)
Main Street Capital is a business development corporation that stands out in its sector (see its 10-Q). Main Street Capital is a principal investment firm that offers long term debt and equity capital to companies in the $10 to $100 million annual revenue niche. These sectors are often ignored by the major Wall Street merger and acquisition players. The investments are focused upon management buyouts, recapitalizations, growth financings and acquisitions of companies.
Click to enlarge
The company continues to deliver positive results to shareholders. On December 8th, the company announced an 8% increase in its monthly dividend. The rate will now be 13.5 cents per share.
One warning to potential investors is the Level 2 and Level 3 assets on the balance sheet. These are not easy to decipher for valuation purposes. Thus, the key issue is to judge how the company has operated and its success. I believe the stock is a compelling buy with an annual 8% dividend yield.
The stock has been a strong performer in a struggling market. Companies with increased dividends are tough to ignore.
KSW Inc. (KSW)
KSW, and its subsidiary KSW Mechanical Services, Inc., provide and install heating, ventilating and air conditioning systems. The customer base is located primarily in New York City. Customers include institutions, commercial, and high rise residential and public works projects. (See company 10-Q here.)
The stock is currently trading at $3.30, and has about $2.70 net cash per share on its balance sheet. The current projects provide an earnings stream. If projects are cancelled, then the net cash could evaporate. I know a number of friends who live in New York City. My personal belief is that New York City residents, workers, and visitors prefer to have working heat and air conditioning systems-- services that KSW provides.
Click to enlarge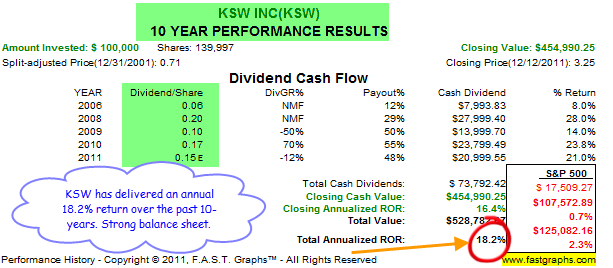 The dividend is paid out once a year. The last dividend was15 cents-- this equates to an annual 4.5% dividend yield. The float is tight and the market cap small. I would recommend using a 50 day moving average price for a good till cancelled limit order price.
Southern Company (SO)
Southern Company offers electric service in the south eastern region of the United States. Southern Company generates, transmits, and distributes power supply in Alabama, Georgia, Florida, and Mississippi. The company has over 4 million customers.
The stock is trading at 52 week highs. Southern Company has a .25 beta, which means the stock trades at 25% of the overall market's volatility. This is what many dividend investors are chasing right now. The stock has a 52 week trading range of $35 to $44. I was forced to sell, based upon my investment discipline, because of the valuation. The dividend yield is interesting at 4.2%. This is based upon an annual dividend rate of $1.89 per share. The stock closed at $44.32.
I believe dividend investors have to take profits when they exist. This is a difficult market. I consider Southern Company a compelling buy at the $37.50 to $39 range. I'll buy back in at that point.
Intel Corporation (INTC)
Intel is the world's leading manufacturer of integrated circuits. The core markets are personal computer manufacturers; military; industrial automation; and communication vendors. The main markets are micro processors, micro controllers, and memory chips. (Click here for 10-Q)
The stock is trading at $23.56 and pays an annual dividend of 84 cents. This provides a 3.4% dividend yield. The annual trading range is $19 to $25. The balance sheet is strong, with debt representing 4% of the capital structure. On December 12th, Intel announced an anticipated revenue shortfall. Intel's 4th quarter revenue should be light, between around $500 million to $1 billion. The cause is to due to the hard disk drive supply shortages.
I am looking to buy Intel at below $20 per share. This would be a significant drop for a $120 billion market cap blue chip. I do not find the price appealing at current levels and a weak economy. The company traded as low as $12 to $13 in 2008.
Microsoft Corporation (MSFT)
Microsoft is well known as the largest independent maker of software. Microsoft Word and Microsoft Excel are long standing product lines. The company has widened its range of software products through acquisitions. Microsoft's stock price is trading where it was in 1999, which has proven to irritate my desire for an increasing portfolio value.
The $200 billion market cap has provided shareholders little incentive to hold their positions. The company pays an annual 80 cent dividend. This provides a 3.1% dividend yield.
I am interested in buying Microsoft at the $15 to $17.50 range. The company offers shareholders little incentive to hold, unless a catalyst is enacted to stimulate revenue and earnings growth.
American Capital Mortgage Investment (MTGE)
American Capital Mortgage is a name that I own for one reason: management. (View 10-Q here.) American Capital Mortgage is a hybrid mortgage real estate investment trust (MREIT). This explicitly means a) the company can own mortgage backed securities guaranteed by the government and b) the company can own mortgage backed securities not guaranteed by the government. An agency mREIT, such as American Capital Agency Corp (AGNC), can own only mortgage backed securities guaranteed by the Federal Government.
Gary Kain oversees American Capital Mortgage's agency mortgage backed security selection. Mr. Kain has provided American Capital Agency Corp shareholders with positive returns over the past 4 years. American Capital Mortgage is a compelling buy right now due to its valuation.
The company's latest 10-Q, page 2, shows the asset allocation in agency securities:
Click to enlarge
American Capital Mortgage closed Tuesday at $18.27. The book value per share was $19.96 on September 30th. This means investors can buy Gary Kain's acumen at 91.5% with a purchase of the hybrid American Capital Mortgage. American Capital Mortgage will pay the 80 cent dividend on January 27th. The ex-dividend date is December 20th.
Before anybody buys American Capital Mortgage, remember it is a hybrid mortgage real estate investment trust. The company could buy mortgages not backed by the Federal Government. This action would make my investment thesis less compelling. Nevertheless, I retain 100% full faith in Mr. Kain's judgement.
Conclusion
I believe individual investors must pay attention to entry prices on stocks. Great dividend stocks can become over valued during turbulent market conditions. Investors rush to safety, which can create temporary price dislocations on the upside for the perceived safe dividend income stocks. If an investor loses $3 in capital appreciation for $2 in dividends, the net effect is a losing position. Patience on timing when to buy dividend stocks is mandatory for outperforming the market.