Some numbers recently came out supporting what looks like strong growth in consumer credit - quite an improvement from a couple of years ago.
U.S. consumer borrowing rose in October to the highest level in two years, propelled by gains in non-revolving debt like auto and student loans.

Credit increased by $7.65 billion to $2.46 trillion, the most since October 2009, Federal Reserve figures showed today in Washington. The advance was in line with the median forecast of economists surveyed by Bloomberg News that projected a $7 billion gain.
The good news here may be that lending from banks, credit unions, and finance companies must have markedly improved in the US. Or has it?
Let's first take a look at the growth in revolving credit (credit cards, etc.). As the chart below shows, the revolving credit component has basically been flat over the quarter.
click to enlarge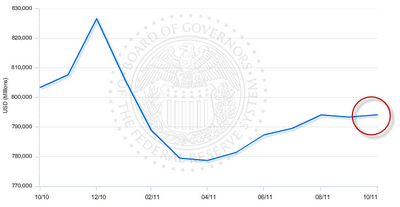 That must mean, as the BusinessWeek story points out, that the increase came from non-revolving credit. The next chart shows it to be the case indeed.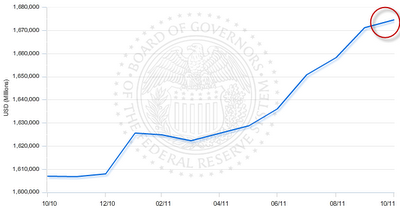 Now we are getting somewhere. The next obvious question is who exactly is providing non-revolving credit to consumers and what has been the longer-term trend. The next chart is quite informative. It turns out that growth in consumer credit is very much driven by the federal government and not by banks whose non-revolving loan ownership has been constant.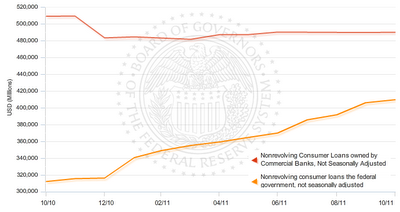 To put things in perspective, here is a longer period chart showing total non-revolving credit as well as that provided by banks, and by the US government.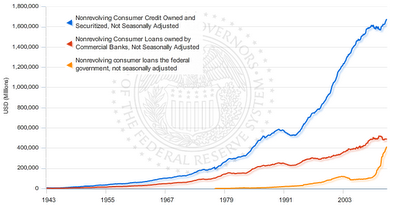 Note that some of the growth in consumer credit in years past recently was achieved via ABS securitization (not shown on the chart), but that certainly does not explain the full move in consumer credit.
Where is all that government sponsored non-revolving consumer credit coming from? Uncle Sam is generally not in the business of providing car loans, so that leaves one culprit - Sallie Mae (NYSE:SLM) and their student loan programs.
SLM's balance sheet indeed shows an increase from $136.2 billion to $186.5 billion in total loans during 2010, or over $50 billion in one year. This must mean they are continuing to grow this portfolio at a rate that meaningfully impacts the overall consumer lending. Even some of the increase in student loan ABS is also coming from SLM as they continue to securitize some of the loans they originate (in addition to what they hold on balance sheet). In fact, they just did an $812mm ABS transaction in November.
Just as an aside, SLM is now trading on NASDAQ and is going through a full re-branding program. For some reason it is beginning to look a bit like a couple of other federally supported lending organizations that traded in the public market – until 2008.
Consumer credit is indeed increasing at a nice clip, but it seems to have little to do with any easing of credit at banks and much more to do with US government sponsored programs.
Disclosure: I have no positions in any stocks mentioned, and no plans to initiate any positions within the next 72 hours.