In a day when debt has become a four-letter word and leverage has become a noose, it may seem odd that Cabot Microelectronics Corporation (NASDAQ:CCMP), a supplier of chemical mechanical planarization (CMP) polishing slurries and pads, chose to reduce its cash balance and increase debt and leverage in a major "capital management initiative" that includes a leveraged recapitalization.
I suspected the intricate financial engineering was designed to hide some dirty secret on the balance sheet. After all, CCMP is a heavily shorted stock with 19% of the float short. So, I turned to a knowledgeable friend of mine for answers. He explained to me that CCMP is essentially exchanging equity for debt in order to directly pay shareholders the value currently locked up in the company. In his own words with some editing for clarity:
Essentially, a leveraged recap involves a company incurring additional leverage to fund a special dividend to equity holders. It's a way of enhancing shareholder returns immediately (who wouldn't love a large special dividend) while using the balance sheet more aggressively to increase leverage. Increased leverage can also imply higher return on equity (ROEs) since equity is being replaced with debt on the right side of the balance sheet. The only downside of additional leverage, particularly for a cyclical company, is obvious if earnings/cash flows happen to decline. The increased debt servicing costs will bite even more on the downside. Looking at the full press release, it looks like the $345mm special dividend will be partially funded by a new loan facility of ~$175mm with the remainder funded from cash on the balance sheet (they currently have $303mm as of 9/30/11).

Typically, companies that are sleepy and stable but haven't done a great job of delivering great total shareholder returns (either through regular dividends or stock price appreciation) may undertake an aggressive step such as a leveraged recap if they are under increasing pressure to boost shareholder value. I think that's what may be happening here because they are also increasing their share repurchase program – yet another shareholder friendly action. Typically, leveraged recaps and boosting share repurchases are the aggressive steps management takes in response to pressure from shareholders such as an activist a la Carl Icahn.
Here is a summary of CCMP's plans from the company's press release:
The company intends to pay a special cash dividend of $15 per share, or approximately $345 million in aggregate, to its shareholders during the first quarter of calendar year 2012. Approximately half of the dividend is expected to be funded from the company's cash balance, and the remaining amount is expected to be funded with new debt. Payment of the special dividend is contingent upon arranging the associated financing with terms and conditions that are acceptable to the company. In addition, the Board has authorized an increase in the company's existing share repurchase program to $150 million, from the previous available authorization of approximately $83 million. The company intends to continue to repurchase its shares from time to time in open market transactions, depending on market conditions, at management's discretion.
The reaction in the stock was swift. CCMP closed the day with a 14.4% gain. The stock increased by as much as 26%.
click to enlarge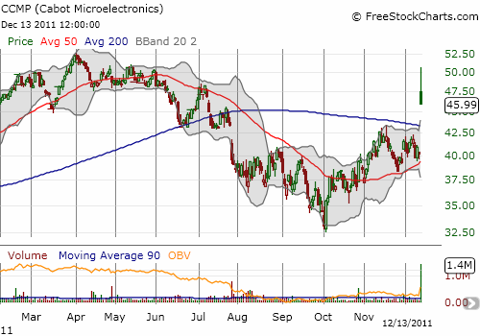 Like a coiled spring, CCMP launches over its 200-day moving average
Source: FreeStockCharts.com
The tremendous fade in the stock suggests to me that much of CCMP's initial surge came from short-covering. Shares short are currently hovering at 52-week highs at 3.2 million shares. Average trading volume on CCMP is 154,000 shares, and trading volume on Tuesday reached 1.4 million shares. Clearly, many shorts have not yet covered their positions. Their buying, combined with CCMP's repurchase program, could provide sustained price support. The stock may yet recover at least Tuesday's high at $50.70.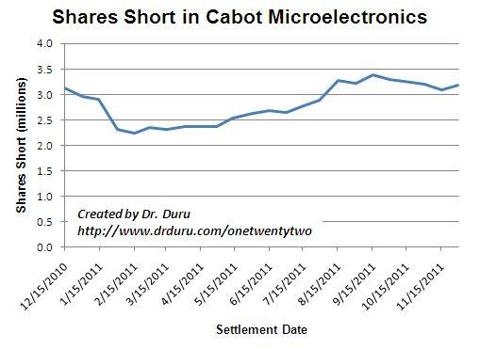 Shares short in CCMP have drifted to 52-week highs.
Source: NASDAQ CCMP Short Interest
The overall bearish outlook on the market may yet bring CCMP's price back down and provide golden entry points to take advantage of CCMP's largesse. In Tuesday's press release, CCMP even reminded investors of the business risks ahead:
The company last discussed industry and business conditions during its earnings conference call on October 27, 2011, in conjunction with the release of its fourth quarter and full year results for fiscal 2011. At that time, the company cited industry analyst projections that softness in semiconductor industry demand, which the company had experienced during the second half of its fiscal year 2011, was expected to continue through the first half of its fiscal year 2012…given the current soft industry environment, we would characterize current conditions as slightly softer than normal seasonality. More specifically, through the first two months of the first fiscal quarter, our revenue is running approximately five percent lower than last quarter. While the strong start to holiday shopping in the U.S. provides some hope for industry strengthening, we remain cautious, particularly given global macroeconomic uncertainty.
Even with Tuesday's gains, CCMP is still only valued at 1.6x book value. A return of even half of Tuesday's gains could be a gift. The monthly chart below shows CCMP traded at seven-year highs earlier this year. The stock even continues to trend upward (higher highs and higher lows) from the March, 2009 lows. I am very surprised shorts used the swoon this summer to increase bearish bets rather than close them out.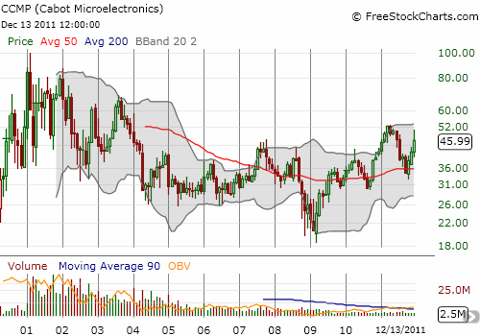 CCMP is trying to break out of a 7+ year trading range
Source: FreeStockCharts.com
CCMP is a stock to watch and one to buy on the dips.
Disclosure: I have no positions in any stocks mentioned, but may initiate a long position in CCMP over the next 72 hours.