With recent Eurozone problems at hand, the market has been discounting solid companies. Great energy names such as Marathon Oil (NYSE:MRO) and Murphy Oil (NYSE:MUR) were upgraded by Deutsche Bank from a "Hold" recommendation to a "Buy" despite these tumultuous times. If one wholeheartedly believes in a particular company's fundamentals and growth prospects, then covered call option strategy could help one persevere through volatility caused by PIIGS. Following are some discounted value gems that have upside potential in 2012. However, before you jump into the options chart below, there are few important items I must highlight beforehand.
1. It is important when comparing premiums to know that normally, on a per-day basis, the shorter term options are more expensive even though the nominal dollar amount can be lower. This is not always the case due to theoretical pricing and implied volatility constantly changing.
2. Riskier stocks have expensive call option premiums, so as an option writer that works in your favor. For example, it's more cost effective to write a call on expensive premiums such as Oncothyreon Inc. (ONTY) due to higher risk than U.S. Oil Fund (NYSEARCA:USO), which has no company specific risk and is less volatile in terms of standard deviation.
3. Even though shorter term maturities are often picked by option sellers in order to have less time to be wrong, at times, longer term maturities are also warranted. Each scenario should be carefully examined in order for earnings surprises and dividend payouts do not derail your gains.
4. Also note that some energy companies do not have February and March expiration dates, therefore April was used to drive a point regarding shorter term maturity options being more expensive on a per-day basis.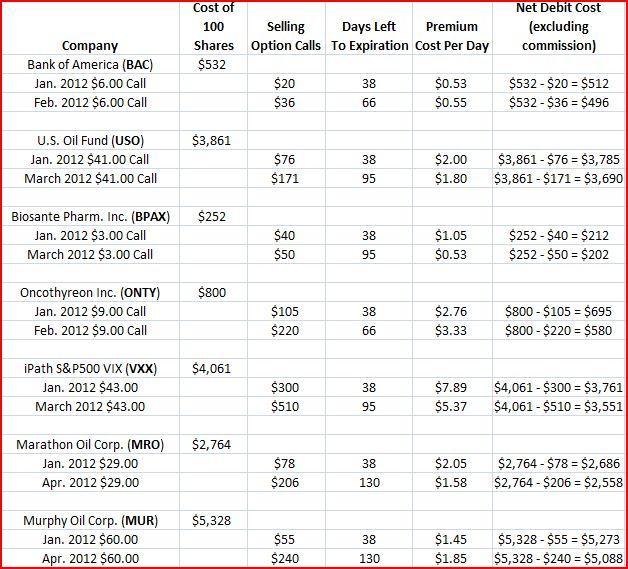 Please do not trade option derivatives if you are unaware of the associated risks!
Disclosure: I am long BAC, USO.