Among the Chinese internet and media companies that are listed in the US, I am quite positive on Sohu.com (NASDAQ:SOHU).
My investment thesis is:
Sohu is the 3rd most visited web portal in China. The company also owns Sohu Video, which has the 2nd largest online video market share behind Youku (NYSE:YOKU), and Sogou Search, which is the 3rd widely used search engine in China.
Changyou (NASDAQ:CYOU), 67% owned by Sohu, continues to exhibit strong revenue growth from its blockbuster title, Tian Long Ba Bu (TLBB). The combination of web portal, online game, internet search, and online video gives Sohu a highly diversified business model.
Network externalities, such as Sogou Web Browser, Chinese character input software Sogou Pinyin, and Sogou MP3 are likely to create user stickiness and brand loyalty, which ultimately translates to increasing user traffic and usage of Sohu products.
Unfortunately, Sohu is underappreciated by the investment community because many industry professionals are comparing Sohu's lack of leadership in any of its market to Yahoo (NASDAQ:YHOO), which lags behind Google (NASDAQ:GOOG) in search and behind the Web 2.0 companies, such as Facebook, in advertising revenue.
Naturally, investors' attention shifts to the market leaders, such as Baidu (NASDAQ:BIDU) for online search, Sina (NASDAQ:SINA) for web portal and microblogs, Renren (NYSE:RENN) for social networking, Dangdang (NYSE:DANG) for ecommerce, and Youku for online video, disregarding Sohu's fundamentals and growth potential.
However, I would like to remind investors that Sohu is not Yahoo, because in Q3:
Sohu's online brand advertising revenue (+30% y/y) is growing faster than that of rival Sina, which grew only 20% y/y over the same period. Meanwhile, Sohu has a net margin of 20% while Sina is operating at a loss due to its investment on Weibo and impairment of past investments.
Sogou Search saw revenue grew 243% y/y, compared to Baidu whose revenue only grew 85% y/y.
Sohu Video sales grew 110% y/y, bringing its market share to second place in China behind Youku.
Finally, Changyou's TLBB is still kicking with 35% revenue growth four years after its launch and is still ranked among the top five MMORPG games in China.
Despite the solid performance, Sohu's stock is down 25% so far this year due to the fear of the Euro debt crisis and potential hard landing in China. In my view, the deep pessimism is causing Sohu to trade significantly below its intrinsic value, which makes its current valuation highly attractive for long term investors.
I derived a target price of $103 per share based on my DCF model that assumes a 14.6% cost of equity and 3% terminal growth. At the closing price of $47.70, Sohu is trading at 8.5x FY2012E based on forward earning of $5.56 per share, which is slightly higher than the consensus of $5.43.
click to enlarge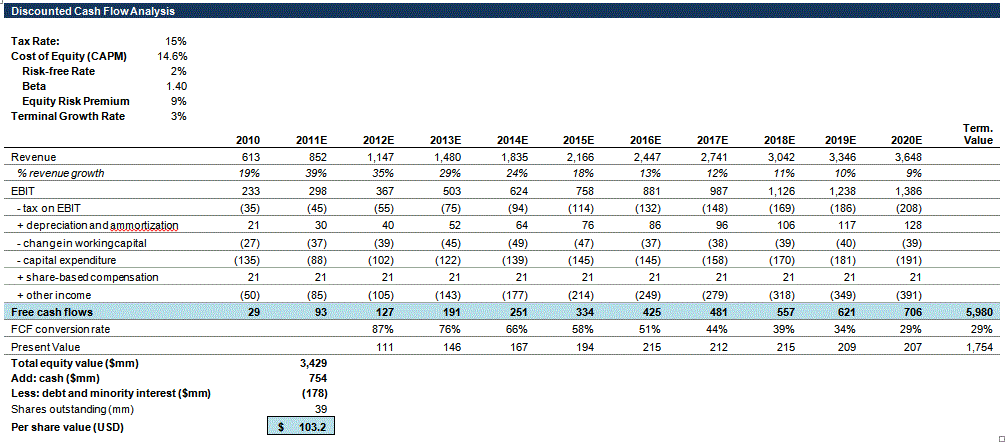 For the SoTP model, my FY2012E revenue of $1.15 billion is well above the consensus of $1.07 billion, and slightly above the high estimate of $1.14 billion because I believe that Sogou and Sohu Video will continue to execute next year and become bigger revenue growth drivers. The SoTP model derived a Bull Case of $151 and a Bear Case of $61. The midpoint of $105 per share is the Base Case, which is fairly consistent with the price derived from the DCF model.

EV/Revenue assumptions are based on a range from each business unit's respective peers: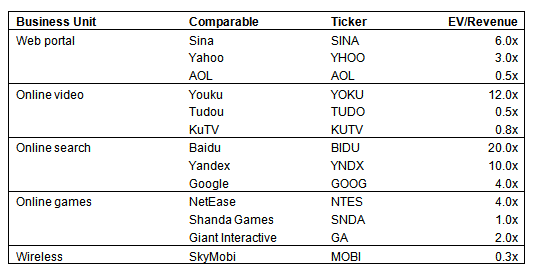 I remain overweight on Sohu based on its fundamental and growth potential.
Exhibit 1: Income Statement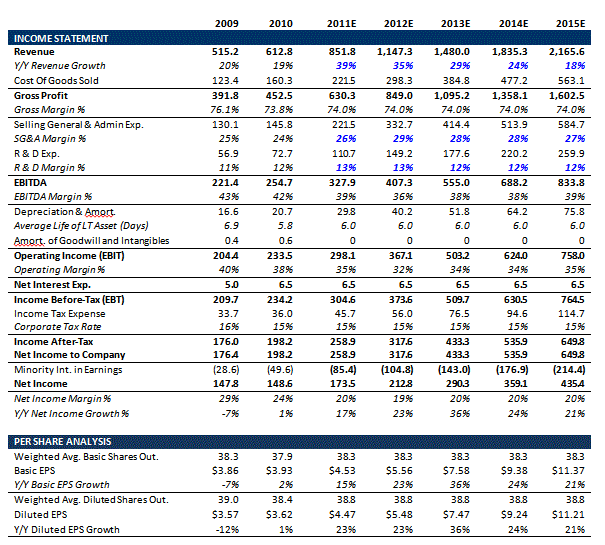 Exhibit 2: Balance Sheet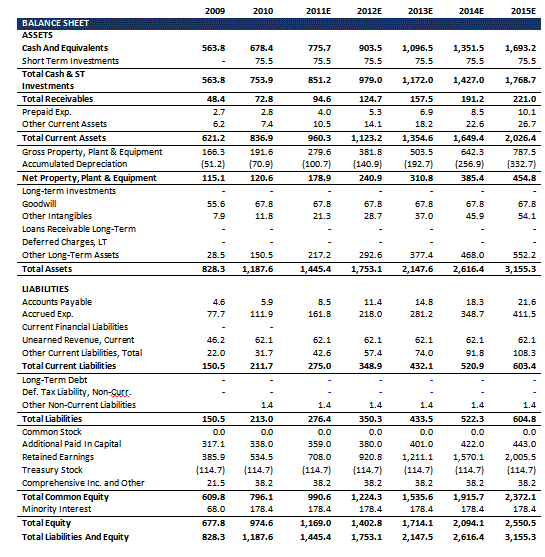 Disclosure: I have no positions in any stocks mentioned, and no plans to initiate any positions within the next 72 hours.