Alico, Inc (NASDAQ:ALCO) is a land management company that was spun-off from the Atlantic Coast Line Railroad Company in 1960. It is involved in a variety of agri-businesses as well as land leasing/rentals, rock and sand mining and real estate sales. Alico's primary assets are 139,000 acres of land located in central and southwest Florida. As of the market close on December 9th, 2011, Alico was worth $136.34M, resulting in a per share price of $18.55.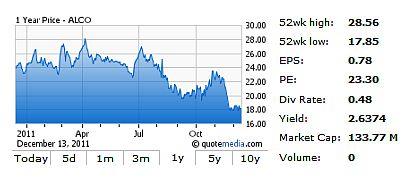 A Pure Asset Play
For Alico, it is imperative to determine two things. First, is it a candidate for bankruptcy or any possible liquidity issues? With a debt/equity ratio of .679 and working capital of $29 M, it has ample liquidity as well as a manageable debt situation. Second and most important, what is the value of its primary asset? Well, the market is currently valuing the land at a maximum of approximately $940/acre. This is derived by dividing the market cap of Alico by the number of acres it owns. Considering that Alico has other operations, such as Bowen Brothers, which provides harvesting, hauling and marketing services to Alico and other citrus growers in Florida, the $940/acre is probably an overestimation of the value being placed on the land by the market. However, for a conservative estimation, it is best to assume that the only asset of value is land.
Here is the breakdown of the land utilization from its annual report:
Citrus: Producing acres - 9,764, Developing acres - 450

Sugarcane: Producing acres - 3,463, Developing acres - 7,669

Cattle: 10,040

Leasing: Farm leases - 1,810, Grazing and other - 12,181, Recreational leases - 64,619

Commercial and Residential: 5,283

Mining: 526

Infrastructure and other: 23,847
The per acre value of citrus groves can vary tremendously depending on location, maturity of the grove, proximity to water, etc. Less desirable groves can go for $6,000-$8,000 per acre, which is down from several years ago, while the most desirable can go for $18,000+ (if they come up for sale, which is rare). To analyze the potential value of its citrus groves, let's assume it has mostly bottom-barrel groves and that if it sold the groves tomorrow, it would realize a very conservative average price of $7,500 per acre. Not counting the developing acres, that would value the producing groves at approximately $73 million.
Valuing the sugarcane fields is a bit more of a guessing game because there are very few for sale (good land is almost never sold). Most information seemed to indicate that a fair estimate for a decent sugarcane field is $9,000 per acre. Using that assumption, producing sugarcane fields are valued at approximately $31 million. Since Alico has over 7,000 acres in development, we will attempt to value those acres as well. Let's assume that developing acres are worth 3/10ths of producing acres. That values the developing acres at approximately $20 million.
At this point, the estimated value of citrus groves and sugarcane fields is a conservative $124 million. With a market cap of $136 million, the value of the remaining 118,000 acres would have to be $100/acre for the company to be fairly valued in the market. Taking into account a more realistic but very conservative valuation of the land, let's assume the 118,000 acres will average to about $1,500 per acre for an approximate value of $177 million.
The total conservative valuation of the land in this breakdown is approximately $300 million. Dividing by the 7.35 million shares outstanding, gives a value of approximately $41 per share.
A simpler way to analyze the land (if you are lazy like me) would be to assume a very conservative average price for the 139,000 acres. Let's assume an average price of $3,000 per acre if all the land was sold tomorrow. That would yield approximately $415 million or around $55 per share.
According to these estimates, the land of Alico could be worth $41-$55 per share. For the sake of argument, let's use a 25% correction factor to account for possible overvaluation on the low estimate, which equates to about $31 per share. Even at $31 per share, Alico looks undervalued by the market at its current price of $18.55.