Want exposure to America? Want exposure to energy? Want income? Look no further than a basket of MLPs. Back in July, I wrote an article discussing the merits of investing in a basket of MLPs as a more optimal way to maintain exposure to energy without taking on as much risk as the more upstream focused ETFs.
Since that time, MLPs have proceeded to hold up much better than the S&P 500 and I believe this trend will continue for a long while yet. Since my article in July, lots of others have began pounding the table about MLPs. Just this week Jim Cramer had the CEO of Enbridge (NYSE:ENB) on his show as he was pounding the table that they are one of the finest companies to invest in right now.
Why are MLPs such a hot investment? In my opinion there are two primary reasons: economics and stability.
From an economic perspective MLPs provide infrastructure services/assets that are more important than ever before. With the ongoing fracking revolution there is more and more production of natural gas and oil coming online in the US. When coupled with existing production globally, it doesn't take a genius to realize there is a big need for infrastructure such as storage facilities and pipelines.
The second driving force is that MLP businesses provide for a very stable business model and cash flow. As long as the US transports, stores, throughputs, and consumes energy, MLPs will continue to achieve a relatively stable earnings stream. Additionally, MLPs have tax advantages that allow them to gain access to premium assets over major integrated oil companies as they can afford to bid more than non-MLP competitors and still maintain favorable economics. MLPs do have the drawback that they are a pain during tax season however. But then, if earning a better risk adjusted return isn't worth a little bit more work, what are you really trying to accomplish with your investment portfolio?
So what is a decent way to invest in MLPs? I have created a basket of MLPs for investors to evaluate vs. the S&P 500, as well as the AMLP (an ETF of MLPs). One particular theme I strive to highlight in all my articles is that risk matters. There is a difference between how you allocate capital and what you allocate capital to.
While it is crucial to pick out risks worth taking, I would argue that if you don't take those risks in an optimal or responsible way, you can easily end up with a worse risk adjusted rate of return, or worse, financial ruin. Thus, my basket of MLPs has been constructed using a risk-based framework as the primary guiding principle. As you will see, it has outperformed the S&P 500 as well as AMLP. This portfolio is not exactly like the one I created back in July, but it has been created using an identical process.
The weights of this portfolio are as follows:
The following chart is a scatter plot of the risk and return of each MLP security considered, the S&P 500, AMLP, and the MLP Portfolio that uses the holding weights shown above.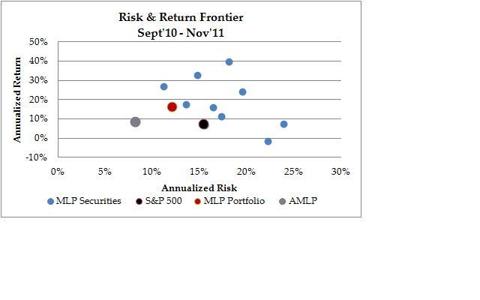 Some points worth noting from the chart above: the S&P 500 and AMLP have experienced roughly the same return over the past 15 months however, AMLP has exhibited substantially less volatility. The MLP Portfolio has exhibited less volatility than the S&P 500 but has achieved a much better return. There are two primary reasons I would argue that the MLP Portfolio, and even AMLP, exhibit less volatility than the S&P 500 is that 1.) their business models are remarkably stable and 2.) each MLP provides an excellent dividend yield which investors flock to in times of significant uncertainty.
The next graph is the value of $10,000 invested in Sept'10 and held through Nov'11.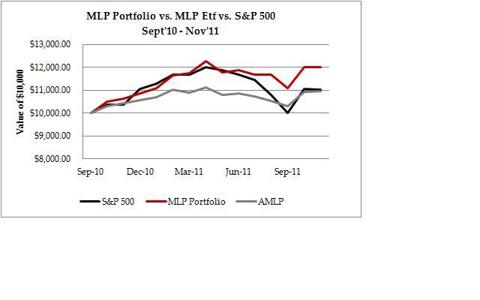 As can be seen from the chart above, the MLP Portfolio has been outperforming the S&P 500 and AMLP. In my estimation, this is not a one-off event, as a strong economic case can be made for MLP's and as such I believe MLP's will continue to outperform on a risk adjusted basis. As a big proponent of risk parity asset allocation strategies, I believe that this MLP Portfolio will serve investors better than owning AMLP due to its risk guided construction process - but it does create some extra work during tax time...so beware.
The final chart shown below is the MLP Portfolio vs. the S&P 500 from December 2007 through November 2011.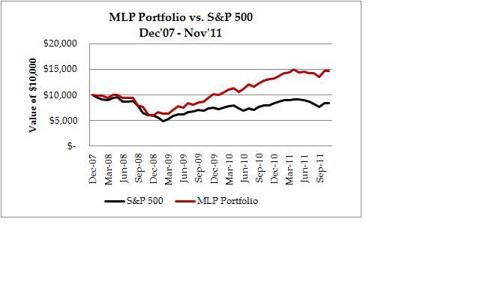 To conclude, adding some exposure to MLP's still appears to be a good idea. The economics of their business models are still as favorable as ever and their performance attributes as securities are excellent. There are other considerations such as personal tax implications as well as the existing risk in your own portfolio thus this is merely a starting point. But, in the current macroeconomic environment these companies are definitely worth your consideration.
Disclosure: I am long KMP, CPNO, EPD, WPZ, MWE, EPB, ETP, TRP, ENB, ETE.