[Author's Note (March 2012) - Since article publication, the name of the phone has changed to the Samsung Galaxy Attain.]
The Phone:
Soon to be available at MetroPCS (PCS), the Samsung Conquer 4G comes with a 3.5 inch HVGA touchscreen, a 1Ghz Scorpion processor, a 3.2 megapixel camera and 1.3 megapixel web cam, and Android 2.3 Gingerbread. A picture is shown below.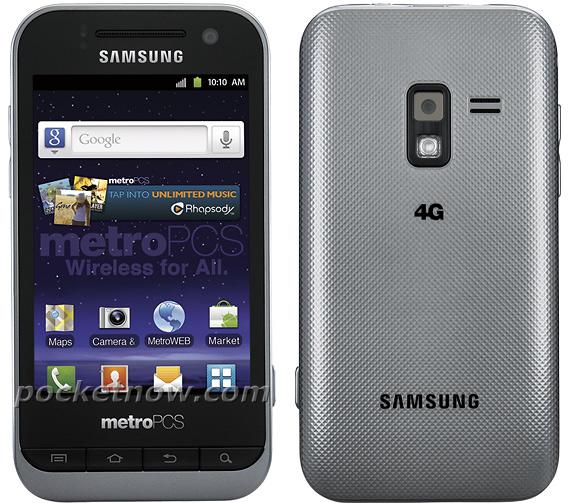 How it Affects the Business:
Analysts are notoriously late to the party, usually because they have to cover so many companies. Analysts of late have been bearish on MetroPCS for the short term but bullish for the long term. They see the investments made into the 4G LTE network as perfect, but they recognize it is a longer term investment which doesn't help the bottom line much in the present.
All that is about to change. The line has now been crossed. With the release of the Samsung Conquer, the 4G LTE phone lineup at MetroPCS offers enough quality and enough selection for a price that is low enough to pull in both the customers who were getting ready to upgrade and the customers from other carriers who are fed up with excessive rates and contracts, yet still want 4G smartphones. And of course MetroPCS is leading the country in low end value phones as well.
MetroPCS now offers four 4G LTE phones. Consumers in urban areas are the most likely to adopt to the 4G phones because they already have complete 4G coverage. Suburban and rural areas don't all have 4G coverage yet, but the areas covered are growing every day, and all of the 4G phones offer WIFI capability.
Under the radar, MetroPCS has reinvested 100% of its cash flows into developing a 4G network that offers superior quality for a superior price. Meanwhile, the big dogs of the industry, Verizon (NYSE:VZ), and AT&T (NYSE:T) have been wasting valuable dollars by paying out dividends. Those dividends paid could have been used to grow the business, but weren't. Additionally, Sprint (NYSE:S) has been losing money.
When investors seek equity to invest in, they should be seeking companies which have high growth in profits and a low price for the assets, and preferably a low risk asset. Currently, MetroPCS is growing faster than any of the bigger companies and has a price book lower than any of them. Value investors already see this, but due to the way in which financial markets price assets these days, during rough times investors will take lower growth if they have the security of a dividend. This can be a poor way to invest for the long term because those invested dollars could have been put to better use.
In other words, dividends provide a false sense of security which makes some stocks appear to be low risk when they are in fact high risk securities. Having a dividend will allow statistical measures of stock behavior to price in less risk than companies without. But in the case of MetroPCS, this is an anomaly that shouldn't exist. Meaning, MetroPCS should be priced as a lower risk asset than either AT&T or Verizon or Sprint due to the fact that the cash flows that MetroPCS earns are negatively correlated with market risk, while the cash flows of the other companies are mostly positively correlated with market risk.
Sometimes the market gets it right. Look at Dollartree (NASDAQ:DLTR) for example. The stock is up tremendously because the company is growing and is negatively correlated with market risk relative to the competition.
If the economy slows down, MetroPCS will continue to see its revenues grow, while the other companies will likely see profits falling. This is because for all intents and purposes, MetroPCS offers dramatically cheaper phones and service which people would be required to switch to if the economy plunged. To some extent, MetroPCS offers better downside protection against market risk than US T-bonds, although the market is currently not pricing as I suggest.
Even the 4G LTE service is priced lower than any of the competition, meaning in a downturn, MetroPCS should still see better growth in its 4G phones than the competition, not just the 2G service.
Conclusion:
The release of the Samsung Conquer puts everything into place for MetroPCS. It has a strong lineup of products and service at both low end and high end which are all in one way or another negatively correlated with market risk relative to the competition. An economist couldn't design a lower risk, higher growth product lineup if he tried, and investors cannot find a more undervalued telecom equity in the United States. It is very possible in the next few years, after the 4G network is entirely built, that MetroPCS will announce a stock buyback or a dividend to reap the rewards of its smart strategy.
Of late, the stock has been finding a base versus the market: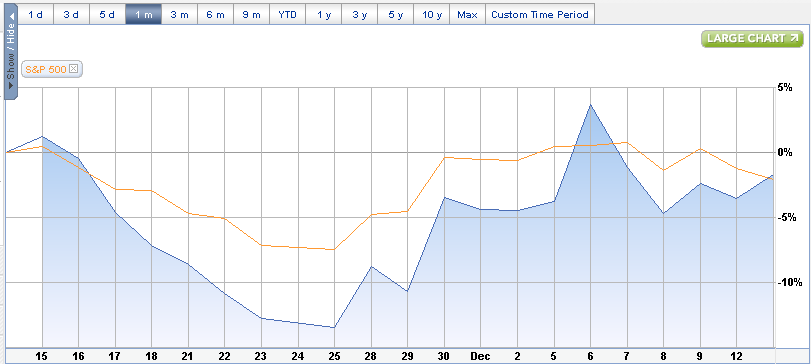 Disclosure: I am long PCS.