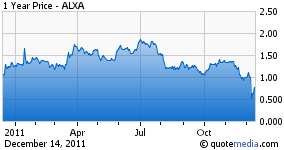 Investors who didn't give up on Alexza Pharmaceuticals, Inc. (NASDAQ:ALXA) after last week's trading action saw shares lose half their value got some welcome news. The Psychopharmacologic Drugs Advisory Committee of the FDA has voted to recommend that ADASUVE™ (Staccato® loxapine) be approved for use for the treatment for agitation in patients with schizophrenia or bipolar mania.
Last week, shares of Alexza lost 47% of their value after an internal FDA Review found that their inhaled antipsychotic might pose fatal lung risks. The report, which was released on Wednesday was enough to send speculators packing. (See our previous report) Shares of the company surged after the advisory committee voted 9/8/1 (yes/no/abstain) on the issue.
"We view the recommendations by the PDAC today as another step forward in the development of ADASUVE," stated Thomas B. King, President and Chief Executive Officer of Alexza Pharmaceuticals. "We appreciate the Advisory Committee's recognition of agitation as a serious and underappreciated symptom of schizophrenia and bipolar disorder. If approved, we believe ADASUVE represents a valuable treatment option for patients and physicians alike. We look forward to continuing to work toward our goal of bringing ADASUVE to market in 2012."
Adasuve would be the first product for Mountain View, California-based Alexza. The therapy uses an inhalation device developed by the company to deliver a vaporized form of the 36- year-old antipsychotic drug loxapine to the lungs for rapid absorption into the bloodstream. The FDA, which doesn't have to follow the panel's recommendation, aims to decide on the product by Feb. 4. We anticipate that after the trading action settles, shares of the company will once again begin to rise in anticipation of that binary event in early February.
In Europe, a Marketing Authorization Application for ADASUVE is currently under review by the European Medicines Agency (EMA) and the application will follow the Centralized Procedure. No word yet on when the company expects EMA regulators to decide on Adasuve.
The drug may have a relatively small market, but the firm still expects that it will be able to generate sales of $150 million per year. Still, according to RBC Capital analyst Jason Kantor Alexza may need to find a partner or raise substantial capital in order to successfully launch the product if it is approved by regulators.
ADASUVE is an anti-agitation product candidate that combines Alexza's proprietary Staccato system with loxapine, an antipsychotic currently available in the U.S. as an oral formulation for the management of schizophrenia.
Another drug candidate of Alexza, which is in active development is AZ-007 for the treatment of insomnia in patients who have difficulty falling asleep, including patients who awake in the middle of the night and have difficulty falling back asleep, which has completed phase 1 testing. Alexza has no plans to spend external resources for the development of AZ-007 through at least the fourth quarter of 2011, but is continuing internal work on the technical product development. In August of 2010, the company licensed its Staccato nicotine technology to Cypress Bioscience Inc. The Staccato nicotine technology is an electronic multidose delivery system designed to help people stop smoking.
Alexza's proprietary Staccato® system vaporizes excipient-free drugs to form a condensation aerosol that, when inhaled, allows for rapid systemic drug delivery. The Staccato® system comprises the rapid vaporization of a drug to form a small particle aerosol optimal for systemic delivery through inhalation. These aerosols are systemically absorbed very rapidly, with peak plasma blood levels obtained in the first few minutes after administration. Thus, the Staccato system enables rapid onset of action for many drugs. Its Staccato device consists of three core components: a heating substrate, a thin film of unformulated drug coated on the substrate, and an airway through which the patient inhales. The key to its proprietary technology is vaporization of drug without thermal degradation, which is achieved by rapidly heating a thin film of the drug.
Disclosure: I have no positions in any stocks mentioned, and no plans to initiate any positions within the next 72 hours.