Introduction
From what has been demonstrated and transparently referenced to the Chinese media in part two and part three of my article series it is clearly evident that the Chinese government's eagerness to establish a continued long term policy for the growth of a domestic New Electric Vehicle (NEV) industry has never been stronger.
Within the NEV industry the main support is clearly guided toward the Battery Electric Vehicle (BEV) concept, battery powered cars as opposed to hybrids, with an emphasis on an initial EV charging station infrastructure build out in the huge Yangtze River Delta and the Bohai Rim.
Indeed, the Central- , Zhejiang- , Hangzhou- and Jinhua governments prefer:
To see small compact BEV's and specifically Kandi's models as well as E-busses on the road first as it is considered a more sustainable and efficient use of resources, and minimizing current traffic jams.
The setup, availability and affordability of EV car leasing facilities as a way to share resources and to overcome the market's initial timidity or reluctance to EV cars
"Naked EV Cars" without batteries provided by car manufacturers while charged swappable standard batteries can be leased at charging stations.
Smart grid integration of the EV power supply, with secondary role of EV car batteries for energy storage.
Charging stations will be able to professionally and efficiently charge batteries during non-peak periods, a key driver for the evident active support of utility companies.
Recycling of resources.
The above publicized preferences have always been an integral part of Kandi's EV business model. In contrast, many local and international car producers attracted by China's EV outlook have failed to adapt to the market place and the government's guidance, a mistake that allowed Kandi to gain direct support and to become a silent front runner in China's EV market.
Undoubtedly, the major car producers are destined to follow behind in Kandi's footsteps as the domestic producer that led and supported this paradigm shift. It reminds us to what occurred in the past when great, innovative and once small technology companies such as Apple (NASDAQ:AAPL), Microsoft (NASDAQ:MSFT) or Tesla (NASDAQ:TSLA) made their initial steps into the market. This lead coupled with the immense potential of the Chinese market, demonstrated in parts 1-3 of this article series, represents an opportunity for shareholders that comes along only once in 10 years.
I know that some of you have been eagerly awaiting the financial forecasts for Kandi based on my extensive research. As I understand your curiosity please feel free scroll to part 4.3. However, I do feel compelled and even obligated to further illustrate and reference the recent significant EV industry development in China as well as Kandi's substantial role and achievements within that industry, topics which we will focus on in parts 4.1 and 4.2 of this article.
4.1. China's recent efforts to establish a "New Energy Vehicles Industry"
Click to enlarge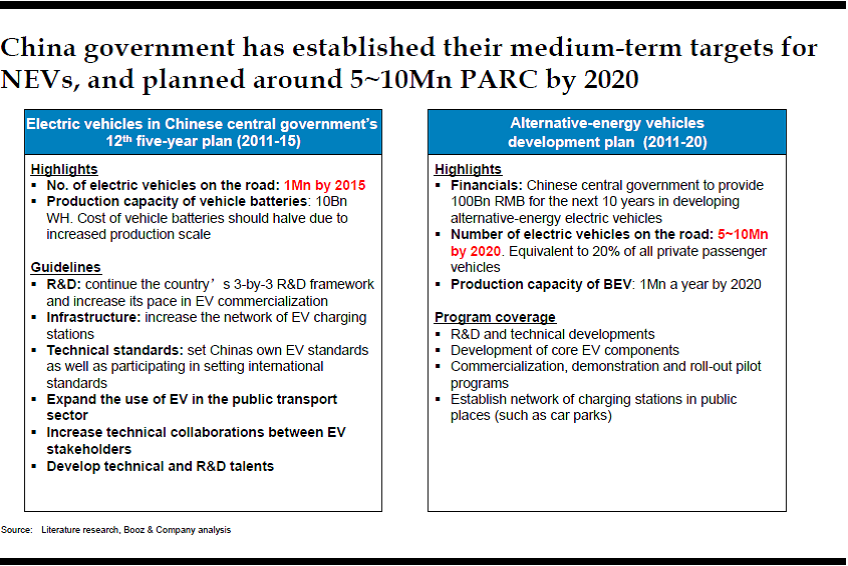 Last year's draft plan, "energy-saving and new energy automotive industry plan (2011-2020)," showed that the Chinese government intended to invest 100 billion Yuan to support the development of the New Energy Vehicles (NEV) sector. This draft investment plan mentioned $50 billion for "energy-saving and new energy automobile industry development funds, focusing on key technology R & D for the industry," 30 billion Yuan to support the "new energy vehicle demonstration plan" and 20 billion Yuan for the "promotion of hybrid vehicles in order to focus on fuel-efficient vehicles."
Click to enlarge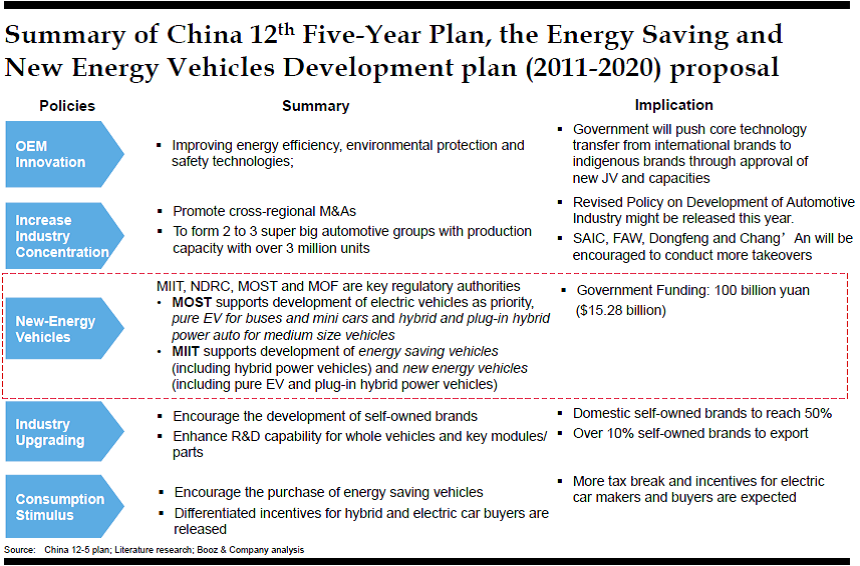 In my perception, a successful development of a clean EV sector will be dependent on the speed of realization of the government's smart grid project.
At the 2011 Smart Grid World Forum in Beijing late last month, China's State Grid Corporation announced plans to invest 1.6 trillion Yuan ($250 billion USD) in electric power infrastructure upgrades over the next five years, and another $240 billion between 2016 and 2020.
The construction phase is now ongoing and targets to have the clean forms of energy.
By 2015 , the proportion of clean energy power generation installed capacity is expected to reach 32%.
China's efforts to reduce carbon dioxide emissions were also praised by Fatih Birol, chief economist with the International Energy Agency (IEA) at the recent UN Climate Change Conference in Durban.
For parties with a financial interest in the Chinese NEV sector the stakes are high. Since the release of the draft plan, the national utility providers, local and international automobile manufacturers, battery manufacturers, car service entities and local municipalities have all been lobbying with politicians to have their fair share of the market. The finalization of the draft plan as well as the release of the National Standards for NEV has been repeatedly delayed and reviewed multiple times. Most NEV industry participants have been waiting for this new guidance in order to decide about their own moves.
Recently great progress was made for the preparation of the National EV Standards and EV charging facilities standards, as well as for the finalization of the NEV industry plan which is expected to be released latest early 2012. It looks like the level of state funding and support might be even higher than in the draft plan.
Simultaneously, the "Second 5Y Plan for Energy Technology" will also be released.
The government's main long term target remains the development of Pure Electric Vehicles (BEV) to reduce China's dependency on foreign oil but over more, to leapfrog the competition of countries with a traditionally strong automobile sector, especially for Internal Combustion Engine (ICE) cars. Considering the time span needed for the BEV development and introduction, and the need for the China Automobile sector to become quickly more fuel-efficient, the government will probably also increase its support for local manufacturing of hybrids, preferably PHEV.
China strives to become the world's leader of BEV, taking advantage of IP and Standards that would provide guidance to other countries. The Chinese media refer to this government's policy as "The Corner Overtaking Policy" which targets to have 500,000 BEV's on the road by 2015.
From what has transpired now through the Chinese media it looks like within the BEV sector, the government prefers small compact BEV's and E-busses, as these are the way to achieve a more sustainable and efficient use of resources.
Click to enlarge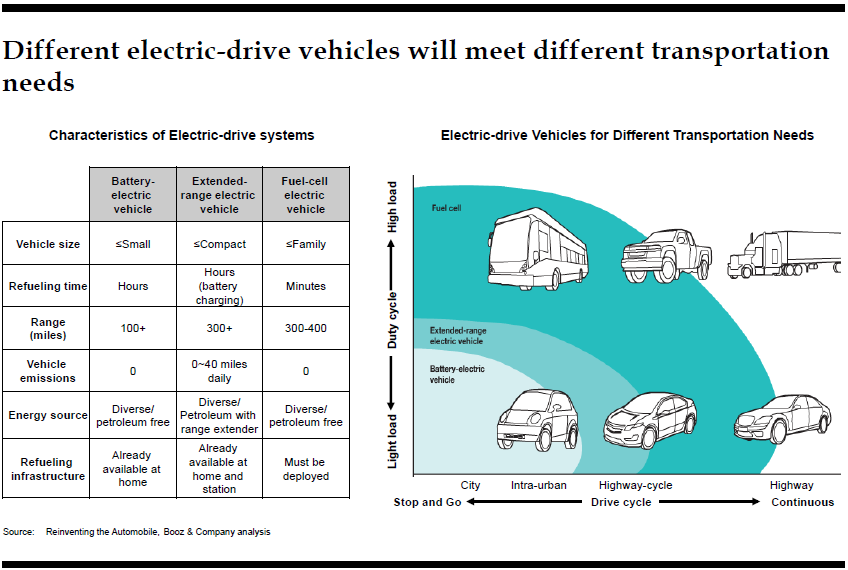 While we are still awaiting the final version of the Central Government Plans, the individual cities have already announced more measures for increased promotion of EVs such as: free parking, special traffic lanes, car license lottery exemption, road tax exemption, odd/even traffic day rule exemption, lower car purchase tax and different forms of subsidies.
4.2. Kandi's meticulously prepared plan to become a major player in China's EV market
Mr Hu Xiaoming is the CEO, President and Chairman of the BOD of Kandi.
From October 2003 to April 2005, Mr. Hu was the Project Manager (Chief Scientist) for WX Pure Electric Vehicle Development, a state-level, high priority technology development plan. Previously, Mr. Hu was Chairman and General Manager at Yongkang Instrument Factory. Earlier in his career, he served as General Manager at the Wan Xiang Electric Vehicle Developing Center, and General Manager in Wan Xiang Battery Company.

For every major new technology it is imperative that several key pieces fall together simultaneously and at various levels. For Kandi, to put its EV Business Plan into practice and to become a successful, major commercial force in the EV car industry it was crucial that the following milestones were reached:
A) External Milestones:
The putting into operation of the initial Zheijiang Smart Grid infrastructure and supply of power from renewable sources to the substations that serve and integrate the local EV charging infrastructure. (Nov 2010)
A local SGCC build EV charging infrastructure capable to support the start-up of an efficient nascent EV business, including central battery charging stations and battery swap stations. (Oct 2011)
A Central and Local Government policy and subsidies supportive to introduction and start-up of the EV industry. (June to Oct 2011)
Ample supply, procurement and financing schedule of batteries to power the KANDI Ev's:

VRLA battery packs in Jinhua (Oct 2011)

Li-ion battery packs in Hangzhou (Dec 2011?)
B) Internal Milestones:
Development and supply of MIIT approved light and compact EV car models with patented design and features for QBEx, fitting the operation procedures of the SGCC constructed and equipped EV stations:
KD5010XXYEV (Appr. May 20, first test sales Nov 28, 2010)
KD5011XXYEV (Appr. Feb 12, modified Aug, first sales Dec 2011?)
Negotiation of Alliance Agreements with the SGCC branches and battery producers, backed by government.
Establishment of the "Jinhua Three Parties New Energy Vehicles Service Co., Ltd." in JV with SGCC's Jinhua Bada and Tianneng Power.
As you can understand from the above the timing for reaching all milestones isn't solely depending on Kandi and such explains the caution that the company has to undertake when providing news and outlooks.
Consequently, I have tried to share the same caution in my article.
When reading and analyzing my EPS estimates further in this part four of the article you must also take caution that timing of sales will be function of further EV infrastructure build-out and timing of government decisions with regard to supportive measures for example to the Hangzhou project.
However, as I alluded to in my article title I remain convinced that NOW is the right time for a market breakthrough to happen that may lead to wide adoption of Kandi's EVs.
A lot has changed since I made my first surprise visit to KNDI, a visit that gave me a firsthand understanding of the KNDI production facilities, the background, strategic abilities and charisma of its CEO Mr. Hu Xiaoming as well as his relationship with the authorities from whom he gets a lot of respect.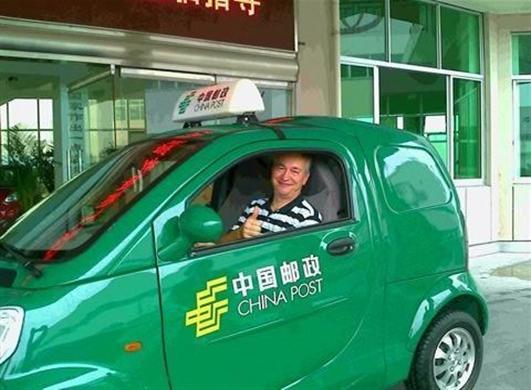 Yes this is me in front of the company headquarters June 2010
Kandi meticulously prepared and elaborated its plan with strategically sound moves and close cooperation with the authorities in Jinhua, Hangzhou, Zhejiang and Beijing.
KNDI's meticulous preparation of a market breakthrough goes in stark contrast with the approach of other LSEV producers such as for example Shifeng Group Co., Ltd. This company based in Qingdao Province did not apply or achieve MIIT approval for its car but nonetheless started production in 2008 and since then has sold >30,000 VRLA battery powered EV cars, mostly in Qingdao, without any subsidies.
Provincial Authorities authorized sales but there is now a lot of headwind from the Central Government which considers that this EV solution can hardly be part of a "EV Corner Overtaking Strategy."
If Shifeng Group was able to reach this sales numbers without any government support or subsidies then this bodes well for KNDI and its future sales potential.
4.3 Kandi's strategic alliances, market potential and our opportunity to participate and profit from these accelerating developments.
4.3.1 Strategic Alliances
As illustrated above and also discussed in part 2 of my Article about Kandi, to succeed in realizing the EV paradigm it had:
To build strategic alliances with the main utility company SGCC and its branches or spin-off companies, as well as the battery producers Tianneng Power and Lithium in the Air.
To lobby for the appropriate support from the government.
The simple fact that companies of size such as Kandi's partners agreed to enter into these strategic alliances strongly underpins their and my belief in Kandi's potential.
As Booz & Company correctly expressed, "An auto revolution requires a new eco-system of collaborative partnerships."
Click to enlarge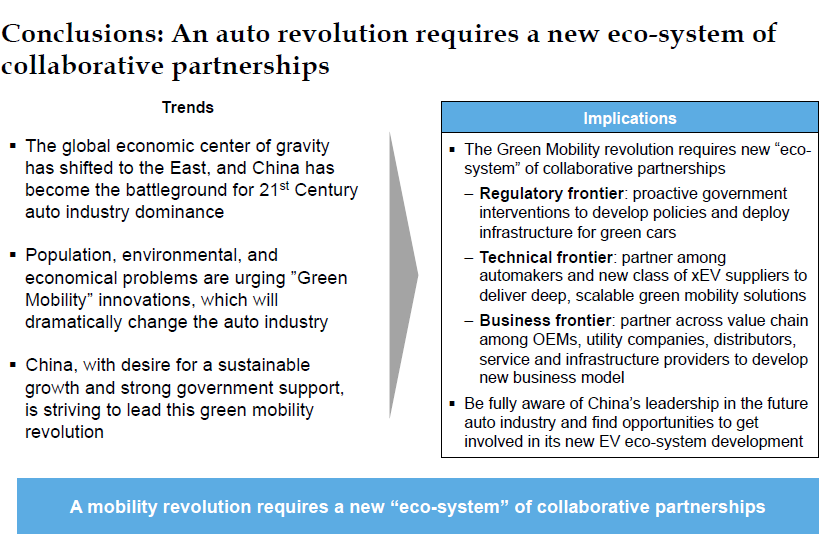 4.3.2 Market potential
There are two more slides that were produced by Booz & Company that nicely demonstrate the market potential: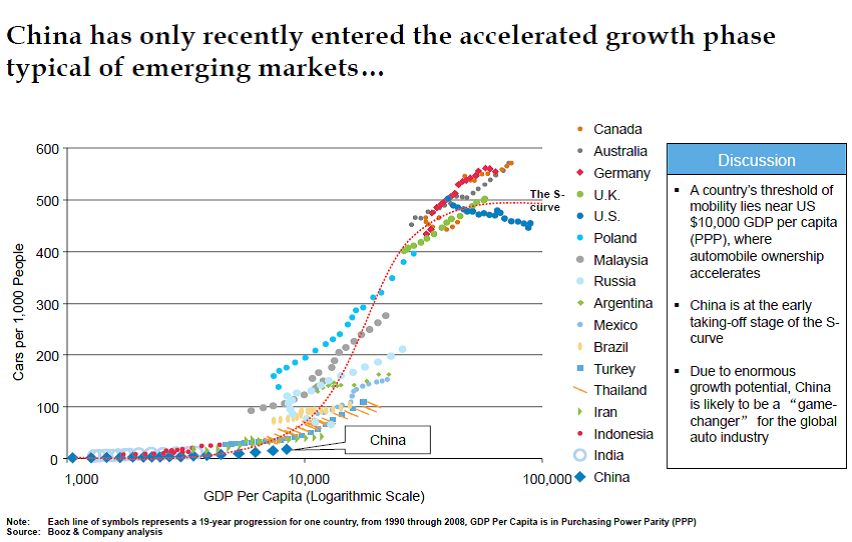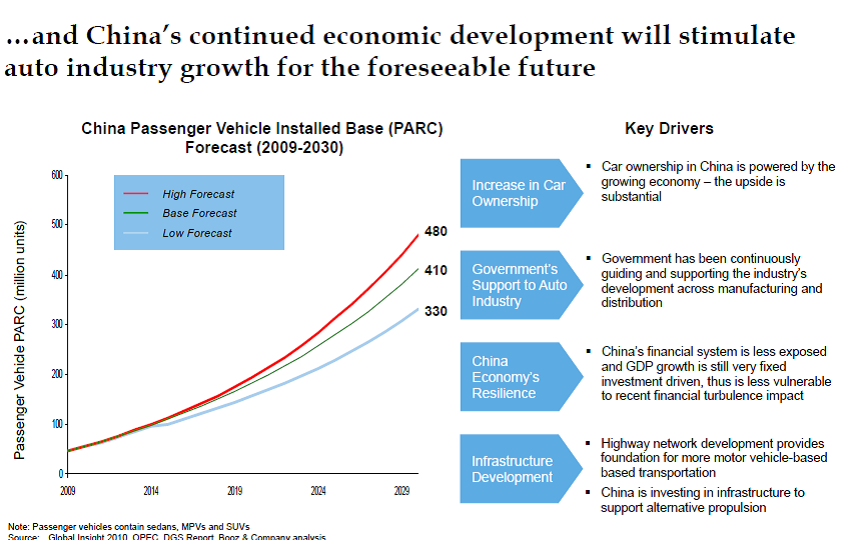 Obviously, due to the sheer size and population of China in conjunction with the support of the athorities to establish an EV industry, the market potential is mind staggering.
However, a little pragmatism and realism has to be in place here at the initial stages of Kandi's EV Business Plan and its CEO Mr. Hu Xiaoming has clearly chosen to first develop his home market in Zhejiang Province.
Besides his plans to help Hangzhou to achieve its goal of minimum 20,000 EV cars in 2012, Kandi's CEO has recently started an initiative for 100,000 EV cars in Zhejiang Province.
For other provinces, he has limited his actions to consultancy and preparation of potential partnerships. (See latest 10Q page 42).
A theoretical market potential isn't enough, the EV car needs to be attractive to the market it targets and offer an economic solution to the consumers that is beneficial if compared to the current available ICE models with similar usage.
When the Hangzhou deal for 20,000 KD5011XXYEV cars gets confirmed it will result in an incredible attractive proposal to the consumers. During the first three years of leasing, if a yearly mileage of 12,500 miles, the cost for leasing of the car with battery and charging cost would be 0.37 Yuan / mile or 0.594 Yuan per km, excluding taxes and insurance costs.
What can compete with this?
4.3.3 Our opportunity to participate and profit from these accelerating developments
At the time that Kandi Technologies released the news about its initial Strategic Alliance nearly two years ago the announcement was welcomed with a major increase in stock price to about $6.50. The news made me to begin investigating the company.
I certainly noticed that Kandi had already sold some 3,500-plus Low Speed Electric Vehicles (LSEV) in the export market, but my interest as an investor was in their expectations in China.
Later in 2010 the first EV Charging Station was opened in Jinhua and Kandi released news that its new Li-ion powered model KD5011XXYEV was approved by MIIT for sales all over China with potential subsidies of 60,000 Yuan per car. During this time, both the company and its stock on heavy volume were performing exceptionally well.
That was until a few days after this last announcement when the company also announced it completed a $16 million stock offering which caused an immediate reversal down over 20% in the stock price. At the time, most shareholders, myself included, were not happy that the company stopped the upside momentum in the stock. But in hindsight, this turned out to be a brilliantly timed move by Kandi's Management as this was just at the time China started raising interest rates and tightening bank reserves. As a result, Kandi now had a strong balance sheet and cash reserves to weather the storm of the ensuing months
Later on, I discovered that Kandi continued its relationship with CNOOC along with the SGCC which was a bottleneck to make a breakthrough with SGCC in Hangzhou. When reporting this to the Yahoo message board in an honest but slightly emotional post it triggered a further decrease because some the MB participants thought that as a staunch supporter of KNDI I had lost confidence. Few people may know that simultaneously I spoke out to my Chinese contacts in the hope of facilitating some mutual understanding between parties there.
Later this year, KNDI was swallowed in the "broad brush" carnage heaped upon the Chinese stocks by short players who manipulated the web and media to their own profit.
The lack of confidence in Chinese stocks resulted in a lower trading volume and a stock at which sits at half of the value reached nearly two years ago while in the meantime major milestones were reached that allow the company to break through. This creates a perfect opportunity for people or funds to invest long term.
For myself I see it as a long term investment because I am confident in KNDI's future and have the patience for events to unravel. For KNDI investors, the wait for the final government approval of the Hangzhou program compares a little to being an investor in a biotech company that has been waiting for the final FDA approval after years of thorough research and in-vivo testing of a specific drug. In both cases you expect the approval can come any day but in KNDI's case you have the luxury to know that once approved, and subsidies are released, an immediate heavy sales volume is virtually guaranteed.
My "Take" On The Future Of The Stock
In his most recent SA article last July "Kandi Technologies Set to Be Big Winner in International Electric Car Market," Arthur Porcari attempted to forecast Kandi's revenues and earnings in a comparison with Tesla, (TSLA) for the years 2011 and 2015. Both are the only Nasdaq-listed companies where EV sales are the major component.
His projections and comparisons surely made sense but the basic EV stations infrastructure in Zhejiang Province wasn't ready yet to support a decent number of EVs and the subsidies were delayed.
Kandi's aforementioned strategic alliances and the proven government support as well as reports from my local contacts in the field inspire a level of confidence with me to say that Kandi is now on the verge of a historic market breakthrough that will ignite accelerating sales.
Indeed, as noted earlier in my article series the news reported by Reuters China Hexun alludes to an initial very large order through an EV car leasing company with the full support from the government.
As you can learn from today's article EV car leasing and sharing is definitely a hit in Hangzhou and considering that a KD5011XXYEV will be leased at $126 USD per month I have no doubt that there will be enough demand. Leasing of EVs to the public is a key development backed by the Hangzhou Government as it's a lot easier to encourage customers to lease an EV for as little as 126 USD per month than to convince them to be the first purchasers of EVs. It's extremely affordable and allows early adopters to test the EV and get a firsthand experience of the car and the EV charging facilities. Crucially, it will - via the "on the road" demonstration of the concept - ignite attention and convince the population of the attractiveness, feasibility and convenience of this new technology.
In terms of sales forecasts, while I couldn't be more convinced that a 2012 sales target of at least 20,000 Kandi EV cars in Hangzhou is realistic, especially considering its population of over 9 million people.
The first conservative scenario for 2012 illustrates how undervalued Kandi is even excluding such exclusive order. Conservative, because it takes into account an eventual delay of that big order and/or a slight reduction of the number of cars for that order.
Due to the lack of viable alternatives to reach Hangzhou's committed goal of 20,000 EV cars on the road by 2012 sales, 60% of the sales can conservatively be allocated to Kandi to achieve this goal, although it would be unclear from which company the remaining EVs would feasibly be bought from. Out of further prudence, the forecast below only includes sales for the Zhejiang Province (Jinhua).
Click to enlarge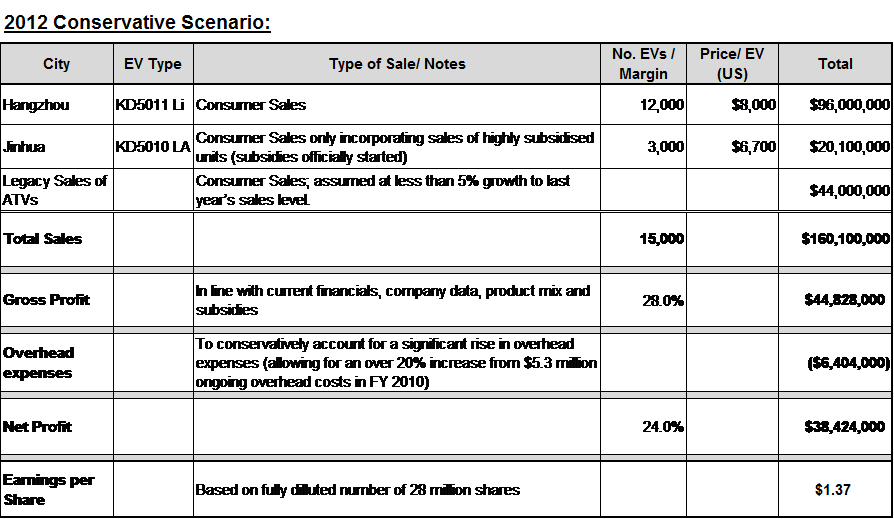 A second possible 2012 scenario is based on the following facts:
That 2011 was the pilot phase for the Hangzhou EV project and from the beginning of 2012 the project now officially enters the industrialization phase.
That early next year, the EV charging infrastructure Hangzhou can already support 15,000 EVs and that it is continuously being expanded at a neck breaking pace as I have illustrated in the previous part of this article.
That recently, a local government official also confirmed a government sponsored project for 20,000 EV, corresponding to the the Reuters China Hexun article.
That furthermore, the sale of those 20,000 cars mentioned is a deal involving a government backed EV leasing company.
In the below forecast again, merely out of prudence besides Hanghzou I only assumed the sale of the number of Kandi units and types that are being specifically subsidized by the Jinhua government.
Click to enlarge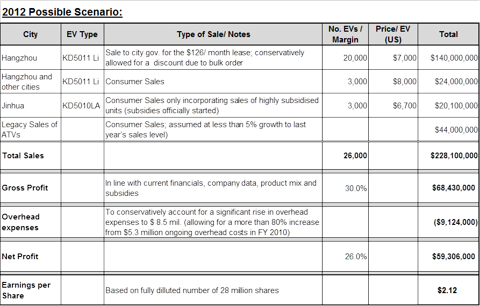 In fact, KNDI's EV business is already preparing to get into acceleration mode in Zhejiang cities beyond Jinhua and Hangzhou as the SGCC has already started building EV Stations in other cities such as Ningbo, Huzhou, Taizhou, Whenzhou, etc.. and is increasing the existing charging/swapping stations on the highways between Jinhua, Hangzhou and Shanghai. With such future sales in the pipeline I see no way that the company can remain undervalued as it is today.
The third table below represents my 2015 Financial Forecast
Although it has to be said that the major external and internal developments and milestones listed in 4.2 of this article strongly indicate a much faster sales ramp up than forecasted by Arthur Procari as late as in June of this year, for the purpose of prudent illustration the below provides an overview of what Kandi's financials would look like in 2015 with only 95,000 EV sales per annum:
Click to enlarge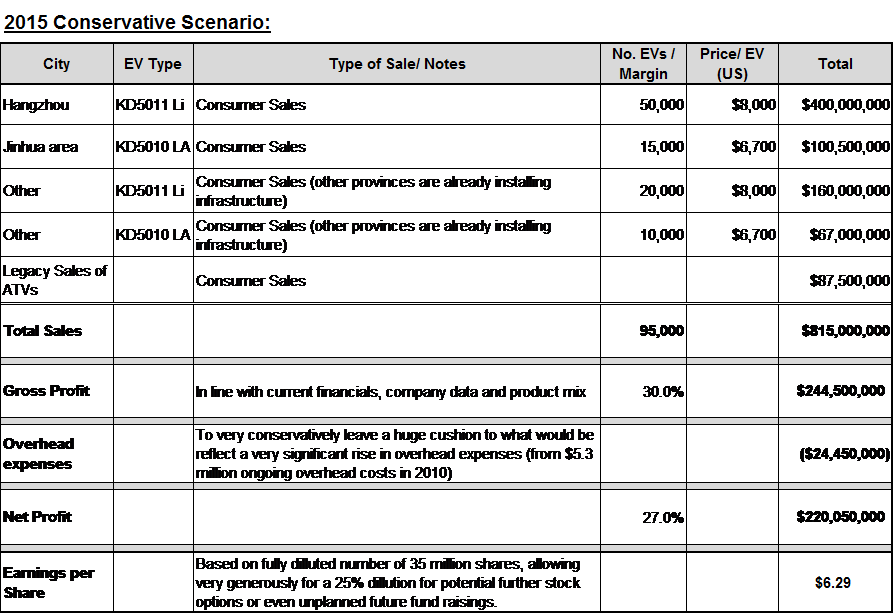 Hereby, it is very important to note that as an additional prudent step further to the ones applied in the notes to the transparent calculations above, I have not applied or assumed any income from KNDI's patented technology, neither its future income as a 30% shareholder in the Jinhua Tripartite JV EV Service Company. This approach is again conservative, although Kandi almost certainly also stands to benefit from a share of the income generated through the leasing of batteries applying its technology by the JV it is part of. Furthermore, I have consciously not applied any price increase assumptions for Kandi's products over the next years. Furthermore Kandi's EV Business Model is already proving its appeal to other provinces as we could learn from the last 10Q (page 42).
As is clearly evident from the above figures the adversity to Chinese stocks has not only stopped Kandi's share price rise momentum to end before the end of last year, it even left KANDI's share price at ridiculously low levels given its huge potential and the incredible milestones Kandi has continued to focus on and achieving over the past year.
Indeed, despite all the conservative assumptions implemented and conscious cushions applied in the calculations the EPS illustrations make it crystal clear how undervalued Kandi is.
In my eyes it's simply an aberration given the growth potential in a massive market but I will leave it for every investor to decide for himself at which multiple Kandi should be trading at. Suffice it to say that when considered that Tesla trades at 21 times expected EPS in 2013, an argument can be made that Kandi is massively undervalued.
In conclusion, it should be clear through this admittedly very long and detailed article series (packed with references to third party resources) that Kandi has now become a silent front-runner in an EV sector that promises huge growth potential. While I believe that Warren Buffett, the chairman of Berkshire Heathaway (NYSE:BRK.A), was a pioneer in recognizing the huge potential of the Chinese EV market, for all of the reasons outlined in this four part article series he can only envy the potential returns shareholders of Kandi will undoubtedly enjoy.
Last, this part four again proved that Kandi Technologies is better positioned than the major car manufacturers such as GM (NYSE:GM), Ford (NYSE:F), Renault (OTC:RNSDF), BYD (OTCPK:BYDDF), Tesla, Toyota (NYSE:TM), Honda (NYSE:HMC), Volkswagen (OTCPK:VLKAY), Geely (OTCPK:GELYF), BMW (BAMXY.PK) and Nissan Motor Co. (OTCPK:NSANF).
Disclosure: I am long KNDI.