Moody's Analytics' US house price outlook calls for a strong rebound once the housing market bottoms next year. A stronger economy, the gradual clearing of foreclosure inventory, and the fact the correction overshot its mark will help spark the turnaround, Moody's says in its latest ResiLandscape newsletter.
Our longer-term outlook is strong, with growth in house prices particularly high in 2013 and 2014 relative to the average of the economists. As a result, by 2015 our projection of cumulative growth is well above the average at 14% versus 5%.
While our near-term outlook is similar to consensus, the rebound we forecast in house prices in 2013 through 2015 is more aggressive, at least according to the September MacroMarkets' survey of more than 100 economists and their home price expectations. With a cumulative depreciation of 3.2% from the fourth quarter of 2010 through the end of 2012 compared with the survey average of 2.6%, our near-term outlook is right in the ballpark of other analysts' expectations. (click image to enlarge.)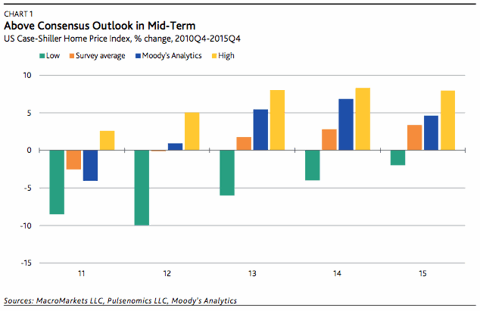 Moreover, over the last year, other analysts have moved to our view. In the September 2010 survey, we predicted a cumulative decline of 4.4% between the end of 2009 and the end of 2012 compared to the survey average of a 2.6% growth. Our near-term outlook has been fairly constant in the last year, calling for a 35% peak-to-trough decline. To be sure, we altered the timing of the bottom because of the robo-signing-induced foreclosure delays that started at the end of 2010 and continue to linger. The contours of the outlook, however, have remained unchanged.