You wouldn't be faulted if you thought that uncertainty regarding the direction of the market was so great, you'd rather stay out of it.
However, there might be another way to approach this uncertainty. You can be in the market as long as you are market-neutral, meaning you can choose a portfolio that doesn't really need the market to rise or fall to make you money. You just need your long choices to outperform your short hedges.
The present market has something which is rather amazing: a lot of very cheap, high quality companies, together with a few companies that are not only bubbles, but exhibit very weak fundamental performance – and are even trending down.
This combination allows you to set up a portfolio of companies that, together, have a high chance of beating the market. You just need to pair a long portfolio of those high-quality companies with short hedges on a few of the overvalued, downtrending ones. It doesn't need to be 1:1 either, as the high-quality names are much less volatile than the short hedges.
The portfolio I believe could take advantage of this situation would be:
Long
Short
Rationale for the stocks on the long side
Microsoft is trading at a 2011 PE of just 9.3 and a 2012 PE of just 8.5 and its EV/EBITDA is just 5.70, for what is arguably one of the best, most profitable companies in the entire market, with an ROE of 44.2% and huge operating margins (> 38%). Microsoft is also presently yielding 3.1%.
Microsoft makes its profit from several different market segments: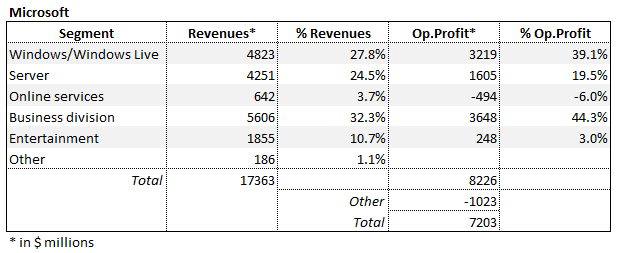 Of these, the Windows segment might be somewhat threatened by the tablet effect. Also, there's some concern that as computing becomes more web-centered, the particular operating system is less relevant.
The business segment, including the Office franchise, can also see some competition from free alternatives, like Google Docs or Open Office. However, at the same time, Microsoft is growing its Dynamics franchise.
Other segments have also managed to establish themselves, like Servers and Entertainment. And the online segment, while bleeding some money, always gives the option of being shut down improving the overall picture. Or it might turn around, and start producing profits, of course.
Technically, the stock is somewhat undefined, with some indicators pointing towards a downtrend, but the stock being caught within a range defined by an uptrend line (presently at $24.90) and a downtrend line (presently at $26.60).
Microsoft, as well as Intel, might be temporarily impacted by the floods in Thailand, as was seen just yesterday in Intel's profit warning.
Intel is also cheap, much like Microsoft, trading with a 2011 PE of just 10.2 and a 2012 PE of 9.8, as well as an EV/EBITDA of 5.1. At the same time, Intel is also a high-quality company, with a ROE of 27.2% and good operating margins at 32.8%. Intel is yielding even more than Microsoft, at 3.4%, and Warren Buffett seems to think its numbers are sustainable, having taken the unusual step of buying into Intel.
Intel's earnings are more concentrated than Microsoft's, with around 80% being directly tied to the PC Group, and as thus, more vulnerable to the tablet effect. Still, Intel enjoys a larger technological advantage that spans both product and production technologies. It is not far-fetched to think that this huge technological advantage might in the future allow Intel to penetrate markets other than the PC, instead of seeing its position there attacked by outsiders.
Unlike Microsoft, Intel is already in a well-defined uptrend, though it has gotten rather steep lately, with the uptrend line of support being close at $23.50.
Intel was impacted by the floods in Thailand, curbing HDD production, and as such affecting PC production. This impact should be temporary, though it led to a profit warning for both Q4 2011 and Q1 2012.
Dell, much like Intel and Microsoft, is both a valuation and quality play. It trades at a 2011 PE of 7.3 and a 2012 PE of 7.6. These PE's imply that Dell's earnings will fall from 2011 to 2012, but on the other hand estimates for Dell have actually been rising. Dell also trades at an EV/EBITDA of just 3.9.
These numbers clearly imply that the market expects deep trouble for Dell, most of it likely because of the impact the market expects the tablets to have on Dell's consumer business. However, it should be noted that the consumer business now represents just 18.9% of Dell's revenues and just 6.7% of its operating income. No wonder Dell has been surprising positively. Given this, it seems possible that Dell will outperform massively.
The main risk with Dell right now is that, much like Intel and Microsoft, its revenues and earnings during Q4 2011 and Q1 2012 might be somewhat impacted by the HDD problem stemming from the floods in Thailand.
Technically, Dell is already in an uptrend, with ascending support showing up at around $14.50. Dell does have some downward slopping resistance near the market at $15.80-$16.

Affymax is a biotech company that's going through the FDA approval process with itspeginesatide drug, meant to tread anemia in patients undergoing dialysis. The drug is well on the way to being approved, AFFY has already completed Phase III trials and the drug has been recommended for approval by an advisory committee (15 in favor, 1 against, 1 abstained). This makes it very likely that peginesatide will be approved on or before its March 27, 2012, PDUFA date.
Affymax trades at a market capitalization of just $265 million, which seems clearly too little given the size (around $5 billion in the U.S.) of the EPO dialysis market, presently dominated by Aranesp/Epogen from Amgen, a drug that's a lot less practical in terms of delivery (it requires as many as 3 injections per week, versus 1 per month for peginesatide) as well as more expensive to manufacture.
Although the nature of this stock lends itself more to being considered a long shot, as there's always a risk the drug does not get approved, the odds seem overwhelming that it will indeed be approved and either trade at a much higher valuation, or be acquired outright.
Affymax stock is in an uptrend, helped by the recent advisory committee opinion.
Rationale for the stocks on the short side
I have written a good number of articles on why Salesforce.com might be a candidate for a short. These mostly center on:
Impossibly high valuations, with CRM trading at a 2012 PE of around 500 (if we strip out some costs associated with its debt financing and acquisitions, but keep the compensation costs being paid in stock);
Decreasing estimates;
Reliance on non-GAAP numbers to make the earnings look better;
High recurring dilution;
To these, we can add that in its latest quarter, Salesforce.com has shown its billings growth rate was slowing more than expected.
CRM stock is in a downtrend, with horizontal support around $110, and ascending support around $105.5. The descending trend line is now around $130.50.
As with Salesforce.com, I've written extensively on why Amazon.com might be a short candidate, and indeed the stock has been falling precipitously. But the reasons why it is a short remain valid (they are discussed at length here), namely:
Its high valuation (it trades at a 2011 PE of 150, and a 2012 PE of 89, but that's just because 2012 estimates have not been cut enough, as Goldman Sachs said just today);
Its decreasing margins;
Its decreasing estimates;
Sales tax collection is coming;
The changing market and;
Amazon.com not having a cost advantage while competing on price.
Presently Amazon.com stock is in a downtrend, with ascending support coming in around $170.
Conclusion
Buying a set of undervalued, high-quality stocks and pairing them with a couple of short positions that are both overvalued with deteriorating fundamentals and down-trending, can provide a portfolio that's somewhat isolated from the market's gyrations, while potentially providing high absolute returns. These stocks include, on the long side, Microsoft, Intel, Dell and Affymax, and on the short side, Amazon.com and Salesforce.com.
Disclosure: I am long MSFT, INTC, DELL, AFFY. I am also short AMZN and CRM, replicating the portfolio in this article, for the reasons given.